Mother Meera
-Divine Mother-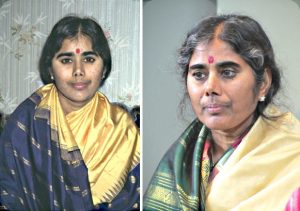 -Written by Santhipriya-
Mother Meera as fondly called by her devotees is an embodiment of the Divine and worshiped by her devotees as Divine Mother on earth. However unlike other Divine mothers who claim to be an Avatar of so and so God and Goddess, she does not claim  to be incarnation of so and so God or Goddess.  She is simply Divine incarnate from Paramatman born into the world to bring down the supreme Light, to transform life on earth.  She claims to have come to purify human consciousness so that it becomes ready to evolve – the transformation of humanity to the Divine level. As per Mother Meera,  an avatar cannot be equated with realized souls (called Gurus and people who had attained wisdom)  because Avatars come from the Divine directly for certain purposes while realization is  something a human being attains or achieve on earth by tapas and arduous prayers.
Who is Mother Meera ?  Mother Meera was born to humble parents Srimathi Antamma and Shri Veera Reddy on 26th December in the year 1960 in Chandipalle in the then undivided Andhra Pradesh. After few years of her birth, her family members realized  that she was enlightened soul born to them as her behavioral pattern revealed qualities of divinity in her childhood itself.  Therefore her parents, who were not very religious but followed certain traditions, began to  treat  her as exceptional child and ensured that she was not brought up in tradition manner as she appeared to be a different child. Even in childhood, she reportedly often went in the state of Samadhi. True to their belief she soon showed herself differently and grew as unusual child.
When she was twelve,  her uncle Shri. Bulgur Venkat Reddy who met her for the first time realized that a girl who had once appeared to him in his visions as Divine Mother was very much same like Mother Meera and therefore she must be divine incarnate. He started taking special care of her and lived in Pondicherry to ensure that she unfold her inner experiences.  In the year 1974, Reddy reportedly brought Mother Meera to Sri Aurobindo Ashram in Puducherry (Now called Pondicherry) where he was a member. Though Mother Meera does not belong to any particular tradition, in her early age when she went to Aurobindo Ashram in normal manner and reportedly met the subtle bodies of Sri Aurobindo and the Mother after visiting their graves. Perhaps she had interacted with them for certain reasons since  Mother Meera knew who she was and also her work on earth even before she had incarnated.
 It is claimed that only while she was in Pondicherry and  often visited Aurobindo Ashram, the divinity in her came to open especially as experienced by the westerners some of whom had her Darshan. Though not much detail is available about her activities during the said period, her divinity silently attracted the attention of people who met her. She is not associated with the Sri Aurobindo Ashram today, but she herself reveals in one of the answers that 'she help people in all stages of life, and also work with Shri. Aurobindo and Sweet Mother'.
As divinity within her was getting revealed, people visited her seeking grace reportedly confined the fact only to closer circles and groups, initially that of Ashram groups, who spread her fame by word of mouth stories amongst them. It is claimed that in the year 1979 she was first invited by one of her devotees to visit Canada, where she went several times subsequently.  In the year 1979 Mother Meera was in Montreal  giving Darshan up to 300 people thus firmly establishing her reputation as divine Mother in western countries.  
In the year 1981 Mother Meera along with Shri. Reddy and her close companion Srimathi Adilakshmi made the first trip to West Germany and settled down there a year later.  In the year 1982 she was married to a German and moved to country side quite village called Thalheim in Germany.
Mother Meera respects everyone's faith, even if they belong to any other religion as she firmly believe that changing anyone's faith or creed has no meaning as all are human.  As far as she was concerned she was simply a Divine Mother for everyone who turns to her seeking her grace. Mother Meera does not claim to be a Guru who take disciples and train them, but everyone can pray to her in whichever form of Divine, or Avatar, that inspires their faith.  When prayers come from one's soul and heart in all sincerity, the sincere cry of the soul  is heard and answered by Mother Meera by bestowing suitable Light from Paramatman. She has incarnated on earth to work for the welfare of mankind in the whole world, for all faiths and all people, regardless of their social status or ethnic origin as she is the Divine Mother to all.   
She does not meet devotees in private as often as visit to her home either in groups or as family or even singly. She never entertain meeting anyone alone  to discuss their personal problems. She meets them only in Darshan (appear before audience) which is organized by those family members residing with her in Germany. The manner of giving Darshan to her devotees is unique.  She gives blessings in silence using Divine Paramatman Light without uttering a word, or allowing one to air their problems before her. During Darshan as she gives the right Light from Paramatman they are relieved of their sufferings.   According to her devotees there is no change in the style of blessing which remains unchanged even to this date.
Initially Mother Meera showed no interest in one to one or even group conversion. However due to desire of her devotees in other countries, mostly who are non-Hindus and belong to other western religions, she began to clear  their doubts by answering to their queries face to face when she gives Darshan in per-arranged venues. But during Darshan she never speak to anyone except bless them in silence by way of touching their head. Perhaps as a policy she does not meet press or give interviews to anyone. Those who cannot meet her in person send their grievances by Email to her office and it is answered.  Mother Meera's teachings are summed up in the form of questions and answers and published in the book form called 'Mother Meera- Answers'. Some of her interactions with her devotees and manner of her blessing can be seen in the following links which appear in web:
https://www.youtube.com/watch?v=XY0nBrf8c2E&vl=en
https://www.youtube.com/watch?v=ixF-vp0A8Qk
https://www.youtube.com/watch?v=_VPEXbokpHQ&t=219s
https://www.youtube.com/watch?v=F6iK3DejNbw
https://www.youtube.com/watch?v=Jj7IVI8kb68
https://www.youtube.com/watch?v=uyfwEXkuQfc
How does she give Darshan and bless people to settle and sort out their grievances and agony?  She gives Darshan to only those pre-organized groups of people or those gathered in the pre-arranged venues of Darshan. One has to however book their seats in advance for Darshan in any one of the places as per the itinerary published well in advance. This arrangement has been done to manage the crowd and to ensure that every one gets equal opportunity in getting her grace.  No charges are demanded or fee taken for booking the seats. She does not receive any gifts of any nature in person and appears in the simpler form as a Mother. No display of arrogance, anger, personal attachments or closeness to individuals or been attracted towards worldly desires or pleasures offered by any one.  True display of Divinity. 
In the Darshan event people arriving from various places reach the place of Darshan hall in advance and are seated in silence. She enters the Darshan room in silence without waving her hands or smiling or looking at any one exchanging greetings. She enters the stage and sits on a chair without looking at anything or anyone and waits for the first visitor to come and kneel in front of her. Everyone sits in silence while people seated in each row of seats is called up one by one for their Darshan. When one reach near Mother Meera they kneel and bow their head before her. This is called Pranam i.e. bowing down.  Then, Mother Meera place  her hands over their head for few seconds and after she take away her hand, they raise their head  and  look  at her eyes for few seconds  when Mother Meera too looks up into the eyes of the person untying the knots in the devotee's subtle system and permeates them with   Paramatman Light. This is called Darshan, visual eye contact. All this happens in silence, without a word being spoken or exchanged. In the next few seconds, Mother absorbs ones problems for which they had come, and pass the right Paramatman Light needed for their solace. Nothing more- no exchange of words. The devotee goes back and sits in his place. Her Darshan thus consists of a ritual, where she will touch a person's head, and then look into their eyes untying the knots in the devotee's subtle system and the same act is repeated to each and everyone until the last person receives her grace which takes place in total silence after which she pauses briefly. As she raise, the gathering stand in salutation and she leaves the room, all in complete silence. 
Mother Meera regularly undertake travel to many foreign countries giving Darshan in different places. Her travel plans are well documented giving detailed itinerary and published widely to allow devotees' book their seats in advance for her Darshan. Most of her Darshan programs are centered in Europe and other countries in Asia. However in India the Darshan program is held only in her native place in Madanapalle where her Ashram exist.
In September 2007, Mother Meera opened her home in Madanapalle (Andhra) to children whose families could not support them.  After seeing their long and arduous walk to school, Mother opened a school next to her home in June 2010.  Since then, Mother has shared her vision of providing children in India with a high quality education in schools managed and structured in western standards.  Her schools utilize a child-centered learning approach and are supported by volunteers. With her continued commitment to this vision, Mother now has enrolled over 1,000 students in her multiple schools.