Discovery of cave where
Adi Sankara took Diksha
– Inside story-
Written by : Santhipriya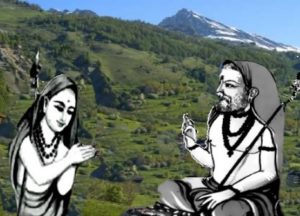 For over several hundred years till 1970, none knew of the cave in Omkareshwar where Shri Adi Sankara took sanyas Diksha.  However the tireless efforts and arduous search of Shri Nagaraja Sharma, who was  an official in the State Electricity Board in Madhya Pradesh, brought to light in September, 1970 the details of the then unknown, unheard cave where Shri Adi Sankara took sanyasi Diksha.  It was not an easy task undertaken by Shri Nagaraja Sharma as one may tend to believe, but the strenuous efforts put in by him to discover the cave was no less to the efforts of Bhagirath, who brought Ganges to earth. The curious circumstances which prompted Shri Nagaraja Sharma to undertake this task was also as mysterious as the cave.
Once when Shri Sharma was standing on the banks of river Narmada, an unknown elderly woman, taking bath in the pious river asked him him in Tamil 'I heard you are researching on temples  and publishing them in Tamil magazines. People here believe that  a cave where Adi Sankara took Sanyas diksha and learnt Shastra from his guru exists somewhere here. Do you have any idea on it?  Before Shri Sharma could answer,  the unknown woman casually remarked 'If possible, try to find out' and vanished into the crowd, nowhere to be seen later. For a while, the sudden provocation of an unknown fact rattled the mind of Shri Nagaraja Sharma who had served in Madhya Pradesh for several years. Thereafter he firmed up his mind to unearth the mystery surrounding the cave and began the search from the year 1971. When Shri Nagaraja Sharma took up the not so easy task to trace the cave, Ananta shri Vibushith Jagathguru Sankaracharya of Jyotheshwar peet extended  wholehearted support  by lending invaluable guidance and advice.
Shri Nagaraja Sharma writes "Initially I reached a small hamlet called Sanghalghat, that lay where river Narmada and river Hiran merged. It was also  initially known as Shankar Ghat.  The hamlet was 36 Kilometers away from  Gottegavung Railway station, which was the only nearby landing station from where  one has to walk down to reach the hamlet as no other transport facilities were available. I felt very happy when I by chance happened to read in a Hindi book 'Secret of Narmada', that Adi Sankara had indeed stayed there. It was past midnight when I reached the village and though  tired, early next morning along with few  locals, I commenced my journey in search of the cave.  Since the caves were located in the other bank of river Narmada, we had to cross the river to reach the other bank. In those days  small river carriers called Tonga in which two persons can travel were only available to cross  the rivers and while onboard in Tonga, one has to maintain balance like cycling.  Midway while wading, we lost control and fell into the river. However my past experience of swimming in river Cauvery saved me from drowning, but we reached the other side fully drenched, that too in the coldest season of the year.
Though fully wet, we had no option except to walk  through the river bank to reach  the site of a cave that lay half a kilometer away from the river. Since tigers used to hide in the caves and attacked the cattle, the entrance of the caves were kept blocked. I saw virtually one hanging rock in front of  the cave  similar to the huge temple bells hung in temple entrances.  The stone gave couching sound when knocked, and as we walked over the sand marble stones on the bank of the river, they emitted sounds of bronze. Spending two more days, I managed to gather few other vital information and met Swamy Swaroopananda to explain the details on the inputs I had. I also drew his attention over an article in  'Sankara and Shanmatha' which mentioned that Adi Sankara had actually met his master in a place called 'Sankara ganga' and the fact was  known only to 'Swami Chandrasekarendra Saraswathi'. Giving patient hearing, Swami Swaroopananda directed me to go to Kanchipuram and meet Paramacharya of Kanchi mutt".
In light of his advise, Shri Nagaraja Sharma decided to meet Paramacharya of Kanchi mutt who was then camping in Thenambakkam near Kanchipuram. Though few devotees and friends discouraged him from undertaking the trip since the Mahan was observing 'Kashta Mauna Vrath' (observing absolute silence for some specific period) and not speaking to anyone, ignoring their advice when he proceeded to Thenambakkam on 15-07-1974  he had 'blissful experience which Shri Nagaraja Sharma says cannot be explained in mere words'. The feel and pleasure of the  emotive heavenly bliss that he had experienced can be cherished only if one read the experience as  expressed in his own words.
Shri Nagaraja Sharma writes "It was dawn when I reached Thenambakkam and when I entered the camp I could hear  loud voices. When I inquired from inmates as to why devotees are permitted to speak aloud in the sanctorum of Mahaperiyava, one of them immediately shut me down 'hold on sir, and do not gabble. Since Mahaperiyava has broken his long period of silence (mouna vrat)  only today and conversing with us one  should feel blessed to hear his voice'. The delightful news made me feel that I must have been a  blessed soul to receive the compassion of the great saint. I thought within 'perhaps Mahaperiyava may have broken his silence for my sake'. As I struggled with emotive feelings, one of the disciples of Mahaperiyava came to me to inform that Periava wanted me to  once again thoroughly go through the drawings and texts which I carried, and  that I would be called by Periava a little later. I was taken aback and  thrilled wondering how Periava knew in advance  the purpose of my visit and  drawings and other material carried by me for discussion on the cave even though I had not uttered a single word to anyone over the purpose of my visit.  Nevertheless like a student who quickly glanced the books before entering the exam hall,  I ran through the details before I was called in to sit before Mahaperiyava, ready for discussion.  Periava was specific 'Tell me first how much information you have gathered so far'.

When such an unexpected question was thrown, Shri Nagaraja Sharma remained silent for few minutes struggling with emotions 'if entire details are to be explained, lot of time would be consumed blocking others who have come for the darshan of Periava'. Before he could recoup from emotions and answer, Periava himself broke the silence by directing him to reveal everything so that those assembled there could also listen. Cooling down, Shri Nagaraja Sharma explained each of the details to Mahaperiyava. At the end  of the conversation, Mahaperiva entered into  meditative mood to open his eyes  few minutes later telling 'Since the cave you saw in Sanghalghat  was not closer to the river, it may not be the one where Adi Sankara took diksha. The cave must be closer to the river with facility to easily fetch water from the river.  Since Swami Swaroopananda hails from that area, he may know more.  Meet him again and convey what I told you'. Bounced back, he met Swami Swaroopananda, conveyed the message of Mahaperiva, and with further guidance from  Swami Swaroopananda he  recommenced the work of tracing the real cave. He remembered to have read an article in which it was mentioned that Adi Sankara identified the cave where his master Shri Govinda Bhagavathpadar stayed by the sight of his  master's sandal at the entrance of the cave. The clue helped in some manner to Shri Nagaraja Sharma who literally began to scan every inch of the mountain to locate the  cave where Adi Sankara reportedly took diksha though in between he was even frustrated unable to locate it. During search he had to  also encounter threat from hiding wild animals and poisonous creatures in some of the caves, but  somehow managed to escape from all of them by the grace of god. 
One of the books  'The period of Shankara' written by Thandalam Shri Sankaranarayana Shasthrigal published in the year 1916, which he chanced to read earlier, carried hints  on the whereabouts of the cave. It mentioned that Shri Adi Sankara took diksha and learnt Vedas from his master in the very same cave where both Sri Govinda Bhagavathpadar and his master Shri Gowdapada stayed together and meditated. It further mentioned that Sri Govinda Bhagavathpadar attained siddhi in the same cave.  All those clues greatly helped  Shri Nagaraja Sharma in his search. Ultimately in the year 1978, on the day of Shivarathri he was  blessed to find the cave where Shri Adi Sankara took diksha. 
As per Shri Nagaraja Sharma, Sri Govinda Bhagavathpadar received discourse on Vyakarna Bhashyam in one stretch without any break in the very same cave. He received the teaching from his master Shri Gowdapada who was in the form of Brahmaraksha while teaching him. The moment Adi Sankara saw the sandals of his master at the entrance of the cave 'Guru Pathuga Panchagam', a recital spontaneously came out from him. Once during their stay in the cave when river Narmada  in spate  began to gush into the cave where  Sri Govinda Bhagavathpadar was fast asleep, Adi Sankara contained its fury  by encapsulating the river in his Kamandal using his power and held back the river at the entrance.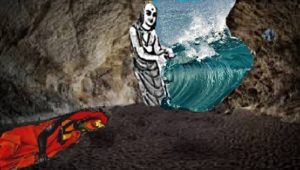 Ultimately after visiting several caves, Shri Nagaraja Sharma was able to locate the cave which matched in all respects as explained by Mahan of Kanchi who must have seen it with his spiritual insight and wisdom. While the entrance of the cave  touched the river, the inner cave had three more hidden inner caves to visit the temple Omkareshwar. But those passages remained  blocked. There was a small aula (small mandap) nearby the cave which the locals claimed as the Samadhi of Sri Govinda Bhagavathpadar, but it turned out to be the spot where Adi Sankara actually received his diksha. As per Shri Nagaraja Sharma, in one of the texts on Adi Sankara 'Brahath Sankara Vijayam', full   credit  has been given to the construction of such an artful architectural cave to King Harsha Vikramaditya  of Ujjain, who reportedly was born to  Sri Govinda Bhagavathpadar when he spent early days of life in an  ashram.
In an act of recognition and authenticate the great finding of Shri Nagaraja Sharma who had to face severe hurdles during the search, His Holiness Swami Abinavasachidananda Sankaracharya of Dwarakapeet  and His holiness   Swami Swaroopananda of Jyotish Mutt visited the cave in Omkareeswarar on January 7th and 8th in the year 1979 accompanied by Shri Nagaraja Sharma. They not only praised Shri Sharma on his great achievement but also  profusely blessed him.
However there was uneasiness within Shri Nagaraja Sharma  who felt that it would have been more appropriate had the findings been authenticated by the sage of Kanchi.  Therefore  he went to meet the divine  saint on 29-01-1979 in Hampi where  he was  camping then and narrated everything in detail. The sage of Kanchi perhaps in a mood to kindle Shri Sharma asked him ' Would it shock him, in case it is found that what he has traced was not the real cave where Adi Sankara took diksha'? Utterly shattered Shri Nagaraja Sharma  in  fit of frustration replied  'if Adi Sankara had not taken diksha in the cave which he had traced finally, he may have taken diksha in some other place as no more caves are there'. Hearing the reply Mahaperiyava closed his eyes and remained unmoved for the next half an hour. The silence unnerved Shri Sharma whose palpitation increased. As time passed in silence feel of guilt gripped him to think whether he had even unknowingly insulted the sage in some manner. Cursing himself for his foolish reply he stood  in uneasiness before the saint like a sheep awaiting death in a meat shop.   
Shri Nagaraja Sharma writes "Half an hour passed in absolute silence. Suddenly the sage opened his eyes and shook his head in gesture of endorsing my finding with a loud laughter that pierced into  every hole in my body. It looked as if Adi Sankara himself stood before me in person to endorse my finding.  Such an awesome atmosphere  can never be experienced or expressed as it  lasted only for few moments. Tears rolled over my cheeks, I stood there looking at the face of the divine in human form before returning back to normalcy sometime later".  
Recognition to his great work did not end there. On April, 1980 accepting the request of Shri Nagaraja Sharma, Kanchi Kamokoti Peedaathipathi Shri Jayendra Saraswathi Swamigal visited the site and appreciated the holiness of the place, but also formed a trust in Bhopal to renovate the cave and its surrounding to throw it open for public worship from 27th April 1987 naming it as 'Gugai Mandir' (cave temple).   
The then President of India Shri R. Venkataraman too paid a personal visit to the holy cave and also invited Shri Nagaraja Sharma to Rashtrapathi Bhavan on  06-09-1988 to honor him for the exemplary fete.  
Thus the most pious cave which remained hidden for many centuries from public knowledge, where Adi Sankara took Sanyasa diksha and learnt entire Shastras from his master, was discovered and opened up for public worship by the great efforts of Shri Nagaraja Sharma (Contact No : 080-22331447, India).