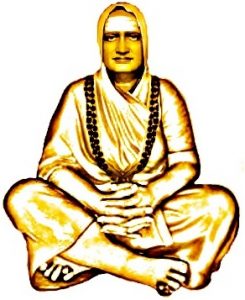 Sri Sakkarai Amma  alias
Aanandamma

-Santhipriya-
Many famous Siddhas have attained Siddhi in two important places like Chennai and Pondicherry in India. The reason for the same is unknown. Several Siddha purush as we call the Siddhas, born elsewhere, and after traveling various parts of the land, finally reached the above two places and attained siddhi. Generally one would normally find Siddha Purush in male genders, but rarely heard of female in them even though there existed few highly enlightened female souls in them too. One such greatest Siddha Purushini was Sri Sakkarai Amma who used to be called Paravai Siddhar meaning the one who flew in air like a bird. Her samadhi temple can be seen in the midst of Kalashethra and Pamban Swamigal Samadhi temple in Chennai. The original name of the mother who was known as Sri Sakkarai Amma was Aanandamma.
The power to convert oneself to the size of an atom, lighter body to heavier one, ability to travel to any place of their liking in wink of eyes, enter into another body etc are amongst the eight mystic powers of Siddhis called Ashtama Siddhis. Sri Sakkarai Amma reportedly possessed all those powers and people have also seen her moving with a live Cobra tied onto her waist. Who is Sri Sakkarai Amma?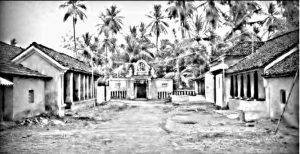 Sri Sakkarai Amma was born to her parents Shesha Gurukkal and Sundarambal in the year 1854 in a village called Devikapuram near Tiruvannamalai in North Arcot district. Her father Shesha Gurukkal was a priest in Periyanayagi Amman Temple which was adjacent to their home. Since she was born in the Tamil year Anandam, they named her as Aanandamma. She learnt Shiva Sthuthi, devotional verse on Lord Siva from her father and went with her father to the temple and sat in meditation in front of the Devi for hours together chanting the verse in silence. While the boys and girls of her age spent their time playing, she never showed an iota of inclination to join them in the play and instead confined herself to meditation and spending time in the temple.  The life history and miracles of this great soul came to light only through the personal diary of Shri. Nanjunda Rao who was a famous medical practitioner and her disciple.

As Sri Aanandamma thus grew detached from worldly pleasures and behaved different from normal child, at the age of nine, in deference to the orthodoxy and custom prevailed then, she was married to Shri Sambasivan one of the distant relatives of her mother and a priest in Komaleeswaran pettai monastery in Chinthathripet, Chennai. Being too young and tender in mind and thoughts at the age of nine, she could not meet the aspirations and sensual pleasure needs of her husband. Therefore he treated her as mere maid servant and reached out other girls for pleasure which affected his health and soon he died when Sri Aanandamma was just twenty years. But his demise did not affect her mentally as her mind and heart was fully and deeply spiritually attracted and therefore it was in a way a relief to her. In deference to the custom and orthodoxy, her head was clean shaven and she was forced to wear only pale colored brown saree exclusive to widows which also she gracefully and wholeheartedly accepted after which again she began to spend several hours sitting in meditation in Komaleeswaran temple.
As time passed after the demise of her husband, she had to shift to her brother's house in a place called Polur in Chennai which was the turning point in her life. A woman saint namely Gunaamba lived in a temple in the nearby hillock called Natshathirak Kundru (Hillock of stars). As Sri Aanandamma frequented the temple for meditation, she acquainted with the Woman Saint and slowly turned into her disciple accepting her as her Guru. Frequent visit to the hillock temple for meditation took her close to the Woman Saint who at one stage pleased  with Aanandamma initiated the mystic spiritual illumination (called Gnana Deeksha in Sanskrit) to her.
Besides imparting spiritual illumination, the Woman Saint further imparted the most secret and powerful mystic Sri Chakra Upasana practice to Sri Aanandamma and transferred from her yet another most secretive power of Lahima under Ashtama Siddhis which enabled one to lighten their body to glide like a bird in air. The Siddha purushas flying like bird is not unknown to us since the Mahavamsam, the chronicle and history of the then  called Ceylon (now Srilanka) reveal that Lord Gautama Buddha and several of his disciples flew in air like birds from Bodi Gaya to reach Srilanka when the country was turning to Buddhism. Siddhas like Bogar and Agastya too used to glide like birds to reach out the places of their destination. The only Woman Siddha Purushini who possessed such an power of flying in air like a bird was Sri Aanandamma and it has been confirmed by none less than a great Tamil Scholar and social activitist of yesteryear who in his book "Ulagoli" has recorded that once when he was standing in the terrace of Wesley College in Pudupettai in Chennai, he happened to see Sri Aanandamma gliding in air like a bird. One of the Europeans who was curator in the then called Madras Museum, closely studied Sri Aanandamma  and concluded that  he believed that she belonged to the race of birds, and therefore possessed the powers and features  to  fly  like birds.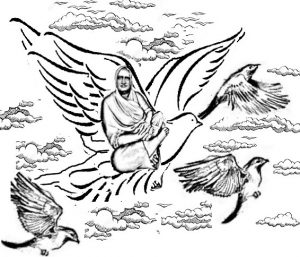 After initiated by Sannyasin Gunaamba, Sri Aanandamma used to go and sit in meditation in the terrace of her house for hours together which gave her abundance internal bliss. The day of attainment of bliss finally arrived one fine day as predicted by Nakshatra Gunaamba. When Aanandamma  was in deep meditation she suddenly realized that she was flooded by rays of a very bright light which intruded into her body.  Next moment she began to laugh hysterically and since then the laughter became a permanent feature of her. Her family members thought that she has turned mentally deranged because of the sudden death of her husband at her young age and therefore ignored her. Unmindful of their comments when she continued to behave so, another important turn came in her life. Her brother fell seriously ill and in order to treat him, the family had invited M.C. Nanjunda Rao, a doctor who was also a spiritualist and philanthropist.
When he was attending to the patient, he heard  the loud laughter of Sri Aanandamma  and stood curious to know who was laughing so loudly. Though the family members casually remarked that the voice of the woman sitting in the terrace was mentally deranged, the doctor's mind failed to accept their theory as the tone and tenor of the laughter appeared quite different to him. He started observing the behaviour of Sri Aanandamma  whenever he visited them for treatment  and once he happened to see her sitting and merrily laughing at the entrance of Komaleeswara Temple. Without hesitation, he went near her and politely sought reason for her uninterrupted laughing.
Aanandamma  instantly stopped laughing and indicated that it was not she who was laughing, but it was her soul indulging in such an act. She explained that one must know that the soul and body were different  and therefore the soul  released the ecstasy through loud laughter when in bliss and happiness. Her words struck Shri. Nanjunda Rao like a thunder bolt who instantly realized that she must be surely  spiritually awakened soul, an divine incarnate and fell at her feet. Then on he became her disciple and adapted she as his master (Guru) and divine.

Actually it did not take long time to an spiritually attracted personality like Shri. Nanjunda Rao to realize that she was a awakened soul of the highest order. The very first day when he confronted with her laughter in the terrace of her house when he went to treat her brother infused unknown attraction towards her while others thought her to be mentally deranged. His mind not only firmly refused to accept her to be insane, but also attempted to unravel the mystery behind her laughter even though he was medical practitioner. After he became her disciple, he accompanied her in her different pilgrimages and visit to other temples wherever she wanted to go and simultaneously began to propagate her divinity to others. Since Sri Aanandamma  performed the Pooja of Sri Chakra along with Lord Shiva's, she began to be called Sri Chakra Amma which in further period of time twisted as Sakkara amma and then to Sakkarai Amma. Once when she met the divine soul Ramana Maharishi he revealed that she was already a blessed soul. Some say that she went gliding in air to meet Ramana Maharishi.

Those who visited Sri Aanandamma  and sought her blessings, they have indeed experienced wonders and miracles in their life. No advertisement was needed to spread her fame, it automatically tickled down to thousands and thousands of devotees by word of mouth stories. Even today her temple attracts large no of women devotees. Sri Aanandamma  has never involved herself in family affairs, nor visited anyone's' home in private visits nor attended non-religious functions and private parties in any one's home as she was  divine incarnate and spiritual in thought and act. Pomp and show was anathema to her. She herself led a very simple life and loved and treated every one alike without discriminating as rich and poor. Any one was able to meet her in audience without getting preferential treatment. Her whole heart and soul was devoted only to spiritual causes. Yes, a true divine born as human on earth would only portray qualities of above nature unlike many who claim to be divine but lead life of luxury and comfort filled with all worldly pleasures at the wealth of others. Sri Aanandamma,  true divine soul interacted with many religious teachers of high order. Adimudi Siddha, the disciple of Gautama Muni taught her the path to attain enlightenment in silence. Besides Shri Nanjunda Rao, many had turned disciples to the mother.
In the year 1900 or so she desired to visit Marutheeswarar temple at Tiruvanmiyur in Chennai. While returning back from the  temple she showed a piece of barren land to Shri. Nanjunda Rao and asked him to buy the land so that her mortal remains after her death can be buried at that spot. She assured him that she would stay alive in that spot and continue to bless those who seek her favors and that her samadhi would remain the temple of peace. As indicated to Shri Nanjunda Rao, Sri Sakkarai Amma's soul, left the physical body on 28th of February in 1901. As already commanded by her, her mortal remains were buried there and a temple came up surrounding it. The Samadhi sthal cum temple built in between Kalashethra Road and Kamaraj Road continues to attract scores of devotees seeking the favor from the divine mother whose soul remains eternal there.
The Temple Address
Sri Sakkarai Amma Temple
Late Dr. MCN Pvt Religious Trust
# 75 Kalkshetra Road Thiruvanmiyur Chennai 600 041 India
Tel: +91-44-2452 1236
Contact Person: Smt. Sumana Suresh
E-mail: trustee@srisakkaraiamma.com