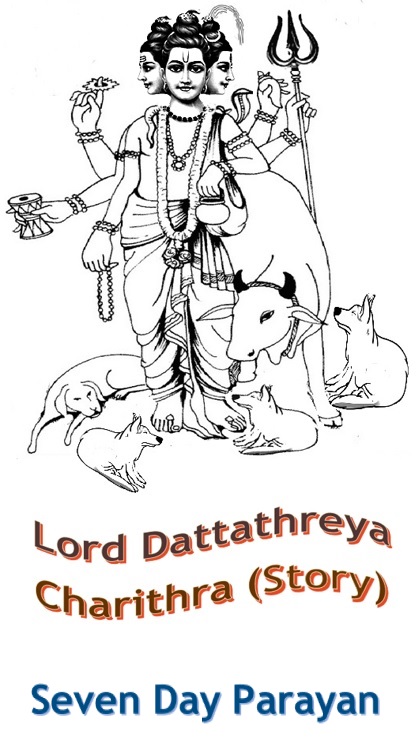 Santhipriya
I bow to Lord Dattathreya who is Sadguru, the absolute,
personification of pure knowledge,
beyond duality (of you and me), all pervasive, pure,
eternal, the embodiment of Parabrahman,
bestower of supreme happiness and bliss,
beyond mind, body and attributes of the Trigunas
namely Satva, Rajas and Tamas."
"Bow to Lord Dattathreya who is Sadguru, the absolute, personification of pure knowledge, beyond duality (of you and me), all pervasive, pure, eternal, the embodiment of Parabrahman, bestower of supreme happiness and bliss, beyond mind, body and attributes of the Trigunas namely Sattva, Rajas and Tamas."
Introduction
Lord Dattathreya embodiment of three prime divines- Lord Shiva, Lord Brahma and Lord Vishnu incarnated in universe with three heads, body seen smeared with ash, the divine Cow Kamadhenu standing behind and four Dogs under his feet. But he wandered in the appearance of an Avadhoot.
Maharishi Suthaga who gave discourses to the sages and saints in the Naimisaranya forest reportedly mentioned Lord Dattathreya as sixth incarnation of Lord Vishnu contrary to the views of others, who believe that the sixth incarnate of Lord Vishnu was Lord Parasuraman. Many are not aware that the divines have the power to take more than one incarnation in the same era, contemporary to each other for some specific reasons, since all those manifestations were from the divine energies of the Prime divines but appeared in different forms.
The reference on Lord Dattathreya is found in Garuda Purana, Brahmanda Purana and other sacred scripts of Hinduism. Devotees believe Lord Dattathreya to be the Principal Guru (Master Guru of Gurus) from whom the subsequent lineage of Perfect Masters emerged as decedents of Lord Dattathreya. He is adored by the Nath sampradaya in Northern India, who consider themselves to be in the lineage of Lord Dattathreya. They claim him to be Adi Guru (Principal Guru) whose fame spread across Maharashtra and Karnataka.
The lineage of Guru Parampara emerged only after the manifestation of Lord Dattathreya. Sadguru or spiritual masters like Shirdi Shri Saibaba, Shri Pada Vallabh, Shri Nrusimha Saraswathi, Shri Gajanan Maharaj, Shri Timbe Swami and Shri Manik Prabhu were the Sadgurus who manifested in his lineage. The literal meaning of the word Dattathreya is – Datta (Given) and Athreya (son of sage Athri), suggesting the one who has given himself as the son of sage Athri for welfare of the universe. Some say that 'Datta' means the 'one who gave' and since he gave himself for the welfare of the universe, he was called Lord Dattathreya.
Prayer or worship is considered to be an integral part of the Hindu religion. Worship is of two type. The first is through a ritual called Pooja, which everyone would not be able to perform due to several restrictions and regulations prescribed. Initiation from a master (Guru) is required to perform certain Poojas. Otherwise, the Poojas can be performed either directly or with the help of pundits. It is important that the mantras are to be chanted with proper pronouncement of hymns (mantras) or pronouncement of each word, lest it may result in negative impact. The second form of worship is reading or recital called Parayan. The story of certain divines or spiritual masters are read or recited from the holy/sacred books called Parayan books for specific period of time prescribed for each of them.
Few centuries before, which was post Vedic period, the worship of divines through recital or reading the stories of spiritual masters in silence from the Parayan books called Parayan Pooja. Such a practice subsequently spread to many places facilitating almost everyone to easily adapt and practice them for fulfillment of their desires. The Parayan Pooja was initiated by saints and sages of yester years for the benefit of common mankind and soon spread widely, though it is not known when this worship pattern was introduced or who put it into practice.
The ritual of reading Parayan was of two kinds – one being recital of Parayan by individuals who read or chant the contents of the sacred books in silence in their Pooja Hall or home. The other one is called group Parayan, in which many devotees either assemble in one place or participate in the Parayan by reading or reciting the contents of the Parayan books at a specific period of time announced for the group Parayan. Although both methods have their own regulations and restrictions, the easiest form of offering worship is to individually read or recite the entire life story of some of the spiritual masters called Mahans or the life story of certain deities for specific period of time/days prescribed for them. The mass belief is that by performing Parayan Pooja one's desire gets fulfilled.
Initially sacred/holy Hindu texts like Shrimad Bhagavata, Chandi Saptha Sathi, Soundaryalahiri, Lakshmi Purana, Sita Kalyana, Thirupughazh, and Thiruvasagam, some parts of the Ramayana, some parts of Mahabharata, Bhagavad Gita, Guru Gita, Guru Govindam, Kandashashti and Kanthar Anubhuti were recited in the name of Parayan because the verses in them were simpler to read or recite. Some in them were daily recited, some once a week and some others recited once a month.
When this cult was in practice, few centuries ago the recital of stories of certain enlightened souls called Mahans emerged in the name of Parayan. Perhaps recital of Guru Charithra or Guru Samhita was the first in line of such practice. Guru Charithra or Guru Samhita written in the 14th or 15th century was the sacred book written, originally in Marathi language, in the form of the conversation between Shri Narasimha Saraswathi, and his disciple called Namdharak, which recounts the life of Lord Dattathreya and Sripada Srivallabha.
Few centuries later, the life story of Shri Shirdi Saibaba and Lord Venkatachalapathi Charithra remained the most popular Parayan books for their devotees. Although the story of Lord Dattathreya had also been read and recited in the name of Parayan, and lectured through discourses called Satsang. Initially it did not draw wide acceptance in most parts of South in India, reasons for which is unknown. However, the life story of Lord Dattathreya was read or recited in the form of Parayan in some parts of the state of Maharashtra, some parts of Karnataka and Andhra Pradesh. It was also no secret that the stories of certain divines read as Parayan were confined to close group of people who were the followers of those deities. Perhaps for the same reason the life story of Lord Dattathreya had also not spread in many parts of southern region. It was only in the year 1971, after the establishment of the Datta Peta, in a small village called Senthamangalam that the glory of Lord Dattathreya began to spread in Tamil Nādu while Shri Ganapathi Sachithanantha Swamigal of Mysore Datta Peet, who is also claimed as one of the incarnations of Lord Dattathreya by his followers has been responsible for spreading the glory of Lord Dattathreya far and wide.
The practice of recital or reading the Parayan books were done:
to get the wishes or desires fulfilled

to get relief from health issues, to beget progeny or related issues

to alleviate the problems or sufferings encountered

to beget good education/knowledge/focus in studies /to secure good 

results in some field.

for success in employment and interviews

financial, material, emotional, family and relationship related issues.

in pursuit of spiritual path

to overcome pride, ego, control over worldly materials and sensations.

for peace and harmony in their family.
Depending upon the nature of one's problem, the Parayan books were read or recited for a period of 7 days @ one chapter a day for 7 days or entire book 7 times spread to 49 days (same book read again and again 7 times) as prescribed for recital in such Parayan books. Generally, it is stated that the contents in the Parayan books are to be completely read or recited within a day. However, if one does not find sufficient time to complete the reading in a day's time, it could also be read or recited as per their convenience diving them into 3 to 4 divisions, but within the prescribed period of days stipulated. The practice of reading or recital of Parayan Books have been initially spread by sages and saints amongst the public at various periods of time.
How do one feel during the recital or reading period of the Parayan book? During Parayan the wavering mind of readers come under control over the worldly objects and sensations and they feel as if they were in tranquil and peace. Due to severe sufferings encountered on account of several issues, the mind gets corrupt surrounded with negative thoughts. When the energy waves of the negative feeling get released from the body, the negative waves contaminate the good energies surrounding them, further exerting a subtle effect on those around corrupting their mind too. Therefore, it is necessary that infusion of positive energy would be the best solution to face the challenges effectively with clear thoughts and to overcome and encounter the problems which lay beyond ones' control to rectify them with right approach. Therefore, the best way to infuse positive energy was derived by engaging in the process of Parayan wherein one's concentration remain confined only on -Mahans or Deities- thereby driving away other unwanted thoughts.
One may wonder whether the intended mental strength is derived instantly on commencing the process of Parayan. Certainly not to be expected, however if not from the very first day of the commencement of the recital, at least in the next few days one would certainly realize noticeable tranquil falling in mind in which stage, the negative feelings begin to vanish occupied by positive thoughts which releases positive energy from the one engaged in the recital. This is comparable to the philosophies of meditative waves which travel and penetrate into the mind of those whose favorable act is needed to readdress the grievances or penetrate into the mind of those whose parting of ways caused mental agony thereby energizing their mind to think positively to realize the truth and lay platform for peace, wherever they may be staying. This is only a small example to explain the power of recital or reading the Parayan books with absolute faith and devotion.
Because the impact of thought waves lay foundation to beget positive energy which led one to reach the feet of divine to get redressed of their problems, the recital or reading of Parayan books were adapted for specific period of time in which period the power of chants of words or scripts carry the plea or request of the reader in the form of their mind energy waves and release them at the feet of specific divines whose mercy or grace was needed for reversal of their sufferings. The divines too who are always compassionate, when receive the justified demand of the reciter in the form of the reciter's energy waves falling at their feet, they ensure the wishes of the seekers succeed. This the basic philosophy, belief and principle of the Parayan process of worship that has been introduced and left to the individuals to believe or disbelieve such philosophies and practices.   
Even though there were no apparent regulations on how the Parayan books is to be read or recited continuously from beginning to end without break, all that were told were based on word of mouth spread information only. There were strong reasons to believe that the recital or reading of the entire book could also be performed by dividing them into few parts, but should be completed within the prescribed period of time stipulated for the recital.
While it is said that the life story of Lord Venkatachalapathi is to be completed within 90 days, the recitation period for Parayan book is in the order of seven days or multiples of seven. That means reading or recitation of the complete book- seven times within a day or reading or reciting the contents seven times within seven days and so on. Remember performing the Parayan should be limited to one request at a time and for multiple requests, that much multiple recitals would be needed.
When I tried to understand why the logic of seven has been prescribed, I realized that seven has been the most important number in many ways. A week has seven days, seven planets, seven sages who were initially born as Saptha rishis, seven oceans, Rainbow on sky which has seven colours, seven important virgin deities, seven universes within the cosmos, music comprises of seven tones, seven stages to attain the power of Kundalini etc. Therefore, it could have been the reason for prescribing seven times/days/multiples of seven for the recital of Parayan books. It could also be because the story of Lord Dattathreya and Shri Pada Shri Vallabh has been rendered in seven days by Shri Narasimha Saraswathi Swamiji to his disciple Namadakhara, the number seven may have gained importance for the recital of the Parayan books.
What is the benefit one derives out of reciting the Parayan book of Lord Dattathreya? Besides in fulfillment of wishes recital of the Parayan book of Lord Dattathreya also remove Pithru Dosha (Sins caused for neglecting ancestors), bring peace and harmony in the family, eradicate the ill effects of evil souls like Ghosts and spirits and also lead into the path of enlightenment called wisdom. In view of above reasons, I have compiled the life story of Lord Dattathreya in seven parts for easy recital or to perform Parayan spread over to seven days, one chapter a day.
While in service I encountered several strange events in my life. It is not known why or how they happened. This book had also been written in one such situation when I was attracted by the very name of Lord Dattathreya who deeply entrenched himself into my heart. During many years of my service in Dewas, a small district in Madhya Pradesh, few of my Maratha friends used to visit Lord Dattathreya temple and perhaps my association with them was the reason why I was attracted toward Lord Dattathreya. Those were the days when I would get delighted hearing the name of Lord Dattathreya and I made it a practice to visit a very old Lord Dattathreya temple in a small village called Bamankedha on way to Ujjain from Dewas. It was in that temple my attachment with Lord Dattathreya grew stronger.
I do not remember the year when in one of the Tamil Magazines namely Kalavalli, edited by Shri Nagaraja Sharma, a serial on Lord Dattathreya was getting published. I was a regular subscriber of the said magazine and read the story on Lord Dattathreya. When I read in the story, unknowingly I was further attracted by the names of Renuka Devi, Lord Dattathreya, Lord Parasuraman and Gooseberry tree called Aththi or Nellie Maram in Tamil etc which prominently appear in the story of Lord Dattathreya. Unfortunately, the Magazine discontinued its publication midway. Once when I went to Bangalore on an official duty, I happened to get a book on Lord Dattathreya written by his holiness Ganapathi Sachithanantha Swamigal of Mysore Datta Peet. Attracted by the Swamiji, when I met him in person along with my wife to receive his blessings to write a book on Lord Dattathreya. In the meanwhile, I purchased few other books on Lord Datta and read them besides collecting some information through websites. Finally with all the inputs in hand including that of the book written by his Holiness Sree Sree Sree Ganapathi Sachithanantha Swamigal, I wrote the Parayan book on Lord Dattathreya in Tamil and published it in my website.
Jai Datta Deva
(N.R. Jayaraman alias  Santhipriya 
Email:nrj1945 @gmail.com)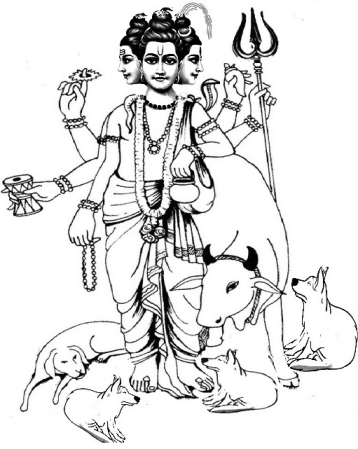 First day Parayan
Om Dattatreyaaya Vidmahe
Yogeeswaraaya Deemahey
Thanno Datta Prachothayaath
Creation of cosmic
According to Soundaryalahiri and Sakthi Puranas, the two sacred Hindu texts, only an unknown soul namely Paramatman existed trillionth and millionth years ago when even the cosmic was unborn. The unknown soul also called Para Sakthi, was embodiment of three male divines-Lord Shiva, Lord Vishnu and Lord Brahma.
Once when Paramatman decided to create the cosmos consisting of fourteen worlds, three prime divines namely Lord Shiva, Lord Vishnu and Lord Brahma emerged out of metaphysical Para Sakthi. Once out from Para Sakthi, Lord Brahma, the designated power of creation wasted no time in evolving the universe consisting of twelve worlds. Following three worlds, he released countless matters and other beings of different nature, both static and moving, besides human beings.
Lord Brahma brought out eternal sages and Saptha Maharishis such as Angirasa, Margasi, Krathu, Athri, Vashishta, Palash and Pulasthiya as his mind sons (Manasa Puthras in Sanskrit). Maharishi Athri was second amongst the seven mind sons of Lord Brahma. Then in installment, several beings of different nature from Lord Brahma came out. Simultaneously Maharishi Kartha Prajapathi, greatest amongst the sages too came out from another side of Lord Brahma.
Several hundred centuries passed after the cosmos was created and the creatures began to live sans ethos, were uncivilized and led life of their own. Watching the fast-deteriorating lifestyle of humans, Lord Brahma was concerned about the future of the universe. He realized that in order to stem the tide of fast eroding ethos amongst the humans and to draw them into the path of civility, a manifestation was urgently needed. Taking into consideration the basic tenets written in the scriptures and considering several other aspects, he realized that only someone who get birth through Maharishi Athri would be able to stem the malady and draw the humans into the path of civility.
Marriage of Sage Athri
Maharishi Athri was celibacy, but it was destined that only through a virtuous son to be born to him and his wife, fast deteriorating values getting destroyed in the cosmos could be stemmed. Therefore, the first task was to explain to the Maharishi the extent of eroding values and maladies spread in the universe, the need for someone to incarnate to bring back the golden era, what the destiny had in store and then to finally convince him to get married to bring out an incarnate through him. Unless he was sufficiently convinced, he would refuse to enter into the act of marriage. Next difficult task was to find a suitable partner to be partner of the Maharishi. After analysing all aspects and options in depth, Lord Brahma zeroed in on a good action plan to get the Maharishi married to a suitable partner.
Kartha Prajapathi the greatest amongst the sages too emerged from one of the sides of Lord Brahma when cosmos was created. Many years later, he married one of the great grand-daughters of Lord Brahma himself and gave birth to nine girls. One amongst the nine daughters was Anusuya, the simplest, disciplined and virtuous woman. Lord Brahma believed that if she could be persuaded to marry Athri Maharishi, then the son to be born to them would end the eroding moral values in the universe. He therefore set the ball of action roll in that direction.
By enacting several divine dramas, Lord Brahma got Anusuya married to Maharishi Athri. But destiny denied any offspring to the married couple for several thousands of years after their marriage, contrary to the expectations of Lord Brahma who expected a child to be born to them very soon. Though the couple too were saddened by the denial of progeny, yet both continued to perform their daily rituals without murmur or display of sadness. At one stage, standing on one leg, Maharishi Athri undertook severe penance for thousands of years praying for a progeny possessing similar qualities of Lord Trimurtis.
The Celestials were amazed on the will power of the Maharishi who carried on the penance standing on one leg for several hundred years. Lord Brahma thought that though he was one of the three different prime deities with three different aspects -Lord Shiva-Vishnu and Brahma, it was the right time to appear before Maharishi Athri in the form of Trimurtis, and grant him the boon he wished (to save the universe).
Events moved fast as envisaged by Lord Brahma and the Trimurtis appeared before the Maharishi to grant the boon the Maharishi desired in fulfillment of his penance – a progeny embodied with all aspects of them. However, it was Lord Vishnu who took birth as the prime son of Athri for certain reason.  The Athri-Anusuya couple were delighted that their wish had been fulfilled. While Anusuya, symbol of chastity was simple, Maharishi Athri always appeared with a Rudraksha beaded mala on neck, a Kamandal (a mendicant's water pot) and a Stick or club in each of his hands.
The greatness of Maharishi Athri
The greatness of Maharishi Athri is glorified by a legend. Once Maharishi Vashishta and Maharishi Vishwamitra turned into bitter rivals claiming supreme than the other. Kalmashapada, one of the Kings, once went to the forest for hunting and on way chanced to meet Sage Sakthi, the son of Maharishi Vashishta. The Sage was unknown to the King and they have also not met before. Therefore, the King passed by the side of the Sage without offering even the courteous respect expected to a saint. Sage Sakthi felt that the King had deliberately insulted him by not showing him the respect due and therefore cursed the King to turn into a Rakshasa (Demon). Kalmashapada felt hurt by the unjustified curse   and approached Maharishi Vishwamitra seeking his help to repeal the curse and to take revenge on Sage Sakthi. As Maharishi Vishwamitra was waiting for such an opportunity to take revenge on Maharishi Vashishta, he quickly converted Kalmashapada into a cannibalistic rakshasa who swallowed humans. Once Kalmashapada got turned into a cannibalistic rakshasa, he swallowed all the sons of Maharishi Vashishta thus wiping out his entire family. Having lost all his sons, distressed Maharishi Vashishta sat in penance unable to overcome the grief.
Sage Sakthi's wife was pregnant when the tragedy occurred and in the next few months delivered a son. When her son grew up and learnt of the grief befallen on his family due to the act of Kalmashapada, who was still in the form of a cannibalistic rakshasa, in a rage and to settle the score, Sage Sakthi commenced a special Yahya (homa) which if succeeded would wipe out the entire clan of Demons irrespective of good or bad amongst them. Maharishi Athri who learnt of the ongoing Yahya foresaw that it would further widen the enmity between the two great Maharishis and endanger peace in the world of sages and saints. He therefore met the son of Sage Sakthi who was performing the Yahya, and apprised him of the consequences and after effects of the Yahya if it successfully got completed. Upon his counselling, Sage Sakthi's son agreed to abandon the Yahya to bring to an end the tension between the two Maharishis.
Another incident to glorify the greatness of Maharishi Athri is this. Once the Devas (Celestials) and Asuras were engaged in a bitter battle which lasted for several years. In the battle that ensued, thousands of arrows fired by both Asuras and Devas blocked the rays of Lord Surya and Lord Chandra from falling on earth, thus plunging the entire universe into darkness. Unable to fight in the darkness, the stumbled forces of Celestials approached Athri Maharishi seeking his support. Exercising the extraordinary yogic power enjoined by him, Maharishi Athri himself turned into alternate moon and Sun and threw light over the universe dispelling the darkness which enabled the Celestial forces to re-group, take control of the battle and drive way the asuras to achieve victory.
The Story of Anusuya
If Maharishi Athri had such great reputation, Anusuya's greatness too was in no way lesser than her husband. She was the celebrated chaste woman in the universe then. Many divines incarnated on earth took birth through few mothers and ended their incarnation after fulfilling the purpose for which they were born. One such instance occurred to Anusuya too was the lone woman who in a matter of few moments transformed the Trimurtis -Lord Brahma, Lord Vishnu and Lord Shiva- into her child and nursed them with her milk without giving birth to them from her body. The story of the divine child, ever eternal with infinite wisdom, thus converted by her is found mention in Markandeya Purana.
A Brahmin by name Kaushika, over period of time became a leper by virtue of past sins and out of lust lost his entire wealth to a prostitute. He got afflicted with a dreaded disease because of the long association with the prostitute. The positive side in his life was his marriage with Leelavathi, who was very virtuous and a chaste woman. Her chastity and virtuousness were none less to that of Anusuya, the most chaste and virtuous wife of Maharishi Athri in those periods of time. Though she was fully aware of the immoral acts of her husband, she served him faithfully, fulfilling every desire of him because the woman in those days considered their husband to be their prime deity.
Once Leelavathy's husband chanced to see the same prostitute with whom he had spent a major part of his life and desired to be in her company for some more time. He requested his wife to take him to her at least once. Since Leelavathi felt that the paramount duty of a wife was to keep the husband happy, in the late of night she carried her husband over her shoulder and proceeded to the house of that prostitute. It was dark in the night with no lights. While walking, she tripped on the road side and her husband's legs hit on Sage Mandavya who was already lying-in pool of blood, fighting for his life having been impaled over a sharp-edged wood on mere suspicion of co-conspirator of a crime which he did not commit. How did sage Mandavya lay wounded there?
When Sage Mandavya was on intense penance in silence, some thieves chased by the Palace guards ran through the place where the sage was observing penance and escaped through the bushes around him. The Palace guards who came chasing the robbers could not find the thieves and unaware that the sage was in penance in silence (mouna Vrath), they asked the sage which way the robbers ran. When the sage did not reply as he was in intense meditation, the guards wrongly assumed him to be one of the conspirators of the crime.
Angered by his silence, they not only insulted him by severely beating him but also on the orders of the King thrust him over a sharp-edged trident, pushed the profusely bleeding saint on to the road side and went away. As Leelavathi carrying her husband on her shoulders passed through that place, mistakenly the legs of her husband hit the body of the sage in the pitch of darkness.
Already wreathed in pain, Sage Mandavya mistook it as deliberate act of insult and cursed Kaushika that his head would burst to pieces when the Sun raised in the morning. Leelavathi knew very well that curses of the sages would not go in waste and as and when the Sun raised in the morning, her husband would meet death. Therefore, in order to nullify the curse, she ordered by way of another curse that the Lord of Sun would not raise in the morning.
Due to steadfast and righteous life of chaste woman Leelavathi and her virtue, the Lord of sun did not rise at the end of the night in defiance of the command of the chaste woman, thus sending shock waves all over the universe.
Want of Sun rays caused massive destruction to the creatures and plants all over the universe. Panicked sages and saints urgently assembled to find a solution to end the ticklish problem and ultimately realized that the curse of a virtuous and chaste woman could be ended only with the power of another equally powerful chaste woman and therefore approached Anusuya with a request to solve the issue and ensure that the Sun rose again to save the universe.
Respecting the request of the sages and saints, Anusuya reached out to Leelavathi, gently apprised her how the universe suffered for want of sun light and convinced her to withdraw her curse. Leelavathi acceded to the advice of Anusuya which led to the raising of the Sun in the morning and the universe was saved from destruction. However, when the Sun rose, Kaushika fell dead of skull explosion on the curse of the sage, but chaste woman Anusuya with her power of chaste, revived the life of Kaushika as promised to Leelavathi. Celestial forces showered flowers from heaven on Anusuya for having played the rightful role to end the problem. The Trimurtis on their part appeared before Anusuya and asked her what boon she desired. She had no hesitation in seeking an offspring as desired by her husband Athri and the Trimurtis too happily granted the boon since they were aware that they were only going to be born to her.
The Divine Play of Trimurtis
Hearing the fame and popularity of Anusuya through the Celestials and others in heaven, wives of Lord Brahma, Lord Vishnu and Lord Shiva became jealous of her and wanted to test the strength of her chastity. Maharishi Naradha Muni too now and then went and added fuel to their hate feelings. Therefore, to test Anusuya, the wives of the Lords in the first instance gave few iron balls in disguise of peanuts and asked Sage Naradha to take it to Anusuya to get the iron peanuts roasted like peanuts. With the power of her chaste, Anusuya was able to even roast those iron balls and sent them back to the three Devis heightening the anger.
Unable to digest their defeat, the three Devis again fell into the trap of Sage Naradha and as per his advice decided to send their husbands to Anusuya, to test the strength of devotion to her husband. Trickily they roped in their husbands into their scheme of action by comparing the divine powers of their husbands with that of the powers possessed by Anusuya   thus fuelling their ego. They praised that the powers of a chaste woman were far greater and powerful than the divine powers of the three supreme Lords. Hit by the ego, the Trimurtis too waited for an appropriate time to test the conjugal fidelity of Anusuya and to prove the opinion of their wives to be wrong.
One day while Maharishi Athri went to the river in routine manner to perform his daily chores, the Trimurtis in guise of Saints went to his cottage of the Maharishi and asked for Biksha (the customary food that Brahmins or saints would beg from householders) to satiate their hunger. Anusuya knew that denial of food to mendicants seeking alms is a greater sin and therefore welcomed them with offer of food.
However, unaware of their real intention she invited them inside, got them seated, prepared food and came out to serve the food. They refused to accept the ready to eat food unless she divested herself of all her clothes and gave them the Biksha in undressed state. Only in front of her baby a woman can undress, hence when the saints demanded her to undress and serve the food, Anusuya was shocked. Appearing undressed before anyone other than their husband tantamount to loss of modesty, at the same time she realized that the mendicants should not go hungry which would bring in sin to her home.
Though Anusuya was bewildered by the strange condition of the Trimurtis in disguise of mendicants, instantly realizing the shame it would bring she closed her eyes, prayed to her husband, and with powers gained by her devotion to her husband, she instantly turned the Trimurtis into new born babies, and nursed them with her milk with motherly affection. By then Maharishi Athri returned home. Anusuya narrated the entire play of the Trimurtis even as Maharishi Athri through his mind power quickly visualized everything since he was one amongst the greatest Saptha rishis.
Many years passed. The delighted couple -Anusuya and Athri Maharishi – brought up the children with care and warmth while the wives of the Trimurtis were worried that their husbands had not returned back. They contacted Maharishi Naradha and requested him to find out where their husbands had gone. When Sage Naradha reached the hermitage of Athri Maharishi, he was shocked to find the Trimurtis in the form of babies, playing with the Maharishi couple. He ran back and informed Goddess Lakshmi, Goddess Saraswathi and Goddess Parvathi, the condition of their Lords.
When the goddesses learnt of the predicament of their husbands, they ran to Anusuya, begged for forgiveness and requested her to return their husbands. Anusuya taking pity on the three Goddesses and acceded to their request and with the very same powers of chastity, she brought back the Trimurtis into their original form. The happy Lords appeared before Anusuya in the form of three headed Lord Dattathreya, an embodiment of three Lords and went back to their abodes promising to get birth to her at an appropriate time.
The birth of Lord Dattatreya
As time passed, the three Lords got birth to Anusuya as her sons. While Lord Shiva took birth as Maharishi Durvasa possessed with the qualities of Tamas, Lord Brahma possessed with the qualities of Rajas took birth through the eyes of Maharishi Athri and Lord Vishnu with the qualities of Sattva took birth as Lord Dattathreya for a specific reason.
In ancient time, a king named Kashyaban ruled the universe with tyranny. He had a son named Kashyap. Once Devas under the command of Lord Indira fought a fierce battle with Asuras and Kashyap died in the battle even as the war continued nonstop for many years under the leadership of several Kings of Asura clan. The Asuric forces were guided by Sage Sukra. Unable to gulp the repeated defeat of Asuric forces at the hands of Lord Indira, Sage Sukra went to Himalayas and sat in intense penance seeking boon from Lord Shiva to defeat Lord Indira.
Angered by the penance of Sage Sukra, Lord Vishnu killed his mother when Sage Brigu was also present on that spot. Sage Brigu got annoyed on the act of Lord Vishnu slaughtering a hapless lone woman, mother of his colleague sage. Unable to accept the cowardly act of Lord Vishnu, he cursed that Lord Vishnu to take countless births on earth in the form of human to atone the sin. Hence Lord Vishnu had to take birth as Lord Dattathreya. Lord Dattathreya born to Anusuya and Athri Maharishi couple grew up as an entirely different child in nature and behaviour compared to other normal children.
The Life and Iconographical attributes of Lord Dattatreya
The life style of Lord Dattathreya was quite different to that of a normal child. His behaviour and attitude were in contrast to his outwardly appearance. He led a monastic life, renouncing worldly attachments and spent most of his time wandering around mountains and jungles, far away from home. As an Avadhoot he was the supreme reality of truth, the perfect master who had realized the absolute truth and reached zenith of spiritual attainment with mastery over Vedas. He possessed highest Yogic powers, though they were never displayed outwardly. Indeed, his incarnation as an Avadhoot was meant for the welfare of the universe and to spread Gnana (wisdom). Only those who understood the truth of his incarnation turned into his disciple.
Lord Dattathreya would not easily accept anyone as his disciple unless he puts them to arduous tests.  The yogic achievements and divine plays displayed by him were beyond the comprehension of even Rishis and Sages who penanced over thousands of years. He would deliberately appear before others as uncouth, half naked, sometimes as a lunatic biting piece of mutton, liquor bottles in hand, or engaged in indecent acts with women to test the seekers who reached him to become his disciples.
Not every one of the seekers who came to him relished the divine plays. Few of them went away disgusted without understanding the real intention of the Lord who wantonly tested them. They were unaware of who he was, or why he was behaving so, but those who knew and heard of his divine plays were firm in surrender and stood steadfast irrespective of how the Lord tested them and became his disciple. Lord Dattathreya always enjoyed testing his disciples in many ways.
Lord Dattathreya was a wandering Avadhoot with extraordinary insights and knowledge and remained freed of all attachments. His soul was sacred and pure, independent of physical body consisting of flesh and blood. He was a mysterious monk beyond the imagination and comprehension of others. Nobody could predict where he would go, how, why and when. One had seen him in the form of uncouth or half naked wandering beggar covered with stinking, dirty, torn clothes followed by few dogs. Sometimes one would even see a sacred Cow standing by his side. He was often seen immersed in lakes and ponds for several hours meditating or even lying-in solitude in the cemeteries or river beds.
Lord Dattathreya, embodiment of Lords Brahma Vishnu and Shiva, always appeared as a great Avadhoot moving from place to place since he had taken birth in the form of a human. He covered his body with deer's skin, holy ashes brought from the cemeteries smeared over the body, aura (halo) of rays seen around his otherwise calm and composed face.   He always preferred to live under the holy Audumbar-generally called Aththi tree.
Significance of the Symbols of Lord Dattatreya
It will be interesting to know the significance of the figurative symbols he carried or which stood surrounding him.
The divine wish fulfilling Cow called Kamadhenu representing creation and the planet earth, to symbolize that the Lord is compassionate to his devotees and fulfilled their desires besides shielding the universe and dharma (righteousness).

Four dogs were sublime symbols of four Vedas under his command.

Trident portraying that he destroys one's ego and Trigunas namely Sattva, Tamas and Rajas

Tambourine (a holy instrument-hollow with something rattling inside) to symbolize that he destroys the pride and ignorance by awakening ones' conscience.

The Sudarshan Chakra to symbolize that he is Omnipresence, infinite and controller of the cosmic, ever eternal beyond time.

Conch that resonates inner soul with the Pranav sound Aum and represents eternal sound AUM which is source of all power

Ash symbolizing that every beginning has an end

Begging bowl (Biksha Vessel) to preach what could be spared should be shared with others

Japamala (an ornament carried by the saints in hand made of Rosary beads) to tell one to internally keep praying and chanting the name of God.
Digambara, Digambara, Sree Padha Vallabha Digambara
Digambara, Digambara, Sri Dattadeva Digambara
Om Shri Dattatreya Guruve Namaha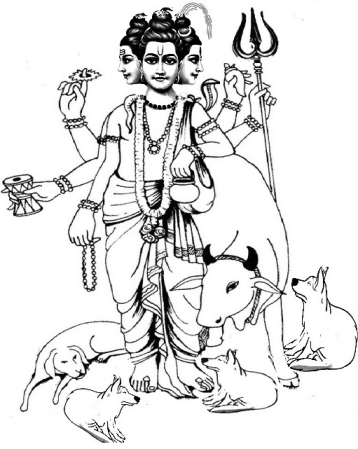 Second day Parayan
Om Dattatreyaaya Vidmahe
Yogeeswaraaya Deemahey
Thanno Datta Prachothayaath
Who was Lord Dattatreya? King Yadu's doubt
One of the stories found in the Bhagavata Purana is the story of King Yadu, who inspired by Lord Dattathreya became his disciple. Before he became his devotee, he had not heard of the glory of the Lord and therefore when heard of the glory of Lord Dattathreya who was wandering in guise of an Avadhoot, he wanted to meet him to know of him.
Lord Dattathreya who passed through the stages of childhood and adolescent, left home and wandered freely spending most of his life in forests and places surrounding the mountains. He would deliberately appear in front of others as an uncouth beggar or lunatic, half naked, engaged in indecent acts with women around him etc. In order to preach that the pure atman in one's body has no relevance to their outward body, he would deliberately behave differently in front of others and accepted the seekers as his disciples only after testing their mental fitness in several ways to allow them enter into the spiritual path through him. Fully aware that he was a perfect Yogi and an Avadhoot, several Rishis and sages were in search of him to beget initiation to the path of enlightenment.
Once Lord Dattathreya was walking through the streets in a Kingdom ruled by the King from Yadukula. It was the same land where Lord Krishna incarnated several centuries later. In those periods of time, the Kings used to make surprise and sudden visits to different places in guise of stranger, beggar or in some other form to personally see the conditions of their state and folks. In one such inspection, the King saw Lord Dattathreya who was in guise of a beggar moving around freely and happily, humming some songs as he walked. He did not know that the happy moving beggar was Lord Dattathreya in guise of a beggar but thrilled to find aura of glow radiating from the face of the beggar who was moving around in his state without display of any concern on the state of his poverty or beggary life.
After following him and noticing his activities, the intelligent King would not believe him to be a beggar, as the beggar was wandering freely and happily as if he was the ruler of the land even though the land belonged to him (King). The King thought to himself 'I have immense wealth and fleet of slaves and servants to work under my command. All comforts needed in one's life is abundantly available to me, still everlasting peace and eternal happiness eludes me whereas this destitute who has nothing for the next moment, has such radiance glowing around his face and wandering freely and fearlessly, showing no worries on his face'.
Suspicion growing, the King followed the Lord in disguise of a beggar observing every act of him out of curiosity. The King too was intelligent, a learned scholar, hence was able to gauge the reality to some extent and therefore closely followed him, doubts still looming large in his mind on the beggar. Finally unable to suppress his anxiety, the King went near the beggar and in all humbleness introduced himself as ruler of the land and asked the lord in disguise of beggar to reveal the true nature of him since the glow from his face and his behavioral pattern does not speak of a beggar but only that of an enlightened soul.
Lord in disguise of a beggar casually replied 'Oh King, why are you comparing me, a destitute roaming aimlessly all over the land and forest in search of food to satiate his hunger with that of enlightened souls?' The casual reply from the Lord further heightened the suspicion of the King who thought 'He has not bothered to exchange pleasantries even after I revealed my identity…. he displays no fear while talking to a King of my stature…. he speaks to me as if I am his friend…his behaviour does not show of a beggar…. he is certainly hiding something. Unable to suppress his anxiety, unrelenting King repeatedly requested the Lord in disguise of a beggar, to reveal his true identity since he was not convinced with his reply as he felt that he was intentionally hiding something from him. The anxious King again and again pleaded with the beggar to dispel his doubts on him. The calm and composed Lord in guise of a beggar said 'Oh' King, you are the ruler of the land and knower of everything in your Kingdom. What is there to hide from you?'
Now the manner in which the beggar replied and continued to walk displaying acts of indecency and lunatic behaviour further and firmly convinced the King that he cannot be a beggar but must have been one of the greatest Yogis deliberately wandering in the form of a crazy person displaying crazy acts to divert others attention over him. The King understood that for some reason, the Lord was concealing the true identity as he was conversing fearlessly expressing everything in all soberness expected out of a learned scholar with no display of arrogance.
The King relentlessly pursued with his demand 'Swami there is nothing in the land that a King of my stature do not have. We have vast land under our command, everything to satiate hunger, to lead life in pleasure, thousands of slaves to attend to our need at the wink of command. Even though I too have everything under my command as a King of this vast Kingdom, yet eternal peace eludes me. I wander in search of saints and sages to lead me into the pure land of bliss.  I am still unable to reconcile how a beggar like you is able to move freely, fearlessly and fully self-contented. Please accept my salutation and kindly tell me the secret of your happiness and who you are and who your master (Guru) is.
Lord Dattathreya in disguise of a beggar ignored the King and continued to walk after warning him not to stop him any further to waste his time, but even then, the King continued to walk behind blocking the passage of the beggar. Further the King firmly held the hands and legs of the beggar and requested him to clear his doubts. Lord Dattathreya was pleased with the attitude of the King who was free of arrogance and vanity. Moreover, even when the King was pushed away, ignoring the insult, he continued to walk behind the Lord to get his doubts cleared without reacting angrily. Though the Lord was aware that the King respected the sadhus and saints, and was polite, virtuous and honest in all respects, still he tested him variously. Pleased with the politeness and graceful approach of the King, compassionate Lord Dattathreya appeared before him in the form of an Avadhoot and took the King to an isolated place, got him seated facing him in a calm and serene atmosphere.
The Lord spoke 'Oh King, listen to me carefully. Only few moments back, you claimed to have everything which a King of your stature may need for comfort and pleasure. What you see as luxury is illusion in physical form. The physical body itself is an illusion. Possessing everything for pleasure and comfort may be a status symbol to Kings of your stature, but as far as I am concerned, none of them enhance my status. On the other hand, they get recognized when they are around me. My soul is free of all attachments and desires. Hence, I am mentally satisfied and remain in a world of bliss. You are eager to know who I am, hear me carefully all that I am going to tell you which would dispel your doubts.
As if his head has been banged against a hard subject, the King wondered 'what a wonderful philosophy so simply expressed. In rapt attention, the King listened to Lord Dattathreya. The Lord said 'Oh, King, while creating the cosmos, Paramatman had also created creatures of several nature, single legged to those with two arms and legs and multiple arms or legs. Only humans have been embodied with something unique- Jeevathma which is soul and power to self-analyse the philosophy of atman and Paramatman through meditation. However, many like you do not realize the truth behind enlightened souls to understand this philosophy.
The outer body of illusion is made up of mere flesh and blood which represent outwardly seen body while the independent and invisible atman which activate your mind and feelings reside inside the invisible even to the body who carry them. As expressed by you, think of the agony the lifeless body encounter, hunting for what is not available to it. The body keep longing for more and more lifeless bodies. Even after getting married, begetting progenies, big family, all sorts of pleasure and comfort, wealth and servants. The unsatisfied body desirous to beget more and more pleasures search for them without an end. Why, why such craving? Is it because of attachment or abundant desires? Can you explain? When humans have the unique power to think, why do they refrain from thinking reasons for the abundant attachment and desires? While everyone know that the illusionary body is not immortal, then why fail to abandon craving for more and more illusionary pleasures. Unfortunately, nobody wants to do it'.
The Gurus of Lord Dattatreya
Lord still in guise of an Avadhoot continued 'It is not important to know who this Avadhoot is. My own Atman is my Guru, yet, I got wisdom through 24 individuals, who were my Gurus. They were the ones who were intertwined with nature in this universe and who taught me what life is'. As Lord Dattathreya continued, the King in a state of bliss sat in meditative silence, carefully listening to the master. The names of the Gurus mentioned to the King by Lord Dattathreya were: Earth, Air, Sky, Water, Fire, Moon, Sun, Pigeon, Python, Ocean, Moth (Candle flies), Honey Bee, Elephant, Honey gatherer, Deer, Fish, Prostitute, Raven (Jungle crow), Child, Maiden, Weapon maker, Spider and a Beetle.
Lord began to reveal the attributes of his Gurus.
Earth: See how human and other creatures with different thoughts, characters, and actions created by God live on earth. Their movements and acts are different. Besides holding them, the earth does not prevent the roots of the plants or other living beings residing inside earth, tear and intrude into her body. Those who live on her, whether they praise, insult or even abuse her, she absorbs everything with patience, in silence still rendering whatever help needed from her. She taught me what the patience was.
Wind: The wind (air) pervades all over the universe and also reside inside our body. One can only feel the presence of the gentle flowing air, but cannot see or touch either her body or her inner aspects. As the air continue to travel, she carries with her the smell of everything-good or bad from objects to flowers and trees- only up to a certain distance and quietly continue her journey midway abruptly abandoning the smell. The philosophy behind it is that happiness or the humiliations pertains only to the outer body and not to the pure soul residing inside one's body and therefore a yogi who carry pure soul within him should also follow the same by discarding unwanted without getting his mind polluted himself under any circumstances wherever he went or stayed.
Sky: Like the wind, neither the beginning nor the end of the sky is invisible though it pervades all over the universe. The aspect of the Sky displays the presence of the Supreme Brahman whose form is also invisible. The all-pervading Sky remain calm and unchanged in appearance in spite of the stars, clouds, rain, or lightening passing who through her. Like the philosophy of the Sky a Yogi should also remain calm and cool under any circumstances, uninfluenced by the act of others.
Water: Natural water is sweet and pure. While it is true that no living being can live without water, the water never displays her arrogance nor show her superiority by this fact. Just as God, who created humans removes the impure thoughts from the mind of creations, whether they surrendered to him or not, so acts the ocean in which the water from pond, and lakes with impurities floating over them fall and merge. The ocean simply pushes out the impurities and continue to flow as before    without losing her purity. Treading this philosophy, a Yogi too should shed away the worldly attachments and mental impurities like drops of water over a lotus leave      and continue to toe the path of his spirituality in its true spirit.
Fire: Like the Supreme who does not show discrimination on those who reach out to him, the fire too does not reject any material put in her body (fire) and burns them without a trace. The brightness of the flame depends upon the amount or type of material put in her. The philosophy of fire is a guide to a Yogi who should also glow with splendor by the knowledge gained by him, and without discrimination help each and every one to get freed of their sins, at the same time without himself getting defiled.
Moon: Though the Moon does not have light of her own, but reflects only the light of the Sun, she always remains complete in her original form, even as temporary illusionary appearances such as waxing and waning of moon takes place. True to this philosophy, the temporary pleasures and sorrows in ones' life appear and disappear in sync with the karmic deeds and in no way affect the true aspects of the pure soul which reside within the body.
Sun: Without Sun no living being or organism can survive. The light rays of the Sun penetrate into the body of the universe similar to the Supreme who intrudes and pervades everywhere in the universe. The Sun draws water from the earth and sends it back to the same earth in the form of rain, without retaining any for herself. This philosophy of selflessness of Sun teaches that a Yogi should also share the knowledge gained by him with others without retaining them within self. Though the pure soul is released from the same single source – Paramatman, the behaviour of individuals differed from each other, reflecting the philosophy of the Sun whose light rays falling in different parts of the universe appear differently depending upon the aspects of the land.
Pigeon: One should not destroy oneself with the excessive worldly attachments of love and affection. Out of blind affection and love on a pigeon caught in a net thrown by a fowler, mother and father pigeons while attempting to save it, also got caught in the same net. It demonstrated the plight of the parents whose blind love and affection destroyed their innate qualities and the innate nature of their children. The story of the Pigeons revealed the philosophy that blind attachment over the illusionary body and worldliness are the root cause of all sufferings.
Python: The python's nature is not that of a hunter or a food gatherer. Big or small, whichever prey go near her will be consumed and wait till another prey gets trapped. Even if it remained hungry for many days, it continues to wait without wandering in search of prey. The philosophy behind the life of a Python is that one should not crave for what he does not have, and instead live in content and mental happiness as destiny will award what is due to him.
Ocean: By heat of Sun, the water from the Sea gets evaporated, goes up and again fall back on earth as rain by acts of nature. The same water fills the ponds, lakes and rivers and again the water from many of them flow back into the same sea in different places and merge with her. No matter how many rivers flow and merge into it, the sea never crosses the shores, nor dries up even if the water from the rivers do not flow into her. In the similar manner the Wiser and a Yogi should continue to perform their duties uninterrupted without falling prey to the emotions or happiness which are like passing clouds in ones' life.
Honey bee: The honeybee hops from flower to flower, unmindful of their fragrance and collect nectar without defacing or destroying the beauty of the flowers. This philosophy demonstrates that that those born as human because of past karma, should absorb all that are good in the world and lead their life without hurting the feelings and sentiments of others.
Honey gatherer: The bee which stacks honey in the honeycomb, as gathered from different flowers, does not consume them for self. As and when the honeycomb gets filled, the honey gatherer drives away the bees with smoke, gather the honey and throws away the empty comb. What the philosophy revealed was that the King, reclused, mendicants or a eremites should not store everything in their possession for the sake of storing without enjoying to self or gifting to others too, since someone will destroy them when the soul within self-desert the illusionary body and goes away.  
Elephant: In order to pick up the tusk of the male elephant, the hunters hid a fake female elephant in a pit. When the male elephant runs to the pit to catch the female, thinking it to be real, it falls into the pit to enable the hunters easily catch the male to take out the tusk. What the act of an elephant taught was that a Yogi should not fall prey at the sight or lust of a women and instead concentrate more in search of wisdom.
Moth (Candle flies): Attracted by the brightness of the flame of the lighted candle or other lamps, the moth goes near them and fall prey to the flame of fire. The philosophy behind it is that a Yogi should not get his knowledge destroyed by the attraction of the illusionary five senses or beauty or sensual pleasure.
Deer: The ever-alert Deer, attracted by the melting music played by the hunter, jumps towards the same, unaware of the trap and get caught in the net spread by the hunter. What the philosophy revealed a Yogi should not get attracted by the external pleasures of dance, songs and music of the world of lust and get himself destroyed.
Fish: Without realizing that the prey in the bait is meant to catch it, the fish runs towards the bait to eat, it thereby getting caught in the bait itself. What the philosophy of the act of Fish reveals is that since the taste of tongue is the primary cause for the destruction of the five senses, a yogis should always keep the taste of his tongue suppressed to attain his goal.
Prostitute: Pingala was a prostitute engaged in the trade of prostitution for many years and one day, tired of looking for customers, she left the trade and entered into the spiritual path realizing that everything that appeared before her in the past were mere illusions. She engaged herself fully into the path of spirituality and lived in mental peace thereafter. What the philosophy taught was that since we are in the life of many births and deaths, we should develop abandonment of desires and engage ourselves into the path of spirituality to attain ultimate wisdom.
Raven (Jungle crow): A raven carrying a piece of meat was chased by other birds to grab the piece of meat she carried. While attempting to snatch the prey, the birds also hurt the raven. And when the raven dropped the piece of meat to escape from the attackers, the chasing birds flew down towards the meat thrown away. What it taught was that unless one abandon unwanted desires and pleasures in life and surrender at the feet of the Supreme, if continues to be engaged in the world of desires, happiness will allude them.

A child shares his/her feelings with their mother in the language of silence and feel that they were safe in the hands of their mother till they gained self-confidence to stand alone. Similar to the philosophy of the child and mother relationship, a disciple should continue to walk the path of spiritual journey guided by his master(guru), till he successfully enters into the spiritual path which he chose.

Maiden: The bangles worn by a maiden collecting husk made unwanted noise by the rustling and rubbing of the bangles. In order to stop the unwanted noise when she removed all but one bangle in her hand and continued the act of collecting husk, the noise stopped. The philosophy showed that a Yogi should also continue to pursue towards his goal with a single firm mind by removing all unnecessary thoughts from his mind.
Weapon maker: If you see the artisan making weapons, you could see them fully engaged in the art of weapon making without getting attracted by unnecessary thoughts or feelings. What it taught to a Yogi was that he should also pursue his path of meditation with intense mind control, which will also keep him in the state of tranquil to attain his ultimate goal.
Snake: The snakes do not keep permanent abodes and live in ant hills but keep changing their habitation for their own protection. The philosophy of the habit of the snakes taught that a Yogi should also keep moving from places to places instead of living in a permanent home of his own.
Spider:  A spider build her own web, keep playing within the web for some days and then swallow the same web to recreate another afresh. This philosophy reflects the act of Paramatman, who create the cosmic, enact divine plays in many ways, and at the end of destined state of Yugas, swallow back the same Cosmic by way of destruction and recreate newer one.
Beetle: The beetle injects her eggs into the body of a caterpillar. The caterpillar's body is needed to keep the wasp's worms safe.  As the worms grow sitting inside the body of the caterpillar, they eat the nutrients in the caterpillar's body and also ensure that the caterpillar does not die, because the need the body of the caterpillar to grow.  What the philosophy taught was that a devotee may need the guidance of a guru till he reached the final yogic state.
Lord Dattathreya continued to tell 'Oh King, our body itself is an illusion. The body consist of multiple organs and still we continue to add boundless desires into the body of illusion. All our miseries stem from lust and sensual pleasures. Not content to be alone, one gets married, produce children and runs to amass wealth. Though one knows that the physical body is not immortal and bound to perish any day, they keep adding more comfort and luxury to it. Therefore, instead of living in the state of illusion, I preferred to live detached from world of pleasures and luxury  and hence roam around freely like all pervading Paramatman.
Tears of joy overflowing from the eyes, mentally enlightened King fell at the feet of the Lord sitting in guise of an Avadhoot uttering 'wonderful…wonderful' and pleaded with him to at least now reveal his true identity. Pleased with the King, Lord Dattathreya appeared before him in his true blazing form. Learning from the Lord what life is meant to be, the King Yadu became his true disciple, disciplined devotee and lived in mental peace for the rest of his life.
(Brief note: – One may wonder whether the Supreme (Parabrahman), the Creator of the universe would have had a guru as he cited several gurus from whom he reportedly learnt several philosophies. As Parabrahman while creating the Cosmic, he deliberately created various creatures including water, fire, air, sky and earth embodied with several aspects so that those could be cited to spiritual seekers at a later stage as examples for spiritual philosophy. Hence, he appeared in the universe as a Avadhoot in human form to act as teacher to the seekers at appropriate times and claimed 24 creatures as his Gurus (Masters) from whom he reportedly learnt lessons of essential life. The aspects of those 24 creations revealed that the real misery and sorrows and sufferings of humans stemmed from the worldly attachment, abundant attachments to pleasures in life, lust etc. though they satisfied only the physical needs of the body which by itself was an illusion.  Lord Dattathreya revealed all those to the King who was eager to turn into his disciple, and made him realize the truth of world of bliss and tranquil, at the same time be a lesson to one and all who wanted to pursue the path of spirituality and to fully understand the divine consciousness. He revealed the act of Adi Para Sakthi through the life of a Spider and her web. Lord Dattathreya has never guided anyone to follow specific divine or specific rituals, but always strongly advocated the art of uniting one's Atman (individual self or soul) with Brahman (the Absolute) called the supreme divine Paramatman)        
Digambara, Digambara, Sree Padha Vallabha Digambara
Digambara, Digambara, Sri Dattadeva Digambara
Om Shri Dattatreya Guruve Namaha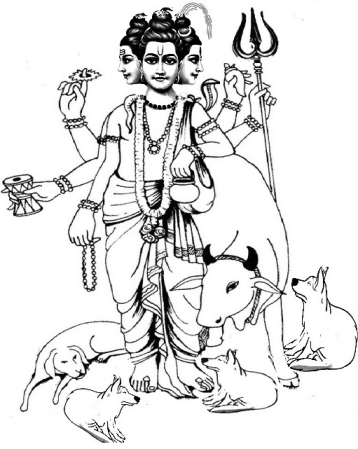 Third day Parayan
Om Dattatreyaaya Vidmahe
Yogeeswaraaya Deemahey
Thanno Datta Prachothayaath
Story of Karthaveeryan
Markandeya Purana describe how Lord Dattathreya had been compassionate to those who surrendered at his feet true fully. Nothing happens without a reason in this world as may be seen from the stories of those who have perished of their own or got destroyed through some of the divine incarnates, even when they carried boons of invincibility. If the stories of Karthaveeryan, Lord Parasuraman, and Goddess Renuka Devi had not been included in the life story of Lord Dattathreya, the glory of Lord Dattathreya would not have been known to the universe. Only by Karthaveeryan, the glory of Lord Parasuraman and Goddess Renuka Devi came to light.
Karthaveeryan of Surya dynasty was born to King Krithaveerya and his wife Suganthi. They belonged to Kshatriya caste. Jaiswal community settled in the northern India is stated to be in their lineage, and their Guru was Bhargava who belonged to Brahmin community in the lineage of Sage Brigu. The Kshatriyas too were highly intelligent, well versed in Vedic studies as they were learned scholars similar to Brahmins. Because of their good physical structures, they became warriors and rulers of some of the Kingdoms and took part in the wars, while the Brahmins served in the capacity of advisors in their Kingdom. The Kings of Surya dynasty were philanthropists too. Veeran was the family name of King Krithaveerya who in his previous birth was Sampan, born in a poor family and carried a curse from sage Syavana. As per the curse of the sage, Sampan would be reborn and live mentally agonized because of a disabled son to be born to him.
Accordingly, Sampan took birth as Krithaveerya in his next birth. Krithaveerya was a well learned scholar and a great warrior ruler of a huge Kingdom. He successfully performed several Yagnas and in one of the famous Yagnas performed –Somaveda Yagna- he gave several gifts and money even to sages like Maharishi Brigu. Krithaveerya further decorated the council of ministers of Lord Yama. Unfortunately, due to the curse he carried, every child born to him met death once they were born. At one stage aging Krithaveerya was worried that he had no heir to take over the Kingdom after his demise. Therefore, as advised by the council of ministers, he decided to consult Maharishi Yagyavalyar and Sage Brihaspati to find solution to end the vacuum arose out of the curse carried by him.    Since Krithaveerya was afraid to directly meet Maharishi Yagyavalyar, he sent his wife, to meet the wife of Maharishi Yagyavalyar as both of them were close friends. Maharishi Yagyavalyar had two wives namely Maithreyi and Kalyani and amongst the two, Maithreyi was intelligent and a learned scholar. Therefore, Krithaveerya's wife met Maithreyi and after offering respects to her, she narrated the ordeal they were faced with on account of the curse carried by the King who was her husband.   She cried that none of the children born to her survived because of the curse and sought her suggestion to redeem the curse. Maithreyi suggested her to perform a specific ritual which if performed rigorously with purity of mind, the effect of the curse would come to an end.
In the meanwhile, Krithaveerya too met Maharishi Brihaspati who suggested him to perform a Vrath called 'Surya Vrath' and initiated the Surya mantra to him. The Surya mantra which the Maharishi initiated to Krithaveerya was actually initiated to Maharishi Brihaspati by none other than Lord Dattathreya. The Maharishi suggested that the mantra be chanted and Lord Dattathreya worshiped to get relief from the curse. On reaching home, Krithaveerya and his wife exchanged the suggestions received by them and from next day onwards they began to perform the rituals as suggested including chanting of the mantra initiated by Maharishi Brihaspati which resulted in Krithaveerya's wife getting conceived again.
Though the child born to them survived, the saddest part was that she could deliver only a disabled child. Nonetheless, the couple were happy that with the blessings of Lord Dattathreya, at least they were blessed with a son who survived. The reason for the child getting birth as disabled had a story of its own. What was it?
In one of the previous births, the child born with deformities was one of the veteran fighters in the army of Lord Vishnu. His name was Sudarshan, who occupied the pivotal position in the army of Lord Mahavishnu. Those were the days when Lord Vishnu had to frequently wage war against several Asuric forces to destroy them for universal peace and in every one of the wars fought and won, Sudarshan's contribution was significant. This made Sudarshan feel that he was responsible for the victory of the Lord in the wars fought. Not content with such a feeling, he openly projected a heroic image before others too. When it was noticed by the Lord, he hoped that Sudarshan would come to his senses and dispel the feelings of pride and understand the real power of the Lord Vishnu.
When Lord Vishnu noticed Sudarshan's pride had reached zenith, he called Sudarshan and after admonishing him, cursed that in the next birth, he (Sudarshan) would be born disabled and meet death at his hands (lord Vishnu). Thus, Sudarshan took birth as Karthaveeryan with deformities. He was also anointed as Arjun. Except disability, Karthaveeryan excelled in every other field. Meanwhile his agonized father Krithaveerya died unable to see disabled Karthaveeryan. Krithaveerya's parents were philanthropists and remained as the most charitable personalities who generously gave donations and gifts to needy. The continuous philanthropy led to the dwindling of their wealth while the Brahmins who were beneficiaries from those gifts and donations slowly turned richer. With passage of time when Kshatriya's wealth dwindled, they struggled in their life and approached Brahmins who were benefited by them and sought their help. But the Brahmins refused to help them in any manner, thus sowing the seed of enmity between the Brahmins and Kshatriyas who opposed each other.
The Kshatriyas being warriors, took revenge on the Brahmins by looting their properties and humiliating them in public. Unable to withstand the torments and humiliations from Kshatriyas, the Brahmins ran away from the areas under Kshatriyas and settled in and around Himalayas. In one such climate, Maharishi Athri was born in the clan of Brigu and Krithaveerya born in the clan of Kshatriyas even as the enmity between the Brahmins and Kshatriyas continued on high pitch.
After the death of Krithaveerya, the council of ministers compelled disabled Karthaveeryan to take over the reins of power. Karthaveeryan was reluctant to take over the administration citing his disability, but the council of ministers exerted pressure on him and persuaded him to take over the kingship. One of the ministers in the council of ministers, namely Garga advised Karthaveeryan to meet Lord Dattathreya seeking blessings to get firm hands and feet freed of disability. Heeding to the advice of Garga, Karthaveeryan after taking over the reins of administration proceeded to meet Lord Dattathreya.
Lord Dattathreya who was in guise of an Avadhoot, was revered and respected Avadhoot then and held in high esteem by the Rishis and Saints. Before proceeding to meet Lord Dattathreya, King Karthaveeryan met Sage Garga and took more inputs on the Lord. Sage Garga told him that Lord Dattathreya was incarnate of Lord Vishnu and used to come to river Narmada to take bath and if he was worshiped with purity of mind in all sincerity, he would certainly bestow the seekers what they sought from him without hesitation. In the meanwhile, Sage Naradha too advised Karthaveeryan to perform a Yahya called 'Pathradeepa Pratiksha' on the bank of river Narmada. Rishis and saints had also advised Karthaveeryan that Lord Dattathreya would not easily allow the seekers to identify him and would deliberately appear in the form of half-naked or uncouth or drunkard or lunatic biting dirty meat, holding bottles of toddy in hands or still worse engaged in indecent acts surrounded by demireps. Therefore, Karthaveeryan should maintain strong will to identify the Lord from even from amongst such group of people as he would be wandering everywhere in any form.
Karthaveeryan who was only twelve years old, went to the bank of river Narmada, took bath, performed Yahya as suggested and began looking for Lord Dattathreya. After searching the Lord at various places, finally he reached the foothill of a mountain where Lord Dattathreya's ashram was seen. As cautioned by everyone, though Karthaveeryan found the Avadhoot in awkward posture, he went near him with determination and expressed his desire to serve him to beget his blessings. Further he eulogized Lord Dattathreya with many hymns and verses even as Lord Dattathreya knew the real purpose for which Karthaveeryan had come. Nevertheless, he wanted to test his determination of Karthaveeryan further and to display to the universe that only true seekers, highly devoted to him would be acceptable to him.
Though Karthaveeryan was disabled, wantonly Lord Dattathreya gave him arduous tasks and duties without allowing him to take sufficient rest. Karthaveeryan did not feel frustrated in any manner and happily continued to perform the duties given by the Lord. He brought flowers, fruits and vegetables from far off places as ordered, massaged the legs of the Lord for several hours etc. Even then sometimes Lord Dattathreya used to be harsh on him by abusing him in bad words, ate entire food prepared for both leaving nothing for Karthaveeryan to eat thus making him remain starved. Karthaveeryan neither lost hope nor the faith, and continued to serve the Lord without grimace. Ultimately Lord Dattathreya pleased with his devotion, took pity on his disability and one day in an act of surprise, he appeared before him in his true blazing form.
Waiting for such an opportunity, Karthaveeryan fell at his feet of the Lord, prostrated many times chanting that it was the greatest moment in his life. He prayed to Lord Dattathreya to give him firm hands and legs to move around freely and face his enemies. Because of his disability he was unable to fulfil his duty as a King to his folks protecting their lives. He further sought boon for enormous wealth and the very name of him (Karthaveeryan) should be nightmare to those indulging in evil acts. He pleaded for the blessings of the Lord to beget good advisors who would guide him all the time and to rule over the land with energized vigour and in all fairness. In the event he deviated from the path of virtue and fairness, someone stronger than him should dethrone him. He pleaded with Lord Dattathreya to grant him the boons thus sought.
Lord Dattathreya pleased with his plea not only granted all the boons he sought, but further gave him a special magic car, which can take him anywhere in the universe. After receiving the boons, when Karthaveeryan was returning back, an unknown voice cautioned him 'fool, do not feel glee over the boons you have received. You begot all those only by the grace of the Brahmins without whose support a Kshatriya King like you would not be able to rule the land'. The unknown voice, ominous sign though disturbed the mood and mind of Karthaveeryan, he could guess that it was the voice of Lord Vayu who was jealous over his fame and glory.
Thereafter Karthaveeryan frequently visited the hermitage of Lord Dattathreya, offered salutation and prayers and took his advice on crucial issues and ruled the nation freely, fairly and fearlessly maintaining high value of tradition, without deviating from the path of truth and virtue. Mahishmati was the name of Kingdom he ruled, and it is said that his rule extended beyond 85,000 years. He was also called Arjun, hence in 'Shri Datta Charithra', one would read Lord Dattathreya often referring Karthaveeryan as Arjuna. The folks of his land lived happily, so also the Celestials who were happy lots under his rule. His fame went up so high that the folks of his land began to treat him as divine angel. Envious Lankan King Ravan when heard of the fame of Karthaveeryan, he invaded many lands under the guise 'Dig Vijay' (tour of triumph on all sides), and reached the Kingdom under the rule of Karthaveeryan and pronounced war.  Karthaveeryan decided to crush the arrogance and vanity of Ravan who was then considered to be the most powerful and invincible King on earth. 
One day when Ravan on his sojourn went to River Narmada to take bath, Karthaveeryan too went there to take bath in the same River. Ravan used to perform pooja to Shiva Ling in the midst of the river whenever the flow of the river used to be very low. Karthaveeryan who knew of it, held the river flow on the upper stage of the river with his unaccountable strong hands, placing them like a dam and while Ravan was performing the Pooja to the Shiv Ling, he suddenly released the river water gush and flow strongly by taking away his hands to allow the river flow in fury as if the dam had breached. When the river flew in might, the Shiva Ling held in the hands of Ravan submerged into the river water. Infuriated over the mindless act of Karthaveeryan, Ravan attacked Karthaveeryan and in the fierce battle that ensued, mighty Ravan, ardent devotee of Lord Shiva, was taken prisoner and imprisoned by Karthaveeryan. However, at the request of sage Pulastya, Karthaveeryan released Ravan from captivity and sent him back.
Many years passed thereafter. Karthaveeryan continued to rule the land with caution keeping public welfare utmost in mind. He enforced his folks perform Anak Lakshmi Vrath all over his land. Whenever he got spare time, he never failed to visit the ashram of Lord Dattathreya and spent several hours performing Pooja to the Lord. However unknown fear started entering into his mind ever since he attempted to probe the philosophy of the life which itself, he felt was an illusion, even though he was not in need of anything further in life. He could not keep under control the urge to get his nagging doubt cleared and at one stage, vexed with the materialistic world, Karthaveeryan decided to renounce the Kingdom and settle in the hermitage of Lord Dattathreya permanently.
On reaching the hermitage of Lord Dattathreya, he saw the Lord seated with closed eyes as if he was in intense meditation or engrossed with some other thoughts. Karthaveeryan could not guess it. Therefore, he decided to wait till the Lord opened his eyes and sat there silently meditating and offering worship to the Lord in his heart. In between he prostrated at the feet of the Lord from a distance without disturbing him. Entire day passed, but Lord Dattathreya did not open his eyes while Karthaveeryan remained eulogizing the Lord with hymns and chants of sthotras (mantras) in silence.
He wept at heart in silence 'Salutations to thee my Lord, thou art destroyed mine pride and arrogance. Thou art is Lord of joy, intellect who bestow highest bliss. When thou art is incomprehensible even to sages and rishis, how would me in the world of illusion be able to understand thee? Oh, Lord accepts salutation of mine who has surrendered at thine feet. Release mine from the bonds of life, whatever mine desired, thee granted in abundance. Me, find this life to be illusion came here to surrender at thine feet, Oh Maha yogi, Lord of Lords, kindly open thine eyes and bless this poor'.  Even then, Lord Datta did not open his eyes.
In the next few days, even as Karthaveeryan was still sitting there waiting to meet the Lord, several Rishi and Saints visited the hermitage to offer their salutations and respects to Lord Dattathreya. Those who visited the Lord did not bother to look at the King Karthaveeryan nor go near him, to exchange pleasantries even as Karthaveeryan sat in a corner watching in silence whatever was happening around him. One fine morning, Lord Dattathreya opened his eyes, went to the river side along with Rishis, sages and saints, took bath and returned back ignoring Karthaveeryan. On return, Lord Dattathreya completed his daily rituals, and again sat in silence with closed eyes while Karthaveeryan still continued to remain seated in the same corner, tears rolling down from his cheeks on being neglected by the Lord. In a spark of a moment, Lord turned towards him and signaled him to come near. Tears flowing down, Karthaveeryan went near the Lord and fell in his feet and wept uncontrollably.
Lord Datta lifted him gently and asked him on the purpose of his visit. The King said 'Lord, what more is needed as you have showered everything I needed. You have   bestowed more than what I am worthy of, made me enjoy pleasures in life, gave me more strength, gave enough wealth, but what I lack now is mental peace and tranquil as I frequently get disturbed with mindless thoughts. I am in search of unknown me peace, nagging urge to go to somewhere, but the destination remains unknown. If I ask anything further, I would be the greatest sinner. In the name of etiquette, tradition and culture, I am being advised frequently to follow several rites and rituals thus pushing me to perplexity, unable to decide which one to follow. While on one side everyone portrays you as Parabrahman, your behaviour is far different to what is being told. When I came here, I saw you deeply engrossed in meditation. If you were Parabrahman who could be greater than you, in that case on whom do you meditate? I am unable to choose the correct path for enlightenment.  Oh, Lord, I want peace.
A big aura of glow surrounded the face of Lord Dattathreya. The Rishis and saints anxiously awaited the next move of the Lord even as Lord Dattathreya began telling Karthaveeryan. 'Arjuna, today you have occupied a special place in my heart. I keenly watched every moment of yours ever since you came here and accepted the eulogized hymns chanted in silence. You are keen to know why I was meditating and who the greater soul than me was seeking grace to meditate. At appropriate time I will reveal everything. I am meditating on the soul which reside within me. Let me tell you some stories which would clear your doubts. As long as one keep performing his duties sincerely, honestly, true to conscience he would get liberated and enter into the path of salvation'.
Lord Dattathreya enlightened Karthaveeryan with several short stories and asked 'Arjuna have you been able to absorb what I said so long? They were not mere stories meant for pass time, but reveal the secrets of the soul residing in one's body. The whole world is an illusion. Sitting in the dark and searching for the light is an act of foolishness. Instead, you must learn the art of knowing what we desire to see. Absorb with devotion what the Guru (Master) preach, try to understand meanings hidden, etch them deep in your heart, and lead life of purity freed of attachments. When you unite your Atman (individual self or soul) with Brahman (the Absolute) then at that stage everything would become clear to you'.
Karthaveeryan listened with rapt attention what Lord Dattathreya said. Tears rolling down, he said 'Lord, now my mind is filled with joy and happiness which I am unable to express, but at the same time uneasiness   haunt me. Oh Lord, what should I do now?'
Lord Dattathreya said 'Arjuna   because your mind is not firm and waver, you are unable to etch in your heart what I preached so long. Therefore, control your mind by practicing Pranayama, the exercise of breath control which would merge your feelings with mind. The first step is breathing exercise. When you perfect the art of Pranayama, and keep recollecting what the Guru taught, you would slowly enter into the path of tranquil, and further perfecting Pranayama would take you to the state of Brahman, at which stage you attain paranormal powers called Siddhi. Thereafter you will attain salvation. You claim to be detached, at the same time you are also in search of peace and tranquil both of which are contradictory to each other. If you really need peace then sit alone inside the cave below the mountain and meditate and recollect whatever I preached you which will automatically take you to the state of samadhi'. He blessed him and sent him into the cave to sit on meditation.
Days and months passed and whenever meditation of Karthaveeryan got disturbed, he would go to Lord Dattathreya and prostrate before him. Whenever Lord Dattathreya questioned on his state of mind, Karthaveeryan would reply that he was in the state of bliss till his meditation got disturbed.
Therefore, Lord Dattathreya repeatedly asked him to go and continue meditation. At one stage, instead of sending him back to continue meditation, Lord Dattathreya asked him to go back to the Kingdom to take over the reins of administration. Mentally rejuvenated Karthaveeryan too returned to his Kingdom and began to rule the nation with firmness than before, his actions aimed towards the welfare of the folks.
Howsoever a person may have reformed, the arrogance hiding in them would resurface at some point of time much against their own wish because of destiny. How could Karthaveeryan be an exception to the law of nature? As much as Karthaveeryan attempted to contain his arrogance, destiny broke the will in him. Debates used to be the regular feature in his royal court. Whenever Brahmin Pundits debated, Karthaveeryan keenly watched the proceedings and at times he even participated in the debates and discussions. The arguments in the debates made him think that the Vedas were contradictory to each other, and therefore it was useless to adapt Vedic rites and rituals.
 Citing Vedic doctrines, the pundits advocated performing certain rituals and rites such as taking bath in the pious rivers to gain prosperity. The King wondered why prosperity eluded the very same pundits who strictly observed those rituals?  On the contrary, he noticed that they lived in the state of utter misery seeking alms every day. What significant gains they had achieved by strictly practicing those rituals and rites whereas without following any of them he had been able to get many boons from Lord Dattathreya. His mind corrupted with such feelings, and he began to neglect the views and opinions of the Brahmin pundits.
Once when he went to Lord Dattathreya, he openly expressed his opinion to the Lord 'Maha Prabhu, the Brahmin pundits advocate rituals like taking bath in specific rivers, considered to be sacred, and advocate observance of certain rituals and practices. Do the rivers really have such a sacred power?' Smilingly Lord Dattathreya explained in detail the glories of the rivers as mentioned in the Puranas. However, though Karthaveeryan outwardly appeared convinced, his conscience refused to accept them wholeheartedly. At the same time since they were explained by the Lord himself, he could not disbelieve them too. Nevertheless, since he enjoyed patronage of the Lord, he decided to ignore the advice from the pundits and lead life in his own conviction and views.
While returning back, as he was debating in his mind on certain norms and rituals suggested by the Pundits which he felt were all worthless, he was unaware that his enemies were waiting for an opportune time to let him down. Once a debate took place in the royal court over an advice given by the Brahmin pundits. Unusually calm and composed Karthaveeryan lost his temper and criticized the Brahmins severely who felt humiliated that the King had deliberately insulted them in full view of others. Waiting for such an opportune time, Lord Vayu, invisible to others and watching the proceedings came down on the behaviour of the King, by deliberately dragging the name of Lord Dattathreya to tell the King 'Listen, oh, foolish King, only the grace of Lord Dattathreya elevated your stature with that of Maharishis like Vashishta, Kashyaba, Athri and Brigu etc. Proving it wrong, today you stand fully exposed by displaying lack of etiquette expected from a personality of your stature for which only Lord Dattathreya should feel ashamed for your act, as he has enhanced your stature, which is undeserved'.
The moment Lord Dattathreya's name was unnecessarily dragged and blamed for his misbehavior, Karthaveeryan instantly stood up in the midst of discussion to publicly apologize for the indecent comments and views made by him against the Brahmin Pundits. One's respect enhances whenever he accepted his follies openly and tender unconditional apology for acts of misbehavior. Lord Vayu's attempt to defame the reputation of Karthaveeryan failed and therefore he had to work out some other scheme to defame the King and to bring his downfall.
Though most of the celestial forces including few divines held Karthaveeryan in high esteem, few others like Lord Agni were in jealous of him. One day Lord Agni went in disguise of a Brahmin and sought alms from Karthaveeryan as he was feeling hungry. Clearly Karthaveeryan recognized that it was Lord Agni in guise of a Brahmin seeking food (Biksha), hence without hesitation the King gave whatever he sought in the name of Biksha.  Even when the King gave enough, deliberately dissatisfied Lord Agni continued to ask for more and more.  Karthaveeryan understood that Lord Agni had indeed come with some ulterior motive to defame him, but since he could not go against his promise, Karthaveeryan allowed Lord Agni to eat the plants and trees in the forest to satiate his hunger, since he was confident that no one could do any harm to him because he had the blessings of Lord Dattathreya. He was aware that if Lord Agni burnt the forest, only Rishis and sages staying in the forest would be the sufferers and face death in fire. Karthaveeryan failed to understand that death was certain to those born and the death can only be postponed for some time, but one cannot remain immortal. It was Lord Dattathreya who pleased with the devotion of Karthaveeryan kept his death extended.
Once got the go ahead signal from the King, Lord Agni put his evil plan of action and burnt entire forest where Rishis and sages were living in hermitages. In the fire created by Agni in the name of consuming them, the hermitages too got burnt down. Lord Agni consumed the lush green trees and plants in the forest area including that of the hermitage of Sage Urthuva. The forest reverberated with the cries of the folks, Rishis, sages and saints. Maharishi Vashishta was shocked to hear the loud, shark and shrill cries of the sages and saints. The Holy Sage got enraged and cursed that the one who allowed   Lord Agni to eat thus would meet death in the hands of a sage. Hence to honour the curse given by Maharishi Vashishta, at a later event Lord Parasuraman, another incarnate of Lord Vishnu had to kill Karthaveeryan. This episode can be found in the life story of Lord Parasuraman.
Time moved fast after Lord Agni went away causing irreparable damage to the reputation of Karthaveeryan. From then on strangely and slowly many of the acts of Karthaveeryan were seen to be unethical. He often rode on the special flying cart given by Lord Dattathreya and entered into the three worlds freely and fearlessly terrorizing everyone. Once he even entered into the palace of Lord Indira when the Lord was with his wife. Not only he committed the unethical act of entering into the room of Lord Indira who was in privacy with his wife, he further taunted him saying that he was invincible. The Celestials unable to bear the atrocities of Karthaveeryan ran to Lord Vishnu pleading for his intervention and protection from the unruly King. Lord Vishnu consoled them promising that Karthaveeryan would soon meet his end.
Once when Karthaveeryan was returning from the expedition of invasion and war he had to pass through a forest where Maharishi Jamadagni was staying. Seeing the plight of the tired troops and the King, the Sage offered food to them. Karthaveeryan was reluctant to accept his offer expressing that he had come with a huge force who were also thirsty and hence he alone did not wish to eat leaving them starving, hence politely declined the offer. Sage Jamadagni laughed at the King and told him that he had not invited the King alone to partake food, but the invitation was to his entire force who could come and partake food. The surprised King could not believe the offer of the saint since the hut of the saint was so small that preparing food to a huge force was not possible, but to his utter shock when the entire troops came and began to partake the food offered, the food kept on coming from inside the hut till everyone's hunger satiated.
After everyone dined, they praised the saint for timely offer of food, a Cow whitish in colour came out of the hut of the sage and the sage revealed to Karthaveeryan that the entire food served to them were given by the holy Cow. While appreciating the generosity of the sage, the jealous King exchanged pleasantries and demanded the Cow be given to him in exchange of huge wealth. The sage was shocked at the demand of the King and refused to part with the divine Cow under any circumstances further taunting that contrary to the Kings giving alms to the Brahmins, now the King was asking for alms in the name of a Cow from a poor Brahmin.
The King misread the refusal of Maharishi Jamadagni to part with the Cow thinking that the sage was expecting more money or wealth in exchange of the Cow and coerced him in many ways to part with the Cow, induced with many favours but when the sage was adamant not to give him the Cow which was akin to his mother, the King ordered his troop to take away the Cow by force. How could a weak sage fight a huge force of the King, when he (the King) had the boons of Lord Dattathreya with him? Unable to do anything against the might of the King, the morale of the sage collapsed and he sat down crying looking at the fate of the hapless Cow being dragged and taken away by the soldiers of the King.
Lord Parasurama was not at home when all those incidents happened. He had gone to the forest and on his return, finding his father Sage Jamadagni sitting in state of shock and unable to speak, he learnt of everything that had happened. Lord Parasurama's blood boiled with rage that a Kshatriya insulted his father, who was not only a weak Brahmin but cannot fight too. He decided to teach them a lesson, took the axe and went out chasing the King and his troops. After long chase, he could spot the troops and yelled at them 'Stop…oh rogues and scoundrels why did you snatch away the Cow from my father?'. Karthaveeryan was shocked that someone had come into open to oppose and insult him aloud calling names. Lord Parasurama roared like a lion 'are you going to leave the Cow or not?
Karthaveeryan wondered 'If I remain silent and go away, how would I rule over the folks. I am a Kshatriya, warrior class. The enemy has come alone without troops. It is therefore necessary to fight and finish him' and threatened Lord Parasurama to run away to save his life as the Cow would not be released. The troops who were standing behind the King yelled and taunted Lord Parasurama to run away to save his life. 'Oh, impotent force, come on, come and fight with me' shouted Lord Parasurama and without waiting for their reply ran behind them and fought like  a lion and tiger. Unable to face him, the troops fled to save themselves. Karthaveeryan continued the fight alone with Lord Parasurama. Even as Lord Parasurama kept on cutting the hands of Karthaveeryan, new hands sprouted from the body of Karthaveeryan. The King felt 'I have probably committed something wrong which should not have been committed. I should not have snatched   the holy Cow. Even Lord Dattathreya would not appreciate snatching away something from a person weaker'. He recalled the warning of Lord Dattathreya who said that someone stronger, a Brahmin, would suddenly come and kill him. He realized that the time may have come and hence Lord Dattathreya himself may have sent someone to complete the task.
He realized 'yes, I have committed irreparable damage, there is no use regretting for the act of wrong doing. The one who has come might be definitely mightier than me'. Both Karthaveeryan and Lord Parasurama initially fought with weapons and when the King exhausted his weapons, they engaged into physical fight which continued for many hours, even as each of them appreciated in their minds the might of the other. Finally, Lord Parasurama had to use the brahmasthra given by Lord Shiva which ended fresh hands getting sprouted from the body of Karthaveeryan.
Lord Parasurama was incarnate of Lord Vishnu and Lord Vishnu was part of Lord Dattathreya whose inner strength was that of Lord Shiva. It became duty of Lord Dattathreya to bring to an end the life span of Karthaveeryan, lest the curse of Maharishi Vashishta given in the past birth would not have got fulfilled. Ultimately at the end of the fiercely fought war, Karthaveeryan was killed by Lord Parasurama. Karthaveeryan being the devotee of Lord Dattathreya, reached heaven. The divine Cow ran to Lord Parasurama and stood by his side with tears running down from her eyes in joy. Lord Parasurama consoled the Cow and took it to his father.
Digambara, Digambara, Sree Padha Vallabha Digambara
Digambara, Digambara, Sri Dattadeva Digambara
Om Shri Dattatreya Guruve Namaha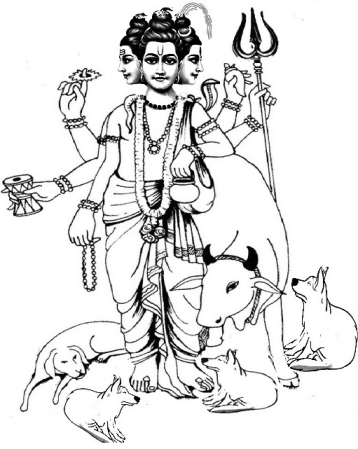 Fourth day Parayan
Om Dattatreyaaya Vidmahe
Yogeeswaraaya Deemahey
Thanno Datta Prachothayaath
Lord Dattatreya and Lord Parasurama
Before we understand who, Lord Parasurama is, we need to know the story of his father. Bururavan belonging to Amvasu dynasty was ruler of a state called Kusumba. He had a son named Kaathi who was a saint. Bururavan had two sons and one daughter. While some took up the path of Sanyas, Kathi resided in the jungle. He had a daughter called Satyavati. Maharishi Brigu's son Rikka fell in love with Satyavati who was virtuous, good mannered and a beautiful woman. Rikka gave one thousand horses whose one ear was black as dowry and married Satyavati contrary to the normal custom of bride offering dowry to marry the bridegroom. Sage Kathi's wife got a strange desire that she should also give birth to a child whenever her daughter conceived and kept her daughter also made known of her desire.
Few years passed after Satyavati got married. Once Maharishi Brigu visited their home. Kathi's wife expressed her desire to the Maharishi- to conceive along with her daughter. Brigu Maharishi performed a ritualistic ceremony and gave her two utensils full of food items imbued with some mantras and told her that one was meant for Satyavati and the other was for Kathi's wife. He warned that since each of them have been imbued with specific mantras meant for both mother and the daughter, after taking bath in the morning both the daughter and mother should partake only those meant for each of them and even by mistake the food should not get interchanged and partaken.
Next morning Kathi's wife got up early, took bath and went to partake the food from the vessel meant for her. On seeing both the vessels, she began to think whether the one meant for her daughter would result her daughter delivering beautiful child than the child to be born to her (Kathi's wife). Therefore, ignoring the advice of Maharishi Brigu, she ate the food meant for her daughter. He daughter too took bath and came there to partake the food, but was shocked to find the food meant for her have been interchanged and partaken by her mother. When asked, her mother apologized to her for wrong doing which happened by mistake. Not to disrespect the Rishi who gave them the mantra imbued food in good faith, Satyavati ate the food meant for her mother which was only available. Whatever is said and done, since the food consumed cannot be taken out, they left the issue to destiny.
When Kathi's wife told the Maharishi that she had mistakenly taken food meant for her daughter, the Maharishi could with his yogic power fully understood the mischievous act of the mother and regretted that destiny had played. Therefore, he tweaked his blessings in such a manner that the attributes of the son to be born to Satyavati would go to the son to be delivered by Kathi's wife. Soon both the mother and the daughter bore a child each. While Satyavati gave birth to Sage Jamadagni with Sattvic nature, Kathi's wife delivered Maharishi Vishwamitra. Since sage Jamadagni's nature was Sattvic i.e. polite in nature like his mother, he could not fight with the forces of Karthaveeryan army when they snatched away his holy cow.
Sage Jamadagni got married to Renuka who was also very virtuous and a chaste woman. She served her husband as most devoted wife and helped him to perform all rituals and ceremonies in the best manner. Soon they too got few sons including Lord Parasurama and all of them lived together happily as a family. The destiny always plays its role. Once when Renuka went to take bath in a river, she happened to see a couple, a King with his consort playing in the river in close proximity with each other ignited by sensual fire. She was captivated by the sight wondering how happily they were enjoying life as a couple. The moment she thought so, her chaste devotion on her husband came for a half for a second, and in the next moment when she came to her senses, she hurriedly took bath and returned home with guilt feeling. When Renuka entered home displaying guilt, Maharishi with his Yogic power understood what had happened. Since in the life of Rishis and sages, even a fraction of seconds attraction on the sensual pleasures of others, is considered loss of chastity, he called all his sons and ordered them to chop off the head of their mother.
Even though their own father directed them to enact the gruesome act to slay the head of their mother, out of love to her none were willing to execute his order and stood perplexed. Furious over their refusal to carry out his command, he cursed his sons to turn into wild animals and wander in the forest. Renuka stood before her husband head facing down in nervousness. Finally, when the last son of the sage, Lord Parasurama returned home he instantly understood that something wrong had taken place as his father was standing in state of fury. Before he could assess the situation, his father commanded 'chop off your mother's head'. Next moment Lord Parasurama executed his father's command and Renuka's head fell on the ground. Sage Jamadagni was jubilant over his son's act and appreciated him 'son you are the true son of mine, ask for any boon your desire, it would get rewarded with the power of my good deeds'. Lord Parasurama was expecting such a reaction from his father and therefore without hesitation even for a moment he requested his father to bring back to life his slain mother and also reverse the curse on his brothers.
Sage Jamadagni became very emotional over the family attachment of Lord Parasurama. Appreciating the stand of his son –obedience to father's command and in return sought revival of the life of his mother and brothers'.
Instantly the sage granted what Lord Parasurama sought uttering 'Ththassthu' meaning aspiration granted. Thus, Renuka got back her life and so were his brothers who returned to their original form. Thereafter the family lived for over thousand years and Renuka never raised her face to look at anyone. It was during that period of time the drama of Karthaveeryan snatching away the Cow from sage Jamadagni occurred after which Lord Parasurama chased and destroyed the invading forces killing Karthaveeryan. In the meanwhile, the loyalists of Karthaveeryan were waiting for an opportune time to take revenge on Lord Parasurama for having killed Karthaveeryan. They knew that Lord Parasurama cannot be defeated in direct fight. Therefore, one fine morning when Lord Parasurama was away, they came with full force, entered the hermitage of Sage Jamadagni, destroyed his hermitage and killed him after torturing him. Renuka's scream reverberated the whole forest. She beat her chest twenty-one times and called Parasurama to come and rescue them. When her loud, shark and shrill cry entered the ears of Lord Parasurama, he came running unaware of what had happened.
On reaching home when he saw the destroyed hermitage and the gruesome manner in which his parents had been brutally ill-treated by the troops of Karthaveeryan, he became furious, took over the weapons and ran in search of the invading forces of Kshatriyas. He chased every one of the Kshatriya soldiers and slayed them to pieces even as they ran for safety. Lord Parasurama did not leave even those who ran for safety, but searched and killed each one of them brutally after which he returned back home like a tired lion. On reaching home he was horrified to see his mother crying uncontrollably hugging the slayed body of his father who was lying on pool of blood. Lord Parasurama too wept uncontrollably regretting that even though he had might to face the enemies, his strength could not save his father.
Renuka got up and consoled Lord Parasurama and advised him to calm down and return to senses as what had happened cannot be redeemed. Therefore, instead of wasting time crying he should perform last rites to his father. She asked him to go and bring a Kavadi called shoulder pole at each end of which hung two baskets attached with ropes. Lord Parasurama was directed by his mother to keep his slain father in one end of the basket and in the other end, she herself sat and asked him to walk through the jungle and stop only when he receives instruction to perform last rites for his father. Everyone assembled there consented to her directive and accordingly Lord Parasurama carrying his parents on the baskets on the shoulder pole began to walk on the western side.
Lord Parasurama walked for several hours non-stop, crossing   the jungles and mountainous areas. He did not receive any message to end the journey till he reached the ashram site of Lord Dattathreya. All of a sudden, an unknown voice ordered him to stop, but no one was seen around. Anxious to find who ordered him to stop, Lord Parasurama kept the pole down and went near his mother to ask her about the unknown voice. He could hear feeble voice coming out of her mouth saying 'son, recall your father's advice to go and meet Lord Dattathreya…. go and meet him in his ashram which is nearby. Seek his advice and cremate us as he suggests. In case you are unable to meet him, sit under the Audumbar tree near the ashram and meditate seeking his appearance. If he gets pleased with your prayer, wherever the Lord may be, he would appear before you to give guidance and directive'. As instructed by his mother, Lord Parasurama went inside the nearby cottage in search of Lord Dattathreya.
Contrary to what his mother told him, Lord Parasurama saw a man sitting engaged in extreme acts of indecency, further consuming toddy kept in two bottles. He could not tolerate the smell of toddy along with the foul smell coming out of half-eaten rotten meat scattered all over. However, since Lord Parasurama was aware through the teachings of his father that Lord Dattathreya deliberately appears before others in awkward postures to test the seekers, he prostrated at the feet of the Lord in disguise of an uncouth and requested him to guide him to perform the last rites of his father. Pat asked the Lord 'Hai, stranger, have you come here to make fun of me? What do I know about last rites? If you want to enjoy life, come, sit with me and consume toddy along with fresh meat, otherwise run away'. Lord Parasurama would not get cowed down with such reply since he was sure that they were deliberate acts of falsehood from the Lord. With folded hands, Lord Parasurama requested the Lord in disguise of a lunatic to show mercy on him by ending the act of drama and guide him to cremate his parents which was the desire of his mother. He told the Lord Dattathreya in disguise of lunatic that he had approached him only upon the directives of his mother.
The moment Lord Parasurama uttered the name 'mother', surprised Lord Dattathreya asked whether he had really approached him at the instance of his mother and if so, he was anxious know who she was and desired to meet her. In a moment of time entire area turned brighter and Lord Dattathreya stood before him in the midst of glorious radiant rays emanating from all over his body. The Lord walked with Lord Parasurama to meet his mother. Once they went near Renuka, Lord Dattathreya started eulogizing 'Oh mother, oh, Devi entire cosmos within you, Oh, compassionate mother, I salute thee, oh universal mother, I salute thee' When Lord Dattathreya offered his salutations thus, her appearance too turned differently from that of mother of Lord Parasurama and she appeared in the midst of glowing radiance in different other form. Lord Parasurama stood speechless watching in utmost surprise and shock, unable to understand what was happening. Lord Dattathreya turned on to Lord Parasurama and asked him to go and take bath in all the sacred rivers running nearby and come back.
When Lord Parasurama complied with his command and came back, Lord Dattathreya guided Lord Parasurama the manner in which last rites were to be performed to his parents. Lord Parasurama with utmost sincerity and obedience carried out the instructions of Lord Dattathreya. After sage Jamadagni's lifeless body was kept on the burning pyre, Renuka too jumped into the fire and disappeared. At the end of the rites everyone offered their salutations to Lord Dattathreya and went way. After completing the last rites, Lord Parasurama too proceeded to his place and in memory of his mother who beat her chest twenty-one times when her husband was slayed, he went in search of Kshatriyas and slayed them. He continued the killing spree till he himself got vexed up with the killings. Frustrated with the act of slaying the Kshatriyas endlessly, he went to the forest again to meet Lord Dattathreya. On way both his father and mother-Jamadagni and Renuka- appeared before Lord Parasurama and advised him to perform a Yagna to redeem the sins accrued by him on account of the killing of Kshatriyas and then disappeared.
Dismayed Lord Parasurama met Lord Dattathreya and sought his guidance to perform the Yahya as suggested by his parents since he was a bachelor and without a consort, he could not perform that specific yagna. Lord Dattathreya advised him to perform the Yagna in a different manner by giving him a female idol and advised him to keep it by his side while performing the Yahya treating the idol as his consort. The yagna was named by Lord Dattathreya as Renuka Yahya. Lord Dattathreya further assured Lord Parasurama that he would stay with him till the yagna was performed successfully as wished by his parents. The Yahya ended well while Lord Dattathreya stayed throughout the ritual with Lord Parasurama and guided him in each step.  Along with Lord Dattathreya, Sage Kashyaba too joined with the Lord and took active role in performing it. The Rishis and sages who participated in the Yahya wondered why Lord Dattathreya named the yagna as Renuka Yahya and what was the relation between Renuka and Lord Dattathreya. They were wondering whether Renuka was really mother of Lord Parasurama or someone else. Why did Lord Dattathreya take active part in the yagna, what was the relation between Lord Parasurama and Lord Dattathreya? All such doubts ran through their mind endlessly and unanswered questions loomed large in their mind. However, none dared to seek answer from Lord Dattathreya. At the end of the Yahya the guests were given gifts beyond their satisfaction. While no one dared to ask Lord Dattathreya on his relation with Renuka, breaking the silence, Lord Parasurama himself raised about the doubt to Lord Dattathreya in front of every one present. He asked Lord Dattathreya 'Oh, Lord, my parents on way to Swarga appeared before me and directed that I become your disciple. When you first met my mother, you worshipped her as Loka Matha. I wonder why you, the manifestation of Trimurtis should worship my mother? Is she known to you before? Why did you name the yagna as Renuka Yahya? Oh, Lord I shall feel happy if my doubt is cleared'.
Lord Dattathreya explained 'Parasurama, you are keen to know my relationship with your mother. Your mother is not an ordinary human. She has gross body like Sky, Vayu, Agni, Water, Earth, subtle body consisting of five subtle elements such as the five organs of perception like eyes, ears, skin, tongue and nose, she has five organs of action such as speech, hands, legs, anus and genitals besides five-fold vital elements such as Prana (respiration), Apana (evacuation of waste from the body), Vyana (blood circulation), Udana (actions like sneezing, crying, vomiting etc.), Samana (digestion) etc. Now she has left her subtle body and gone back to her abode. Karthaveeryan had to meet death at the hands of Lord Vishnu, hence you, incarnate of Lord Vishnu had to complete the task as destined. Your mother is universal mother, Sandhya Devi called Gayathri who is eternal and exist in time immortal. Though there is of specific time frame to worship her, she could be worshiped in the name of Santhiyavanthana in all three times- in the morning, noon and evening- to get eternal peace in mind. One can offer worship from wherever they stayed. Santhi means time, but it does not mean that she could be worshiped only three times daily, hence even Yoga Purusha like us continue to worship her throughout the day. Look at the pond here in which your mother Renuka bathed, look at the Audumbar tree nearby. She used to take rest under its shade. Therefore, anyone who sit under that tree would derive mental peace. Recall your mother's advice to go and take rest under the same tree'. As Lord Dattathreya was explaining the aspects of the mother of Lord Parasurama in so many words, all of a sudden Renuka Devi appeared below the Fig tree. Immediately Lord Dattathreya eulogized her 'Hey Devi, Hey Jagan Matha, Hey Amba devi' followed performing certain rituals and pooja. Rishis and sages who were eagerly listening to the revelations from Lord Dattathreya, returned back home fully satisfied as their doubts were cleared through Lord Parasurama.
At the end of the yagna while everyone went back, Lord Parasurama continued to stay there worshiping Lord Dattathreya and his mother Renuka. Slowly he realized that he was entering into the world of tranquil and eternal peace engulfing him. As he was moving from place to place and finally got defeated at the hands of Lord Rama, he came back to the jungle fully frustrated. As he was wandering aimlessly in the forest, he chanced to meet a Sage called Samvartha, who too was in the same forest in the state of nakedness and rarely seen by others. Lord Parasurama sought his blessings and guidance to enter into the path of wisdom. The sage hinted that Lord Parasurama was searching for light even as he carried a lighted lamp in his own hands. Lord Parasurama immediately realized the greatest folly of forgetting Lord Dattathreya. Realizing his folly, he immediately rushed to Lord Dattathreya and surrendered at his feet. He sought pardon and requested him to show him the path of salvation as he was restless. Lord Dattathreya consoled Lord Parasurama with several anecdotes and guided him. He advised him to engage in the act of meditation sitting in a small hut near his hermitage. Lord Parasurama with the guidance of Lord Dattathreya began meditating and in between met the Lord seeking further guidance. During one such period of time Lord Dattathreya preached the doctrine called 'Tripura Rahasya' (Mystery beyond the Trinity) to Lord Parasurama which contain several stories interwoven within. Lord Dattathreya also revealed the aspects of Tripurasundari, Sri Chakra, and the manner in which Sree Chakra Yanthra worship had to be performed etc to Lord Parasurama.
Saint Eknath and Lord Dattatreya
Large devotees of Lord Dattathreya could be found in the state of Maharashtra. It is beyond any one's guess how and why did Lord Dattathreya help his devotees. One story highlights the glory of the compassionate Lord who helped his true devotee, though uninvited. It is the story connected to Sage Eknath. Sage Eknath belonged to Varahari clan from the lineage of Swami Gnanadeva in the state of then Maratha and who lived in the 17th-18th century along with another sage called Dhathopant. Both were Brahmins.
In those periods of time, anyone desirous to tread the path of Sanyas were in search of some guru (master) to initiate them into that path of enlightenment and thus Sage Eknath became disciple of Swami Janardhana at the age of ten. Sage Eknath was devotee of Lord Panduranga Vital as well. Saint Janardhana attained enlightenment while meditating under a gooseberry tree near Devagiri Mountain near Douthabad in district of Satara in Maharashtra. It is said that he used to often get the darshan of Lord Dattathreya in person. Though Swami Janardhana belonged to the Brahmin sect, he was secular in all aspects and therefore was able to serve in the army of a Muslim King. He was chief of the Palace guards. Even though Saint Janardhana was in the army of the Muslim King, he continued to sit on intense meditation in spare time with strict instruction that under no circumstances that his meditation should be disturbed till he himself ended it. Whenever Swami Janardhana sat on intense meditation, sage Eknath used stand guard around him to ensure that none disturbed him.
Once when Saint Janardhana was in intense meditation, the King of the neighboring country waged war against the Muslim Kingdom in which Saint Janardhana was serving and enemies had reached the Palace gate. Sage Eknath was in dilemma as to how his guru who was meditating could be woken up without disturbing meditation. As the enemy forces were marching towards the Palace nearer and nearer, Sage Eknath had no other option except to offer prayer to his Guru in silence, wear the uniform of his Guru and enter into the fight.
As Sage Eknath was engaged in fierce fight with the enemy forces, he saw an unknown Muslim guard engaged in the fiercely fought war, ably supporting him against the enemies. Sage Eknath could see the fighter with bloodied red eyes fearlessly and ferociously fighting and driving away the enemy forces. Ultimately the war ended in victory to the forces of Sage Eknath even though Saint Janardhana did not take part in it. Only at the end of the war did Saint Janardhana get up ending meditation. Sage Eknath when narrated the story of how a stranger soldier helped him in driving away the enemies, his Guru could visualize through his wisdom that the stranger was none other than Lord Dattathreya himself.
Yet another incident happened in the life span of Sage Eknath when Lord Dattathreya in disguise of a Fakir accompanied by a female and few dogs invited Sage Eknath to partake food with him. Sage Eknath being a Brahmin when showed reluctance for a moment to sit with a Fakir to share the food, accidentally his Guru who came there advised Sage Eknath to partake food with the Fakir indirectly hinting that the Fakir was none other than Lord Dattathreya himself in guise of a Fakir. Before Sage Eknath could return back to his senses, the Fakir had disappeared. While no one could guess why Lord Dattathreya was compassionate to help an individual like Sage Eknath, the answer to the mystery was revealed after eighteen years as narrated in one of the stories involving Shri Daththothbhava.
Digambara, Digambara, Sree Padha Vallabha Digambara
Digambara, Digambara, Sri Dattadeva Digambara
Om Shri Dattatreya Guruve Namaha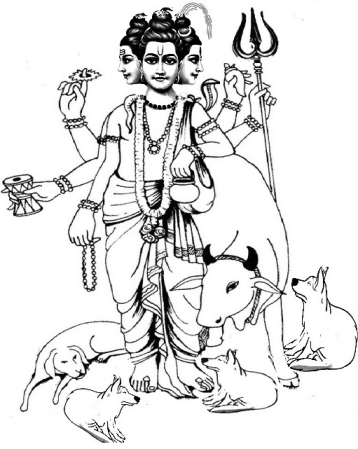 Fifth day Parayan
Om Dattatreyaaya Vidmahe
Yogeeswaraaya Deemahey
Thanno Datta Prachothayaath
Lord Dattatreya and Shri Daththothbhava
Daththothbhava was devotee of Lord Dattathreya from his early age itself. He took Sanyas with the blessings of Lord Dattathreya. An interesting incident involving Daththothbhava happened in his childhood. When he was twelve years old boy, his father was working in the capacity of a servant in the Kingdom of the ruler. He had taken loan from the King and when the servant was unable to repay the loan on time, the King held Daththothbhava, son of the servant as hostage and asked the servant to repay the money and take back his son. Since the servant's family were devotees of Lord Dattathreya, they prayed to the Lord to save their son. Will the compassionate Lord keep quiet and leave his devotee suffer? Lord Dattathreya suddenly went to the King in disguise of a friend of the servant whose son was held captive by the King, repaid the entire loan to the King and got the Daththothbhava released from his captivity and handed over him to his parents. Daththothbhava's parents wondered how the King released their son before returning the money due to him. Only when Daththothbhava returned home and narrated what had happened, did they come to know of the divine play of Lord Dattathreya and felt elated.
Thereafter Daththothbhava's devotion to Lord Dattathreya increased multifold. He stopped playing with friends and immersed in the thought of Lord Dattathreya and firmed up desire to meet him. He went inside the forest and sat in meditation seeking the darshan of the Lord. He slept on bushy areas, rocks, surfaces of ground and sand and continued to pursue worship of Lord Dattathreya. Pleased with the devotion of Daththothbhava, one day Lord Dattathreya suddenly appeared before him in his true form and hugged him during which moment he converted Daththothbhava into a divine angel. Daththothbhava's happiness knew no bounds.
Few days later Daththothbhava proceeded to Ambakooragiri where he accidentally met Sage Eknath. Both were happy to meet each other. Time passed further and the festival of Krishna Jayanthi commenced when Sage Eknath was still staying there. Daththothbhava too took part in the function. On the day of Krishna Jayanthi accidentally Daththothbhava noticed Lord Dattathreya standing in guise of a guard at the entrance. He ran to him, fell at his feet and inquired why he was standing there in guise of a guard protecting Sage Eknath. Lord Dattathreya told him that he was guarding only Lord Panduranga who had taken birth as sage Eknath but not performing the duty to an individual called Sage Eknath.
Only then did Daththothbhava who was eighteen years younger to Sage Eknath understood who Sage Eknath was and why Lord Dattathreya was compassionate to him. Later Daththothbhava obtained the sandals of Lord Dattathreya and took initiation from him near river Godavari. The initiation received by Daththothbhava from Lord Dattathreya was known as 'Aham Brahmasmi' (I am Brahman) a Sanskrit aphorism, and yoga philosophy to describe the unity of the Atman (individual self or soul) with Brahman (the Absolute).
Sathrujit and Lord Dattatreya
The story of Sathrujit also reveal the glory of Lord Dattathreya. King Sathrujit was disciplined, good mannered King who ruled his Kingdom in the most virtuous manner. His son Ruthuthvajan too followed the path of his father in maintaining discipline and inherited all virtues from his father. Besides, he had gained proficiency in Vedas and Shastras. At the same time, he also spent much of his time with his friends. Even though he had many friends, two amongst them were very close to him. They were from Nagaloga in the world of abyss, possessed with very good qualities and moral character similar to that of Ruthujvajan. Since those two friends were in guise of normal human, they did not reveal their identity to anyone including to Ruthuthvajan.
Once a sage came to the Royal court of the King complaining that the sages and saints in the forest were unable to perform any rituals, tapas or meditate due to atrocities of an asura who prevented them from performing the rituals and disturbed their tapas and meditation. Though the sages and saints could have destroyed the asura with the meditative powers gained by them, they were unwilling to exercise the hard-earned power granted by the divines because once they were used, the strength of the power would go away. The sage said 'Oh, King when we prayed to the Lord to relieve us from the torture and torments of the asura, a voice from heaven told us that we would get a powerful horse with divine powers comparable to that of the carrier vehicle of Lord Sun, and once we receive it, it should be handed over to you which in turn is to be given to your son who could ride on it to guard us and destroy the asura. In the next moment a divine horse appeared before us and we have brought her here as per the command received through the unknown voice. Oh, King kindly accept this horse and protect us from the asura and ensure that we are able to pursue our spiritual pursuit peacefully in the jungle'.
The King was noble and held the fraternity of Rishis and sages in high esteem. Therefore, without hesitation, he took over the divine horse, gave it to his son Ruthujvajan and sent him along with the sage to the forest to guard them against the asura. When Ruthuthvajan went near the horse, the horse bent before him signalling him to sit on her. Once both Ruthujvajan and the sage sat on it, the horse flew through the air and entered into the jungle where the sages recommenced their meditation and tapas while Ruthuthvajan stood guard outside the hermitage.
By then the asura who had so long been disturbing the saints and sages, came into the jungle in the guise of a wild jungle pig and began to destroy the Yahya Kund in the usual manner. Immediately Ruthuthvajan fired several arrows on to her body. The asura did not expect such resistance from the sages and began to retreat to save himself. Ruthuthvajan sat on the divine horse and chased the jungle Pig. The asura in guise of Pig realized that if he was captured by Ruthuthvajan, he would get killed and therefore ran into the world of abyss to escape from Ruthuthvajan. Since Ruthuthvajan was sitting on the divine horse he could chase the pig and freely enter into the world of abyss. The Pig which entered into the world of abyss disappeared suddenly. Ruthuthvajan was amazed to find beautiful buildings and Palaces inside the world of abyss and enjoying their beauty, he searched for the Pig.
On way, he accidentally saw a beautiful girl, her body covered with carved ornamented gold jewels, but clothes were torn. She appeared tired and frustrated. For few moments both of them looked at each other without a wink after which Ruthuthvajan went near her and introduced himself to her to tell that he had indeed entered into the world of abyss chasing a jungle Pig which was troubling the sages and saints in the land above the world of abyss and after entering into abyss, the Pig disappeared and hid somewhere. Hence, he was in search of the Pig to kill it. He requested her to help him trace the Pig. Before Ruthuthvajan went near the girl, she ran inside and hid herself. Ruthuthvajan did not feel any sort of fear and reached the terrace of the palace, casually tied the horse and entered into the building in pursuit of the Pig.
When he reached a big hall, he saw another beautiful woman lying on an ornamented bed. But she did not notice him while entering into the room. As he was enjoying the beauty of the girl lying on the bed, accidentally she too noticed the stranger standing there, but without display of fear she staired at him for a while. In the otherwise calm atmosphere, returning back to his senses, Ruthuthvajan asked the girl 'Hello, you appear panicky struck with some problem. May I know who you are and what are you afraid of?' When she remained mum for some time, he repeated the same query. She immediately called someone from inside in high pitch voice 'Kundali'. Ruthuthvajan was surprised to see Kundali, whom he first met when he entered into the world of abyss. The lady requested him not to ask any further as they cannot answer and instead requested him to reveal his identity first. They displayed fear on something while talking.
Ruthuthvajan immediately understood that the girls were in deep problem and need to be rescued or saved. He said 'Girls, my name is Ruthuthvajan, the prince of the outer world above abyss. I came chasing a jungle Pig which was disturbing the tapas of sages in the forest areas. If you trust me and reveal true nature of danger in which both are trapped, I can help you in some manner'. The girl who met him first said that the name of the other lady standing by her side was Madalasai. She told Ruthuthvajan that the prince of the King of abyss wanted to marry her by force. Since those in the world above abyss cannot marry someone who is living in abyss, she refused to marry him. Hence, he kidnapped her, forcefully brought and imprisoned her. He was further planning to get married with her in the next two days. When Madalasai attempted to commit suicide, the divine Cow Kamadhenu which accidentally met her, persuaded her not to commit suicide and wait with patience for some more time as someone would come, rescue and marry her. As prophesised by divine Kamadhenu the prince (Asura) of abyss who went to disturb the tapas of the sages and saints came running bleeding pierced with arrows fired by Ruthuthvajan who too came over there chasing the asura. Both the girls felt that it spelt good omen and requested whether he could rescue Madalasai and take her out from the prison in abyss.
Ruthuthvajan impressed with Madalasai was willing to rescue her, but only after marrying her. Since he cannot be engaged to anyone unless it was performed with fire rituals, he immediately prayed to his guru who instantly appeared there in the world of abyss and after hearing the story, acceding to the request of Ruthuthvajan, he solemnized their marriage there itself with fire rituals. Once Ruthuthvajan married Madalasai, he was ready to leave when Doomakethu, King of abyss came over there, confronted him and attacked Ruthuthvajan. Since Ruthuthvajan was very strong and a warrior, possessed with powerful divine horse, he fought with the forces of Doomakethu, destroyed the forces and also killed Doomakethu. After killing Doomakethu, both Ruthuthvajan and Madalasai sat over the divine horse and rode back to the Palace of Ruthuthvajan. Even before they reached the Palace, the Raja guru who solemnized the marriage in the land of abyss conveyed the entire news on Ruthuthvajan to his parents and hence everyone warmly welcomed Ruthuthvajan and Madalasai in a grand manner.
After return from the world of abyss, everyone noticed remarkable changes in the attitude of Ruthuthvajan. He curtailed earlier habits of roaming, making pleasure trips with friends etc and spent much of his time with his wife further concentrating in the state administrative issues. He frequently met saints and sages and got several doubts cleared from them. While his parents were very happy to see the changes in the attitude of their son, both Ruthuthvajan and Madalasai too led their life in happiness. In the world of abyss, Thaalakethu, brother of Doomakethu who was killed during fight with Ruthuthvajan when Madalasai was rescued, waited for an opportune time to settle his score with Ruthuthvajan to avenge the death of his brother Doomakethu. Soon the opportunity came.
Ruthuthvajan used to frequently visit the jungle to meet the sages and saints. While wandering in the forest, one day he lost the way and stranded in the thick of the jungle. With great difficulty he managed to find a fresh hermitage and went inside. A sage sitting there warmly welcomed him. The sage was none other than Doomakethu's brother Thaalakethu in guise of a saint sitting there expecting the arrival of Ruthuthvajan. He knew that as long as the divine horse was with Ruthuthvajan, he cannot not be defeated in direct fight, hence he created an artificial hermitage to trap and cheat Ruthuthvajan by deceit. Ruthuthvajan was unaware of the intention of Thaalakethu and still believed him to be a saint. After exchanging pleasantries and taking rest, Ruthuthvajan asked the sage what he expected from him for the help rendered to shelter him. After praising Ruthuthvajan a lot, Thaalakethu told Ruthuthvajan that he was planning to perform a yagna, and as a symbol of contribution, if he could donate the latchet with chain worn by him, it would be of great help to him. Thaalakethu knew that the neck chain with the latchet was presented by Madalasai during their marriage. Hesitant Ruthuthvajan thought for a while on account of his sentiment with the latchet given by his wife, at the same time he also realized that denial of the latchet sought by the sage would be tantamount to insult and therefore after initial hesitation, Ruthuthvajan donated the latchet to Thaalakethu who was in guise of a sage. The sage asked him to stay in the hermitage overnight and go back to his Kingdom next morning. He also guided Ruthuthvajan the way to reach his Palace.
Before Ruthuthvajan could get up in the morning and reach the Palace, Thaalakethu had already reached the Palace in guise of sage and met the King to convey that his son had died in the jungle in a fight with enemies and before Ruthujvajan died he gave him the latchet and uttered the name 'Madalasai', 'Madalasai' and breathed his last. After telling some more false stories on Ruthuthvajan's death, Thaalakethu went away happily feeling that he had avenged the death of his brother. Seeing the latchet attached with the chain, Madalasai too believed that her husband had died and, in the shock, she fell dead.
The final rites were carried out for Madalasai and the whole state of the Kingdom mourned the death of Ruthuthvajan who was still alive. In the meanwhile, Ruthuthvajan somehow managed to reach the Kingdom after straying here and there and found the entire state under mourning. He could not guess what had happened. After Ruthuthvajan reached the Palace, everyone was shocked and realized that someone has cheated everyone conveying fake news with some ulterior motive which however sadly resulted in the death of Madalasai.
Years rolled. How long the prince would carry in heart the unbearable agony? Slowly he started returning back to normalcy and mingled with his friends as before spending quality time with them. His friends too consoled him in many ways so that he would forget the past. The two close friends of Ruthuthvajan who were from Nagaloga and continued to remain in guise of humans did not visit their homeland- Nagaloga- for very long time and stayed there in support of Ruthuthvajan due to which their father was quite upset. Therefore, he came and met his sons secretly to find out why they failed to visit home for very long time. Though their father was initially quite upset to see his sons in guise of humans freely maintaining friendly relation with humans, after they explained the circumstances which forced their stay over ground and friendship with Ruthuthvajan who possessed good manners and character, the King of Nagaloga too was convinced of their genuine friendship.
They narrated the ordeal of their close friend Ruthuthvajan which he had to face for having given protection to the saints and sages even risking his own life and requested their father to help Ruthuthvajan in some manner. The King of Nagaloga too felt sad hearing the story of Ruthuthvajan who had been cheated. He had already heard of the good governance of Ruthuthvajan's father whose legacy Ruthuthvajan followed.
Therefore, the Naga King agreed to help his son's friend in some manner and finalized a plan of action. He returned to Nagaloga along with his sons, handed over the Kingdom to his sons to look after for some period of time and went to Himalayas. He sat in penance seeking the grace of Goddess Saraswathi. Please with his intense tapas, when the Goddess appeared before him to grant his wish, the King requested the goddess to bring to life his brother who had died many years ago and further grace both of them with the art of rendering most pleasing heart melting music. The pleased goddess not only brought back to life his demised brother but also bestowed them boon to excel in rendering heart melting music. Both the brothers exchanged pleasantries and discussed the ordeal faced by Ruthuthvajan. They decided to pray to Lord Shiva to get boons by rendering heart melting music to solve the issue of Ruthuthvajan and to get Madalasai reborn in their family. After deciding so, both went to mount Kailash, penanced on Lord Shiva rendering heart melting hymns in glory of him. Pleased with their music, Lord Shiva appeared before them to grant the boons they wished. They requested him to bless Madalasai reborn in their family, possessed with the same attributes and feelings when she died, and in same human form. Lord Shiva granted their wish and the brothers returned to their homeland. Soon Madalasai took birth in the family of the King and regained her original form. Ruthuthvajan's friends were elated that Madalasai had born as their sister. Their father was a good mind reader and therefore decided that if Ruthuthvajan was immediately paraded before Madalasai he would not believe her rebirth and accept her. Therefore, only by deceit he should be brought over there to meet Madalasai in stages till which time Madalasai should also remain unseen by Ruthuthvajan whenever he was brought to Nagaloga. As per the plan worked out, Ruthuthvajan's friends from Nagaloga met Ruthuthvajan, convinced him to go with them to meet their father who was anxious to meet him.
Ruthuthvajan was initially reluctant to go with them to meet their father, but when his friends somehow convinced him, he agreed to proceed to Nagaloga traveling in a boat. Ruthuthvajan did not ask them where he was being taken to meet their father. Midway in ocean they mesmerized and blindfolded Ruthuthvajan and then took him to the Nagaloga which was deep inside ocean. Ruthuthvajan felt the journey was very long and as soon as they reached Nagaloga, his eyes automatically opened up. He realized that he was inside a different land with two serpents standing by the side of him. Even before he spoke, the serpents spoke in the language known to him 'Friend please forgive us. We are the very same friends of yours who were in Bhoologa in disguise of two Brahmin boys. Since our father desired to meet you, we brought you here by deceit. Do not mistake us. Ruthuthvajan recognized them by their voice and conveyed that he was not at all angry since he felt that father of a friend was also similar to his father, hence they need not regret for their act. The pleasing reply of Ruthuthvajan further enhanced his merit in their mind.
When they took him before their father, Ruthuthvajan instantly fell at his feet and both hugged. The Naga King was happy in meeting all three together. As if he was unaware of the ordeal of Ruthuthvajan, the King casually inquired about his welfare and blessed Ruthuthvajan to beget a good partner in life. Agonized Ruthuthvajan stood in silence and silently wept in heart that while he possessed everything in life, he was missing Madalasai who was no more. The Naga King, mind reader, read the feelings running in the mind of Ruthuthvajan. Instead of pursuing any further at that juncture, the King asked them to take food, rest for a while before they meet again. After lunch when Ruthuthvajan met the King again along with his friends, the Naga King repeatedly asked Ruthuthvajan whether he needed any help from him. He assured that he could fulfil his wish by the spiritual power he possessed. While Madalasai occupied his mind, Ruthuthvajan, could not express his feelings to the King and looked at his friends who were waiting for such an opportunity to open up the issue. Though everything had been foretold to their father, they pretended as if their father was unaware of the story of Ruthuthvajan and in front of Ruthuthvajan narrated his ordeal till the death of his beloved wife. They pretended that their friend Ruthuthvajan would feel happy if his wife could be brought back to life.
The King smiled at Ruthuthvajan and told him that he was aware of the feelings running in his mind and said that the dead cannot be revived, but he could parade Madalasai for few minutes before him. However, the condition was while meeting deceased wife, Ruthuthvajan should not touch her. Ruthuthvajan agreed to the proposal so that he could at least meet her once again for few moments. The King arranged to parade Madalasai before him. Once both Ruthuthvajan and Madalasai met face to face from a distance, Ruthuthvajan wept uncontrollably. Since he had to abide by the condition that he cannot touch her physically, he looked at her from a distance and wept for some more time before she disappeared. Saddened Ruthuthvajan sat in silence and came to his senses when he felt that someone had touched his shoulders.
When he turned back in shock, he saw the King standing behind him rubbing his shoulders gently to tell that he would get back his wife again, but before that Ruthuthvajan should also know how Madalasai got rebirth. The King narrated the entire story of how his sons were maintained best friendship with Ruthuthvajan in Bhoologa, how they reacted when he lost his wife and how they sought his intervention to find a solution to get back his wife and how with the grace of Goddess Saraswathi, he brought back to life his dead brother and how they met Lord Shiva to obtain boon to get rebirth of Madalasai etc in detail. He further revealed that Ruthuthvajan had to face the ordeal due to destiny, hence he too enacted a small drama before uniting them together. Thereafter the reunited couple were sent back to their motherland with the blessing of the King of Nagaloga.
…………….the story of Ruthuthvajan continues….
Digambara, Digambara, Sree Padha Vallabha Digambara
Digambara, Digambara, Sri Dattadeva Digambara
Om Shri Dattatreya Guruve Namaha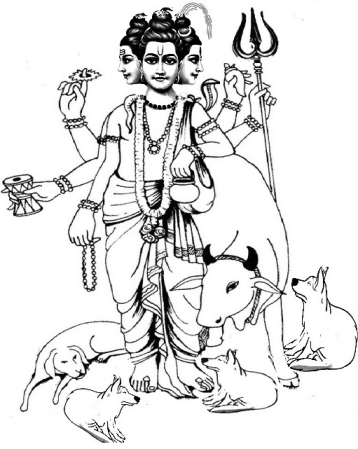 Sixth day Parayan
Om Dattatreyaaya Vidmahe
Yogeeswaraaya Deemahey
Thanno Datta Prachothayaath
Story of Ruthuthvajan continues…..
The royal family was overjoyed to hear the news and to see Ruthuthvajan who returned home with his wife. Years passed. King Sathrujit died and his son Ruthuthvajan took over the reins of the Kingdom and ruled the state in the most responsible manner following the footsteps of his father. After Ruthuthvajan's accession to the throne, Madalasai conceived and gave birth to a beautiful son. At the time of naming ceremony when the king anointed the child with a good name, instead of expressing joy Madalasai laughed, as if she was very amused by a name given to her son. She did it deliberately. If anyone else had behaved in that manner it would have been viewed seriously as an act of insult. Since Madalasai acted so, others did not bother and Ruthuthvajan too ignored reaction of Madalasai. The child grew up as intelligent child, well-mannered and possessed with the same good attributes of the King.
Madalasai brought up the child putting him to sleep with lullabies, the themes of which were philosophical such as 'why did you take birth in this worthless world of illusion……you should remain detached in this materialistic world etc'. Though the King noticed her putting the child to sleep with lullabies philosophical in nature he ignored it initially but wondered why such lullabies were sung to put the child to sleep. However, as the child grew, he further noticed Madalasai giving metaphysical knowledge like 'Hear my son, when the dirty water of one place flow and mix with pure water flowing from different other direction, though the entire water gets contaminated, the basic properties of the water remain unchanged. Similarly, whenever you mix with people like sages and saints or others possessing good character, absorb only good qualities from them instead of polluting your mind with wrong thoughts and ill feelings. You must retain your good qualities inherent in you. The body does not reflect the purity of mind but the purity is revealed only through the atman (soul) residing inside'. The King was worried why his wife chose to preach the child about metaphysics which would get deeply etched into the tender mind of the growing child. The King's fear turned out to be true when at the age of twelve years, the boy renounced the royal life and took up Sannyasa called renunciation. At the same time Madalasai was non-emotive and engaged herself into normal chores of life as usual without displaying any remorse on her son's decision. The King could not understand the behaviour of the queen – his wife.
Few years passed and Madalasai got conceived again and gave birth to another son. In the naming ceremony too when the child was anointed a name, once again Madalasai laughed mockingly at the King with a sarcastic look as before. Even the second child was put to sleep with same kind of lullabies and few years later she educated the boy with the same metaphysical knowledge, spiritual and philosophical in nature. She used to tell the boy 'Why did you take birth in this worthless world of illusion? You should live detached in this materialist world. The cosmic has been created by one who is formless. When your body itself is activated by formless soul, never doubt the one who is also formless and created the cosmos. Never forget the fact that you are activated only by someone who is formless and not by me or by someone else. You are the veritable expression of the Supreme self-consciousness. Be aware that the endless thoughts and feelings running in your mind is generated and activated by the same formless who is called Paramatman'. The King feared how would the child in the tender age benefit with those narratives which were philosophical. However again he preferred to remain passive, without raising any objection and when the child grew up, following the footsteps of his brother, the second child too suddenly renounced worldly pleasures and took up the path of asceticism and went to the forest.
While the king was completely shattered with the decision of the second son, yet as before, Madalasai neither displayed remorse nor was impacted by the decision of her second son and continued to engage herself into her routine work. She kept her husband happy, performed the daily chores of work as before, but whenever she was alone, she was engrossed in deep thoughts in stoic silence. Neither the King nor others could understand the true nature or characteristics of Madalasai. Again, for the third time in a row she became pregnant.
The King hoped that there would be change in the attitude of Madalasai. Contrary to his expectation, during naming ceremony of the child, again Madalasai reflected the same old style of sarcasm and brought up the child in the same old manner in which the earlier two sons were brought up. The themes in her teaching too continued to be same- philosophical. Once the King saw her advising the child 'Do you know the attributes of a Yogi? He should live in a world of bliss, self-contented, detached from the materialistic world, freed of the past, present and future oriented thoughts in mental time travel. Wherever Yogi may stay – a hut, banks of river or under the mounts, he should unite his Atman with Brahman if not, pursue the efforts for it, remain freed of wealth, worldly pleasures or land'. It was clear to the King that those were the doctrines of Lord Dattathreya. As time passed, the third child too grew highly intelligent like his elder brothers and followed their footsteps – renunciation of all worldly desires to become an ascetic. The decision of the third son came as a big blow to the King who waited for an opportune time to speak to his wife Madalasai who conceived for the fourth time and delivered a male baby as before.
On the occasion of naming ceremony, the King instead of himself naming the child, asked his wife to anoint a name hoping that at least the fourth son born would become their heir in the Kingdom. Contrary to his expectation, Madalasai named the child as 'Alarkan' which was ridiculed by everyone because the meaning of 'Alarkan' was 'mad dog'. Shocked assemblage walked out away in anger and protest.
For the first time the King vented out his anger to Madalasai over the name she anointed. He spoke to her in anger 'Every time when I anointed the child with a name, you displayed mischievous smile. Today when I asked you to anoint a name you named the child as Alarkan and insulted me. What is your intention?'. Cool Madalasai replied after few moments' Oh King, every time when you named the child neither I mocked at you nor sarcastically looked at, but only wondered how the name which have no significance to   either the body of the child or for the soul residing inside the child has been chosen to be anointed to the boy.
'The body is perishes, but not the soul within. Everyone knows this truth. Can anyone explain where the soul goes after departing the body and whether it also carry with it the name anointed?  Everyone anoints the child with one name or the other and perform rituals which have no value except please the custom. Does the name influence the life style or modify their attributes? When the name has no relevance either to the body or the soul within, why take so much pain to perform the naming ceremony and anoint a name. Hence, I laughed whenever the naming ceremony was held. It was not meant to insult anyone including you. When I was asked to anoint a name, I casually named the child Alarkan which had no relevance to the soul inside the boy' When Madalasai went on replying in such manner, in between asking for the views of the King he had no answer to offer.
Unable to answer, ultimately, he made a request to her 'Ok, let the bygone remain bygone. The earlier three sons have been brought up with metaphysical knowledge instead of teaching the duties and responsibilities needed for a prince, with the result they opted the path of renunciation and went away. Forget it, since the present boy has to be our heir for the Kingdom, at least grow him teaching the worldly matters, the duties and responsibilities of a King owed to the folks of the Kingdom whose welfare rests on him'. Madalasai did not contest his request, nor showed reluctance or anger but promised to bring him up as a responsible prince to serve the folks of his land. Next day onwards her lessons to the boy were quite different compared to how she brought up other boys, but her teachings included the stories and glories of Lord Dattathreya. Alarkan absorbed the texts from the Shastras very well, got well trained on administrative affairs and at one point of time turned out to be the most responsible prince possessed with knowledge and intelligence required for an upcoming King. When the King found him to have picked up the nitty-gritties needed for a ruler, he handed over the Kingdom to Alarkan and renouncing royal life, he went away to the forest to take up Sanyas along with his wife Madalasai.
Alarkan was upset that his parents were departing leaving on his shoulder a huge responsibility. Before leaving to the jungle Madalasai gave a ring to her son Alarkan and told him 'Alarkan, since you are responsible to guard your folks, you may encounter several challenges and sufferings. However, when you find it extremely difficult to face the challenge then look at the ring closely and you will get some instruction. Until such a situation arose, do not attempt to probe what the advice is inside the ring'. After giving advice she left for the forest with her husband. Alarkan engrossed himself in the affairs of the administration and attended to the welfare of his folks. In the meanwhile, his elder brother who renounced life and took up to Sanyas happened to visit the land which was ruled by Alarkan. The moment he heard of the excellent rule of his younger brother on throne, he could not digest his brother sitting on the throne, even though he had renounced everything and taken up to Sanyas. He proceeded to Kasi to approach the King of Kasi who was also enemy of his brother on throne.
The King of Kasi was not only a mighty warrior and learned pundit in Shastras, but also adherent to the basic tenets of war and peace. Therefore, even though Alarkan's own brother out of sheer jealousy approached him seeking help, the King of Kasi was reluctant to immediately wage a war without valid reason. Utilizing his proximity with the King of Kasi, Alarkan's brother coerced the King to go on war telling many false stories on Alarkan's rule and somehow influenced King of Kasi to wage war against Alarkan.
The war began. Alarkan lost most of the territories and finally bolted the gates of the Fort and remained inside with his forces. Utterly dejected, he suddenly remembered that on the eve of departure, his mother had given him a ring advising him to see it closely if ever he found himself in great danger, as it would provide good advice for him. Alarkan thought that this was the best time for him to see what advice the ring has and immediately looked at the Ring closely and found few words carved. 'Remain detached. If you find the practice difficult, then seek the guidance from proper master'. Glories of Lord Dattathreya told to him by his mother ran over his mind.
One day without informing anyone he went out of the fort through a secret tunnel already built inside and met Lord Dattathreya and fell at his feet. The Lord knew everything and counselled him to face the situation with ease. Alarkan narrated his ordeal to the Lord and sought his help to overcome the problem.
Lord Datta advised 'Alarkan, you are unnecessarily worrying for something which has no real existence. For a moment think who you are. Only your body of flesh and blood represent the Atman within you. Have you ever attempted to find out what is the form of your soul called Atman? Does it look like a wind, earth or a sky? Can any one of the organs functioning within the body of illusion able to see or know the true form and nature of Atman? The Atman has no fear, favour or affected by sorrow or happiness. It is independent. Therefore, what are you worried of? Is it to save the Atman which is independent or to save the body of illusion made of flesh and blood?
Alarkan, your feelings and emotions are similar to the universe whose intricacies cannot be understood. The moment attachment fills in your mind, it keeps on expanding its wing by the acts of marriage, creation of wealth etc, which ultimately bring agony as well. Therefore, throw away everything and stay detached from the materialistic world. Once you practice mind control and firm it up, automatically you will derive determination or Siddhi. When determination comes under your control, then you can control every other desire. When you reach such a stage, the gateway to enlightenment and to become a Yogi with highest wisdom will open up.
In rapt attention Alarkan heard everything what Lord Dattathreya said and etched them deep in his heart. Lord Dattathreya continued 'Alarkan, the Yogi who wander and rest under the shades of trees, caves, isolated river beds and even the open space, feels that where they rest was their home. You must also practice to feel similarly. Develop to eat any food available wherever you may rest, and if no food available, practice to live on plain water. Once you get used to such habit, you would reach the stage of detachment which would lead you into the path of enlightenment. But be aware that you cannot do it without proper initiation and guidance from a master called Guru. Practice control of mind and then tread the path it directs. You have to sit before the Guru and control your breath and focus entire attention on Pranayama called meditation chanting the special mantra initiated by the Guru. It will enhance the vital spiritual energy at the zenith of which you will enter into the path of Samadhi.
Once you enter into the path of Samadhi, you will get opportunities to get abnormal spiritual powers called Siddhi. Without using them, if the mind is kept under control, and intended path treaded vigorously, you will attain success to become a Yogi. What is required is perseverance and nothing else. See the smallest creature- ants which have microscopic mouth, but they live inside the biggest holes of the large trees. Even after the leaves or flowers from the body of a tree is plucked out, the trees continue to grow them afresh even if they are plucked again and again. Similarly, one who pursue the path of yogic practice with perseverance, attains the stature of a Yogi and attain the power to control the mind and all other senses. Once the senses come under control, the ego and arrogance get destroyed, pushing one into the world of tranquillity and peace.
After hearing the long speech of Lord Dattathreya, slowly Alarkan realized that he was in land of tranquil and peace. He fell at the feet of Lord Dattathreya and prostrated many times and said 'Oh, Lord, only today I see light inside darkness and banishment of my ego. The seed of spiritual path seeded in my mind has sprouted, pushing me into the world of tranquil'. Alarkan eulogized several chosen hymns on Lord Dattathreya and finally took leave from him to return back to the Fort through the same secret tunnel.
On reaching the Fort, he summoned his forces and declared that he had decided to bring an end to the war and ordered that they keep watching what he planned to do further. They were strictly commanded not to take up the arms till he ordered revival of the fight. He got the gates opened and walked towards the enemies who were resting in their tents.
In a surprise move, Alarkan went and stood before the King of Kasi and told him 'Oh King, please take over my Kingdom or else give it to my brother who is eager to take up the Kingship. It is up to you to decide either way since I am quitting the Palace right away. King Kasi was taken aback when he saw Alarkan who had come alone unharmed but quickly pulled out his sword for safety to attack him in case it was necessary. Once he listened to what Alarkan uttered, King Kasi stood shocked, surprised and speechless.
Earlier King of Kasi was in confusion as to why there was no resistance from inside the Fort though he got the message through his spies that the King was not inside the Fort. Hence, he avoided forceful entry into the Fort as it was against the convention of the war when the Kings were absent inside. Unable to believe what was happening all in a sudden, he asked Alarkan whether he was enacting a drama out of fear or come with some hidden agenda to attack him in deceit and why did he take such a drastic decision. Alarkan laughed at the King to tell him that fear was no more a word in his life 'Oh King, I am not backing out of my decision to offer the Kingdom to you. One live only once which will also vanish when destined to go and it cannot be stopped. When you encircled my Fort, I went through the secret tunnel to meet Lord Dattathreya and took his advice which resulted in my taking this rightful decision. I must only be thankful to my brother who facilitated my meeting, Lord Dattathreya. Had you not waged the war in collusion with him and weakened my position, the change in me would not have happened. Thank you so much for the help you both have rendered. Please believe me, I am leaving the Kingdom requesting you to take over the administration.
Alarkan's elder brother who was standing nearby listened to Alarkan's offer of quitting the Kingdom, got down from the horse and ran towards his brother who renounced the Kingdom. He hugged him saying 'Brother I am elated and happy today. You have indeed met the right Guru and surrendered to him'. He looked at the King of Kasi to tell 'Oh King I have achieved what I desired. Thanks for your invaluable support in this cause. I am also going along with my younger brother handing over this Kingdom to you'. Surprised King of Kasi stopped the brothers from moving commenting 'Hello why are you both confusing me? Against my conscience, I waged this war with my forces to get you the Kingdom you wanted, but strangely both of you are going away leaving the Kingdom to me. What is happening over here?'
Alarkan's brother replied 'Oh King, let me reveal few facts to clear your doubts which is genuine. My mother though was the wife of my father Ruthuthvajan, was not ordinary woman as everyone think. She was universal mother and had to marry my father for certain reasons due to destiny. Four of us born to her were brought us up teaching the subjects of ideations and advice to detach ourselves from the pleasures of the materialistic world. While the first three of us took her preaching in right earnest, and took to Sanyas (renunciation), unfortunately our last brother had to tread another path out of compulsion, similar to that of an animal in lust. I was worried by the deviated path preferred by him even though he was one of the sons of the universal mother who was Yoga Matha. Had he been allowed to continue treading such a path, it would have remained an act of insult to our mother who was Yoga Matha. Therefore, I took your support to weaken his position and make him realize the truth. Since my aim has been achieved, I am also going away leaving the Kingdom to you.
King of Kasi regretted that he too failed to cherish the fruits of spiritual life. Hence, he requested them to allow someone from their hierarchy to take over the Kingdom as he was also not interested in taking over the Kingdom and then went back to Kasi. Alarkan handed over the reins of the Kingdom to his son and went away with his brother to tread the path of Sanyas (renunciation). From this story one can realize how Lord Dattathreya had been showing the right path to the disciples who unconditionally surrender to him.
Digambara, Digambara, Sree Padha Vallabha Digambara
Digambara, Digambara, Sri Dattadeva Digambara
Om Shri Dattatreya Guruve Namaha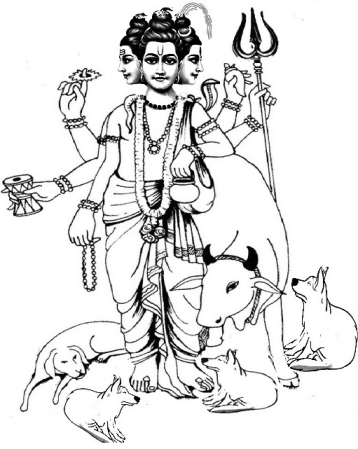 Seventh day Parayan
Om Dattatreyaaya Vidmahe
Yogeeswaraaya Deemahey
Thanno Datta Prachothayaath
Lord Dattatreya and Shri Vishnu Datta
Centuries ago, there lived a Brahmin named Vishnu Datta who was very pious, God fearing and observed simple lifestyle expected from that of a Brahmin and commanded respect in society. He was married and his loyal wife served him well in all respects. There was a big tamarind tree near his house. People believe that ghosts and evil spirits live in the tamarind trees grown in isolated places and wander in night. True to such belief one of the ghosts lived on top of that tree. Daily Vishnu Datta after completing the daily chores and other rituals, kept some food under the tamarind tree in the name of oblation to the deities hoping the same would be eaten by the deities through some insects. He never discontinued the practice of keeping the oblation for any reason, and continued to offer it after concluding the daily rituals and pooja. One day the ghost which resided on the tamarind tree came down and ate the food. As days passed, the ghost made it a habit to partake the food kept as oblation by Vishnu Datta and got its hunger satiated. Since the ghost was taking the food regularly, it never disturbed his family in any manner as other ghosts would do. Because the ghost continued to take the food offered by the pious Brahmin of Sattvic nature, the heart and mind of the ghost too turned into that of Sattvic. It also began to feel that it should render some help to the family of Vishnu Datta as symbol of gratitude.
After deliberating in mind and intent to help Vishnu Datta, it decided to approach him to offer help within its capacity. One day as Vishnu Datta was keeping the food below the tree, all of a sudden it appeared before him in its true form and politely told him that it would feel happy to help him in some manner if any was needed. Before Vishnu Datta could come to his senses and reply, it repeated the same offer once again since he provided food by way of oblation to the deities which satiated its hunger and therefore wanted to do something in return for him. Vishnu Datta was completely surprised that a ghost was offering to help a human.
Initially confused and jittery, Vishnu Datta however gained confidence after the ghost offered the help under oath of promise and therefore replied that he would consult his wife and then and ask for the help needed. He went home, told the story to his wife, discussed the offer of the ghost and finally decided to approach the ghost help him meet Lord Dattathreya which was the long-cherished ambition of the couple as they had heard that the Lord was reportedly staying somewhere near their home. Earlier the couple attempted to have the darshan of Lord Dattathreya many times and searched for him, but failed to find him anywhere.
Next day when Vishnu Datta expressed his desire to the ghost, it shivered expressing its inability to help him since he was seeking an impossible help – meeting Lord Dattathreya. No ghost would ever dare to even think of going near the Lord, lest he would burn them down. Therefore, it offered to extend any other help other than taking him to the Lord. But Vishnu Datta was disinterested to take any other manner of help since he was leading a life of simplicity and therefore thanked the ghost for its offer and requested it to forget his request as he had no other desire other than meeting the lord. He told the Ghost 'Oh, ghost you need not regret for inability to take me to the Lord. I must indeed thank you for offering help which itself was of a great solace and help. I just wanted to meet the Lord at least once and hence sought your help. Forget the issue'. As he got ready to go home, the ghost stopped him.
The ghost felt that for someone who had fed it for so long, should not be let down and allowed to go empty handed and hence gave an alternate suggestion. It said 'Look Brahmin since you have asked for a favour it would be unfair for me to run away without doing something. Therefore, I will take you in the locality where Lord Datta could be seen. But remember I cannot take you near him and can only show the Lord from a distance. You have to be intelligent enough to identify and catch hold of him since he will appear in guise of anyone unknown or unseen by you'. Vishnu Datta agreed to the suggestion since he desired to somehow meet the Lord.
Few days passed and one fine day, the ghost went to the house of Vishnu Datta and called him to accompany it quickly. It took him to a place near a meat shop. The ghost told Vishnu Datta that if he go near the meat shop, Lord Dattathreya could be seen in some form. Vishnu Datta being a Brahmin could not tolerate the foul smell of the meat and looked at the shop from a distance. He saw plenty of people taking meat and going away except a fully drunken man, with reddish eyes still standing in the meat shop. Vishnu Datta could not believe the drunkard could be the Lord incarnate and accused the ghost in mind that it had unnecessarily misguided and brought him to a place where Brahmins would not go since even going near the meat shop was a sin. Angered in mind as he was watching the movements of the beggar from long distance, suddenly the beggar vanished. Next moment the ghost appeared before Vishnu Datta regretting that he had missed the golden opportunity of meeting Lord Dattathreya who was standing in disguise of a drunkard in the mutton shop. It recalled its earlier advice that Lord Dattathreya would always test the devotees by appearing in disguise of someone strange and unknown in any manner. Vishnu Datta too regretted for his foolish act and went home dejected.
Some more days passed. Again, the ghost came in hurry and called him to accompany him urgently. It showed from a long distance, a beggar walking surrounded with few dogs. The Ghost told Vishnu Datta that the beggar was Lord Dattathreya and asked him to go and meet him. Vishnu Datta ran towards the beggar and even before the beggar asked him anything, he fell at his feet and offered salutation thereby blocking his way. Angered over Vishnu Datta blocking his way, the beggar hit him hard with a stick and yelled 'Run away from here without blocking my path, you useless fellow, why are you disturbing me unnecessarily?' When Vishnu Datta again attempted to stop him from moving, the beggar beat him severely with the stick in hand and pushed him away. Unable to bear the pain received upon beating with stick, Vishnu Datta ran from there cursing the ghost for having misguided him only to receive beatings from an unknown stranger. 'Let me not any more believe this ghost and remain confined to my present life style. Enough…. enough has happened' grumbled Vishnu Datta and went home unable to bear the pain resulted from the beatings. He slept wreathed in pain. The ghost once again met him next morning and admonished him for having missed the golden opportunity of meeting the Lord who was in the form of the bigger who beat him to test his mental agility and devotion.
Few more days passed. Every day Vishnu Datta was waiting for the ghost to come back with some information. One day the Ghost came as usual and hurriedly asked him to go with him quickly so that he could show him the Lord'. The ghost took him to a far of place, left him there advising him to search for the Lord in that vicinity. Vishnu Datta saw a lunatic picking up the meat from a dead body of a donkey and peeling off the skin. The lunatic threw the meat pieces to the birds who were flying at a distance away from the lunatic. The ghost showed the lunatic from a distance and told him that he was Lord Dattathreya and ran away. Vishnu Datta went near the lunatic, held his feet firmly and chanted 'Please accept my salutations, oh Lord, I pray thee'. This time he was determined whatever may happen, he would not leave the place till the Lord appeared in his true form. Lord in disguise of lunatic kicked Vishnu Datta even as he held his feet and continued to offer his reverences. Even though the lunatic kicked Vishnu Datta many times, Vishnu Datta withstood the pain and stood to his ground firmly. The drama suddenly ended and Vishnu Datta got up when someone compassionately ordered 'Get up my son, what you need'. Vishnu Datta could not believe his own eyes when he saw Lord Dattathreya standing in the midst of bright rays radiating all around him. The lunatic was no more there nor the donkey or the meat pieces thrown seen anywhere around.
The smell of locally called 'Paneer Poo' (Guettarda speciose flowers) filled the air. Vishnu Datta got up chanting 'Deva Charanam, Deva Charanam (meaning Lord, I worship thee)' and circumnutated the Lord several times in ecstasy. He was unable to express his joy and happiness. Lord calmed him and asked him what boon he needed. Vishnu Datta could not think of asking anything instantly nor had time to consult his wife and therefore in hurry asked the Lord whether he could come to his house to take part in the annual rites being performed to his father. Lord did not turn down his request and on the contrary accepted the invitation.
Vishnu Datta's ecstasy knew bounds when the Lord agreed to attend the annual rites of his father. He offered salutations to Lord Dattathreya many times, took leave from him, ran to his house to convey to his wife the details of the drama unfolded at the end of which Lord Dattathreya appeared. He conveyed to her that the Lord had agreed to come home to take part in his father's annual rites. Throughout the night the couple were discussing food items to be cooked to please Lord Dattathreya. Next morning the couple anxiously waited at the doorstep for the arrival of Lord Dattathreya. At the right time, the Lord arrived. After conclusion of the ritual, the plates made of banyan tree leaves were laid on the floor to offer food which was made ready. When everyone sat before the food plate, Lord Datta mischievously asked the couple 'Where is the other Brahmin pundit to partake food in this ritual, as two Brahmins should partake food' Vishnu Datta was shocked because he forgot to invite the second Brahmin for partaking food. Immediately Vishnu Datta went inside to consult his wife who was also initially shocked, but gained confidence to overcome the problem by praying to Lord Sun to come and partake food along with Lord Dattathreya and help her tide over the crisis. Since she was a chaste woman, without hesitation Lord Sun immediately agreed to come as it was the greatest honour for him to partake food along with Lord Dattathreya.
Lord Dattathreya was happy to find that Vishnu Datta passed through in the first test and again raised another issue. 'Vishnu Datta, I forgot to ask you…who has been called as Athithi (the main guest) to partake food offered to Lord Vishnu in the name of presenting oblation in a special plate? Again, another test and Vishnu Datta's wife did not get panicky and immediately went to the fire wood stove in which she had cooked the food and prayed to Lord of Agni to help her by coming as special guest to partake food offered to Lord Vishnu. Lord of Agni himself came out of the fire and sat by the side of Lord Dattathreya who was smiling at the sight of Lords Sun and Agni and appreciative of the honesty of the wife of Vishnu Datta in tiding over the crisis. The ritual ended in a grand manner as if such kind of ritual had not taken place in any other's home. After everyone took food, Lord Dattathreya initiated a special and powerful Surya Mantra to Vishnu Datta which he said Vishnu Datta can use to not only for peace in his family, but also could be chanted to solve others problem and diseases. After everyone went away, it took many hours for the elated couple to return to their normal sense of mood. What would be the greatest gift one could get but than receiving the blessings of Lord Dattathreya himself?
Time moved on. Despite receiving such powerful boon from Lord Dattathreya, neither Vishnu Datta nor his wife displayed arrogance or vanity and continued to live with simplicity and honesty. There lived a poor Brahmin couple nearby their home and due to past karma, the husband fell seriously sick afflicted with dreaded diseases. The cruellest part in the married life of that sick Brahmin was that his wife had not even attained puberty till then. Those were the days when even the children who had not attained puberty used to get married but stayed at the home of their parents till they attained puberty. The disease struck Brahmin had none to attend to him. Hearing his condition, the child wife of the sick husband thought that instead of lending support to her ailing husband who was seriously ill and none to attend him, why should she stay at the home of her parents? She therefore decided to break the tradition, go and stay with her husband to serve him. She left her parents' home, went and stayed with her husband to render service with highest sincerity. As days passed, the child wife of the sick husband heard of Vishnu Datta's fame and decided to seek his help to get her husband cured with the special mantra power enjoined by Vishnu Datta. Braving everything, she kept his father to look after her husband, went alone and met Vishnu Datta, narrated her ordeal and cried.
Vishnu Datta with his spiritual power, understood the reason for the cause of the dreaded disease afflicted by her husband. Even though Vishnu Datta could have instantly cured her husband's disease by invoking the special power of the mantra given by Lord Dattathreya, he wished not to misuse it since the Brahmin who was afflicted with the disease had to get rid of the sin entirely, lest it would continue to affect him repeatedly. When he explained it to the child wife, she expressed her readiness to observe any ritual to get rid of those sins. Vishnu Datta advised her to observe certain difficult rituals for next 33 years to bring back her husband to normal health which she happily agreed and performed with highest honesty. Slowly her husband was cured of all the diseases and returned back to normalcy. Thereafter the couple led a normal life with happiness.
Thus, Vishnu Datta continued to serve the people with the special power of mantra initiated to him by Lord Dattathreya. Lord Dattathreya who was watching every act of Vishnu Datta was very pleased with his way of life rendering service to the common, he silently kept on increasing the spiritual power of Vishnu Datta without even the knowledge of Vishnu Datta.
Several such stories glorifying the greatness of Lord Dattathreya exist. Those who surrendered to him experienced enormous internal joy and reach height of glory in their life. The glory of Lord Dattathreya was eulogized thus: 'Oh Thou Lord Dattathreya, thou art Lord Krishna and Lord Shiva, thou bestow bliss and salvation, thou appear in nakedness like a child, thou art show path of enlightenment, one who grace wisdom, Lord of compassion, Oh Lord Dattathreya bless  us to remain ever chanting thine name.
Digambara, Digambara, Sree Padha Vallabha Digambara
Digambara, Digambara, Sri Dattadeva Digambara
Om Shri Dattatreya Guruve Namaha