Thiruthuraipoondi
Thiruvidamaruthur
Lord Mahalingaswami Temple
-Santhipriya-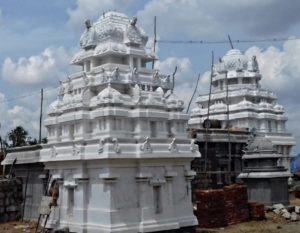 All of us know the story of  shaiva poet-saint Thirugnana Sambandar, who lived in the 7th century was fed milk in a golden cup by Goddess Parvati when he was three years old child and found crying sitting on the bank of a river. Other than this story none would have even heard of Goddess Parvathi having fed her own milk to Lord Shiva who was born to her as a child and brought him showering love and affection at various stages till he became an adult  when both manifested on earth in human form. This amazing story is linked to the temple legend of Lord Mahalingaswamy temple of Thiruvidaimaruthur village near Thiruthuraipoondi – Nagapattinam highway.  This Thiruvidaimaruthur Lord Mahalingaswamy temple is entirely different from another Thiruvidaimaruthur Lord Mahalingaswamy temple  existing in Mayavaram – Kumbakonam highway. Both are thousand years old temple, but has different temple history.
It is generally believed that  divines manifest on earth to save mankind from suffering. Some of the divines manifested in human form to get rid of the curses befallen on them, while few  divines  appeared before those who prayed for their darshan (appearance before them). Those places where they stayed were  sanctified by them before they returned back to Devaloga. Several centuries later few temples came up over those sacred places. Lord Shiva has been the prime deity who manifested in his own form many times to bestow boons to those who prayed for his vision. Those who manifested on earth in human form to get rid of their curses include Lord Krishna, Lord Saniswarar, Lord Vishnu, Lord Bhairava, Goddess Durga, Goddess Parvathi and Lord Agni etc. They are found in many puranic stories.  
Only very few puranic texts mention that Lord Shiva too came down to earth and stayed  in human form for some reasons.  The learned pundits say that Lord Shiva has 64 different divine forms and he has manifested as human in as many as 19 instances. But those 19 avatars mention names such as Sage Durvasa and divines such as Lord Hanuman, Lord Bhairava, Lord Veerabhadra, Nandi, Sharaba etc.  Amongst the 19 avatars of Lord Shiva listed by them, the most important  human form Lord Shiva has taken is Piplat avathar. He was born as son to Maharishi Dadiche who named him Piplat. In the manifestation as Piplat, Lord Shiva punished Lord Sani for some reason and therefore it  is believed in north that worshiping Lord Piplat would reduce the ill effects of Lord Sani.  Lord Piplat is thus widely worshiped in northern India.  Similarly  same texts mention that Lord Shiva was born to a Brahmin called Viswanar and was named as Grahaspathy. Pundits in north citing some puranic stories opine that even Aswaththaamaa was none but Lord Shiva in human form. The birth of a divine on earth in different forms and appearances is called an avatar. Very interestingly we hear the story of Lord Shiva's who has also manifested in human form along with Goddess Parvathi in one of the bygone yugas in the present temple site of Mahalingaswamy temple in Thiruvidaimaruthur village in Tamilnadu.

When King  Kulothunga chola-III ascended throne he came to know of the story of Lord Shiva and Goddess Parvathi who manifested in human form and stayed in Thiruvidaimaruthur village, he constructed a temple in honor of Lord Shiva in the very same site where they reportedly stayed. However after his exit from Kingdom followed by invasions by aggressors, the temple remained neglected and left in ruins for decades till the local villagers who came to know of the greatness and significance  of the temple decided to renovate the temple and open it for public worship. The Kumbabhishega ceremony of the temple (renovation) is slated to be held shortly. Thiruvidaimaruthur was earlier called Santhamangalam during the reign of Chola Kings. The history of the temple has been told by word of mouth stories ever since the rule of Chola Kings when the temple was constructed.      
What is the story of this sacred temple?  Millions of years ago, in one of the yugas, Lord Shiva felt agonized that he could not feel the true nature of love showered by a mother to her child even though he was instrumental in the creation of the cosmic and humans to live in it.  He was suddenly overcome with remorse feeling that he has been denied of such experience and therefore decided to go to earth and  born to a mother to personally experience the spirit of love showered by a mother to her child at various stages from the day she delivered and till the child turned into an adult.
The next nagging question came before him was where to go and get birth?  Who would be the befitting mother to display the true nature of love of a mother to her child ?  Several thoughts crisscrossing his mind, he decided to proceed to earth in the form of a human riding on his divine Vehicle Bull which will also appear as ordinary bull, and then get into the womb of a mother in an appropriate place where his mind and heart will long for a mother. Goddess Parvathi noticed the feelings running in the mind of her husband and  understood the reason for his mission to earth. Possessive to her Lord, she decided to show the love of a mother to her Lord  herself rather than allowing other woman to display it. Therefore she too took birth as human and went and stayed in the  present temple site of Mahalingaswamy in Thiruvidaimaruthur village waiting for her Lord to come there.  Both -Lord Shiva as well as Goddess Parvathi could not know the mind of each other because in the divine principle of act, even though the divines may manifest in human form and stay on earth facing each other, they will only know who they are but can not identify the other divine which may also be there in human form till  destined time to reveal the true identity of each other will arise. This being  important divine theory, both of them failed to recognize each other while staying on earth. 

The pundits say that when the cosmic was created, four yugas were also carved out. Each yuga had specific no of years to survive at the end of which they will disappear  and the next yuga in line will take over. Thus after completion of one cycle of four yugas, the cosmic  disappears and new cosmic emerge  with same principle of four yugas appearing one after  the other while the land and ocean remain eternal even as the cosmic disappear.  In each of the yugas few divines too come down to the earth and stay there enacting certain drama for variety of reasons. Those places where they stayed and returned back became sacred places as they had sanctified them before they departed to Devaloga and several centuries later only in those sanctified sacred places the temples were constructed by different rulers.
When both Lord Shiva and Goddess Parvathi reached the present temple site in Thiruvidaimaruthur, suddenly Goddess Parvathi felt as though she had conceived and expecting a child anytime and at the same time Lord Shiva too felt that he had reached appropriate site where he can enter into the womb of a pregnant woman to get birth. Both the divines got such a feeling as the present temple site in Thiruvidaimaruthur was destined  for the divine act through Lord Shiva and Goddess Parvathi.  Thus when Lord Shiva landed in that spot (invisible to others) and noticed Goddess Parvathi in the form of a pregnant woman waiting to deliver a child.  As said earlier he could not recognize her to be Goddess Parvathi in disguise, neither was Goddess Parvathi able to recognize her Lord in human form. This is one of the secrets of divine drama which disallowed one divine from knowing the presence of another divine when both were involved in the same drama.  Without wasting time, he quickly entered into her womb. After Lord Shiva was born to Goddess Parvathi, she not only regularly  breast fed him but also  showered warmth and affection as expected of a mother in different stages till he turned into an adult. Time elapsed and when destined time to reveal their true identity came, both got back their original form and exchanged pleasantries. Lord Shiva was fully satisfied that he could experience the  true nature of warmth and affection of a mother and thereafter both of them went back to Kailash. He knew that several centuries later a temple would be built for him there and therefore sanctified the present temple site where they enacted the above drama  blessing that as and when any devotee  come there and offer worship  they would be freed of all their long standing sufferings in life and childless couples would be blessed with a child.
During the reign of King Kulothunga Chola-III, who ruled from 1178 CE till 1218 CE,  he has constructed many temples for Lord Shiva including the present Mahalingaswamy temple. In the year 1178 CE after constructing the present temple, he named it as 'Kulothunga Sozhicharam'. Some portions of the temples were constructed with granite stones, remaining made of bricks. In some of the inscriptions available in 'Bava oushatheswar' temple in Thiruthuraipoondi, it is found that some lands have also been donated by the King to this temple indicating that the temple of Lord Shiva, now known as Lord Mahalingeswarar temple may have been one of the most sacred and important temple that have been built by the Chola King.
Unfortunately in the 14th Century  several temples especially in Chola mandala were destroyed and destructed by the invading Mogul emperors  and also by the  invading  rulers from adjacent non Chola areas. It is quite possible that this temple might have also been one amongst the victims of war and invasion. However with the ascendancy of Vijayanagara ruler, though many of the damaged temples were resurrected or worship commenced,  by the time they had undergone changes in their names. Over periods of time the name Santhamangalam came to be called Thiruvidaimaruthur and the name of the temple from  'Kulothunga Sozhicharam' to that of Lord Mahalingaswami Temple.
Lord Mahalingaswami temple had been initially constructed during the period of Kulothunga Chola –III with granite stones at the lower part of the temple and parts of sanctum sanctorum while bricks formed part of the walls and doom. However over the period of decades, the Mahalingaswamy temple got dilapidated and and remained ruined temple, but fortunately the statues and idols remained free of damage. Lord Vinayaga, Lord Muruga with his consorts, Lord Surya, Lord Bhairava, Lord Saniswarar, Lord Vishnu, Lord Saniswarar with two divine crows, Goddess Sree Devi and Goddess Parvathi were some of the idols which were found not damaged.  It also included a huge statue of Lord Sandikeswarar which has fantastic carvings. Lord Shiva was seated as Lord Mahalingaswami and his consort in the name of Goddess Peruvilamaamulai Amman. Big statue of King Kulothunga Chola -III with folded hands was also found installed facing the temple.

Because the Goddess breast fed her Lord, she has been named Perumulaiyaal meaning big breasted goddess and since Lord Shiva drank milk from her and turned into an adult at very short period, he was named Mahalingaswami. Since he came to this site riding on the divine bull the place was called Thiruvidaimaruthur in which the words  'Thiru' in Tamil gives meaning as 'respectable' and 'Vidai' meaning 'Bull'.  The villagers of Thiruvidaimaruthur when learnt of the   history and greatness of this temple decided to collectively get the temple renovated and repaired to put it for worship. The task of reconstructing the ruined temple is going on in all honesty and dedication and the Kumbabishegam of the temple is expected to be performed soon.
It is believed that those whose problems remained unsolved even after visiting several places, if pay a visit to this temple and offer prayers, their problem would get solved. Most importantly because Lord Shiva himself came here and born as a child to Goddess Parvathi, the childless couple if visit this temple and offer prayers to the Goddess, they are sure to be blessed with a child so goes the belief. The villagers have taken up the task of renovating and repairing the ruined structures with utmost honesty and sincerity. Meanwhile the trusties of the renovation committee appeals to everyone to liberally send  contribution for this sacred cause so that the temple renovation can be concluded early.   
A report has been compiled on the historical background along with the appearance of the then ruined temple structure (of the present temple) by one Shri. Dr. Kudavasal Balasubramanian and the same has been published at the end of this article for information.

Temple Address
Peruvalamaamulaiyaal udanurai Mahalingaswami Thirukovil
Thiruvidaimaruthur village
Thirukkuvalai vattam
Naagapattinam District – 614711
Lot of temple work is pending in the construction of the temple. The four walls, Artha mandap, Maha Mandap are to be constructed, Tiles for the sanctum sanctorum of the Lord and his consort Ambal needs to be laid. Therefore the committee requests the public to generously contribute whatever is possible by them for this noble cause.  
Contact Telephones Nos

9486074234  / 9566406752 / 9626749735 / 9843343317 
The details of the Bank
Account in the name of: Thiruvidamaruthurnathar Iraipani Group Trust
Current Account No : 35074643072
IFS Code No : SBIN0000936
Bank: State Bank of India
Branch: Thiruthuraipoondi
The Idols in the sanctum
sanctorum of the ruined temple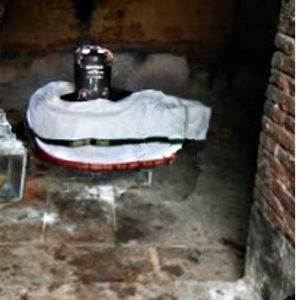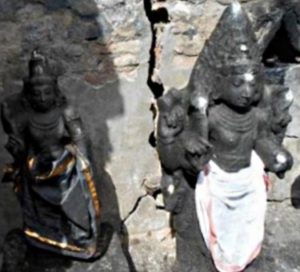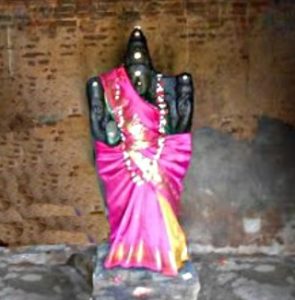 Safely kept idols of the temple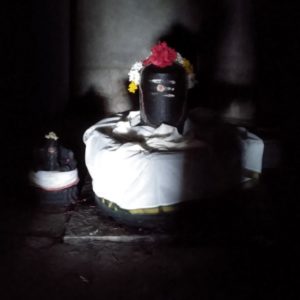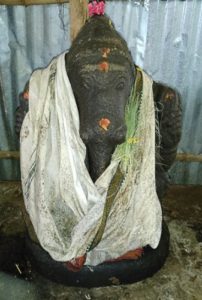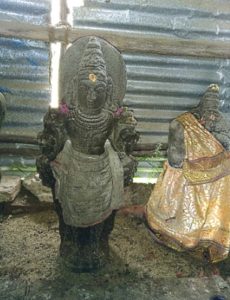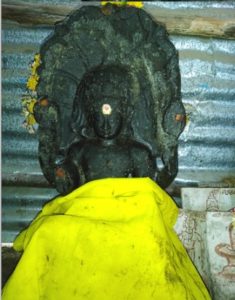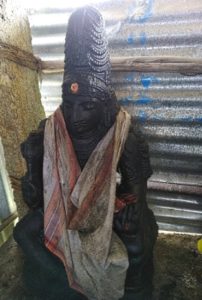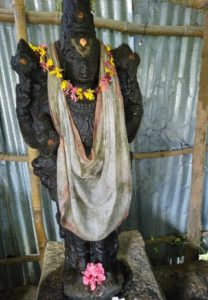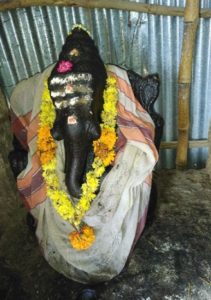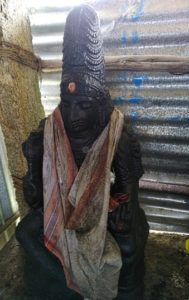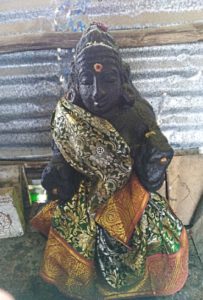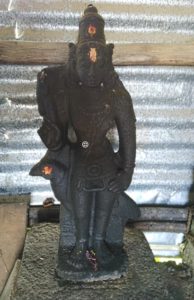 Report  of Dr. Kudavasal Balasubramanian-11 Pages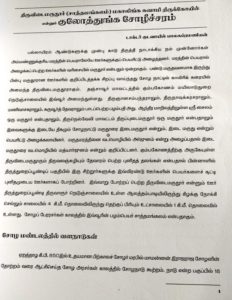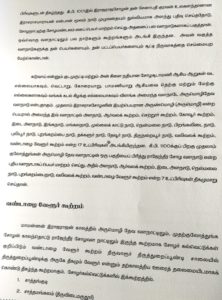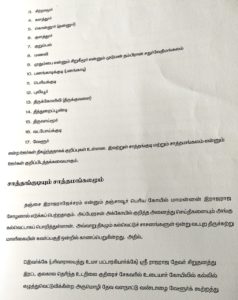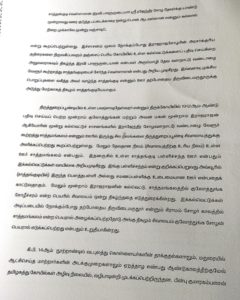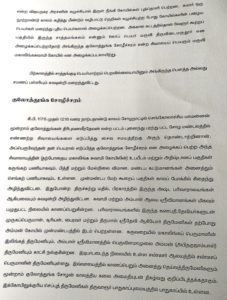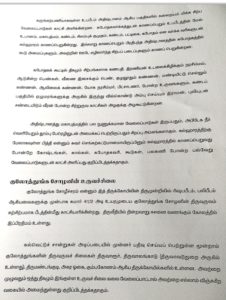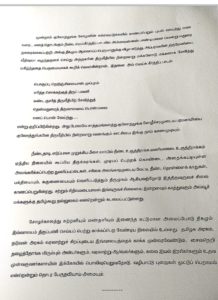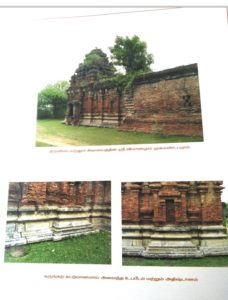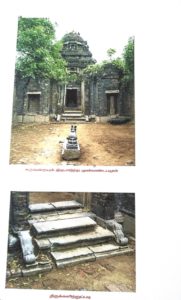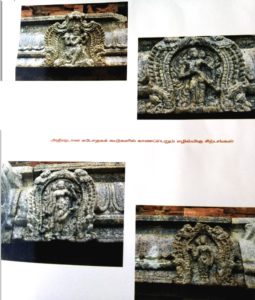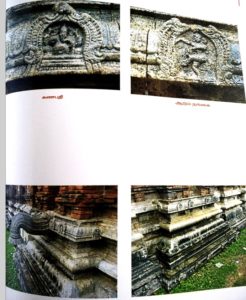 Information Pamphlet by the Organizers