Pongu Saniswarar
Agneeswarar Temple
– Santhipriya –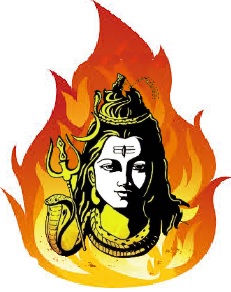 A famous temple for Lord Saniswarar called Agneeswarar temple is located in a village called Thirukollikkaadu near Thiruthuraipoondi in Thiruvarur district of Tamilnadu. This is the place where Lord Sun, Lord Agni and Lord Saniswarar worshiped Lord Shiva and got their grievances redressed after the Lord appeared before them pleased with their prayers. This temple is also known as Agni sthalam. The prime Lord in this temple is Lord Agneepureeswarar who is seated with his consort called Miruthu Patha Nayagi Ambika. 'Miruthu' meant as soft as pure cotton, Paada meant legs, and Nayagi meaning the Goddess. Agnee meant fire or flame, puri meant the place and finally eeswar meaning the Lord.
Few legends are told as to why the prime deity came to be called as Lord Agneepureeswarar.
When Lord Surya got married with Divine Usha Devi, unable to bear the heat of Lord Sun, she gets him remarried to Chaayaa Devi who too could not tolerate heat of Lord Sun. Since both his wives stayed away from him which was one form of Dosha or punishment, Lord Sun came to Thirukollikkaadu, performed Shiva Pooja seeking removal of Dosha incurred by him and also to ensure that both his wives do not feel the heat from him anymore. Pleased with his prayers, the Lord appeared before him and granted fulfillment of his wishes. When Lord Sun requested that Lord Shiva manifest there, without hesitation Lord accepted his request.
Thereafter Lord Sun begot two sons, one each through Usha Devi and Chaayaa Devi with the blessings of Lord Shiva. While the only son born to Usha Devi became Lord Yama also called Dharmaraja (Lord for righteousness and justice), Chaayaa Devi gave birth to Lord Saturn who became one of the most powerful planets amongst the nine planets. He was entrusted with the task of punishing those who committed sins-in the past or present life- and engaged in the act of wrong doings. Taking up the responsibility in all sincerity, Lord Saniswarar continued to mete out punishments in impartial manner according to the gravity of the deeds committed by each individual. The harshest punishment meted out was 7½ years malefic effects known as Sani Dosha (ill or evil effects) during which period the punished will undergo torturous life. Because Lord Sani was punished, he was hated and feared in the minds of people who felt that Lord Sani was responsible for their woes and therefore reached out to other divines offering prayers seeking relief.
As Lord Saniswarar continued to draw ire of people, upset Lord sat in penance in Thirukollikkaadu pleading with Lord Shiva that he be relieved of responsibility of punishing humans as he was blamed for each and every suffering humans faced in their life. Lord Shiva who appeared before him in the form of a flame not only consoled him but also praised Lord Saniswarar for the excellent and dedicated work carried out by him in enforcing the divine rule of law. In recognition of the dedicated work carried out him, he commanded him to sit in Thirukollikkaadu as Lord Pongu (overflowing) Saniswarar to bestow abundant wealth and prosperity to the devotees who worshiped him in that temple. Pongu Sani is the form for Anugraha Murthy meaning the divine who bestow grace in abundance. Lord Shiva agreed to sit in the same temple site in the form of a Shiva ling at the request of Lord Sani. The position of Pongu Sani was equivalent to the seat held by Goddess Mahalakshmi in Deva Loga. Therefore Lord Saturn took second incarnation as Pongu Sani carrying a plough and a flag with crow embossed on it. Because Lord Shiva appeared before Lord Saniswarar in the form of a flame and then self-manifested here, the Shiva Ling  is slightly in reddish in colour to symbolize the flame (fire). Lord Bhairavar who is Guru (Teacher) of Lord Saturn was also asked to sit in the opposite sanctum facing his disciple Lord Saniswarar to guide his acts. When Lord Sani too requested Lord Shiva to manifest there, the Lord agreed to manifest there in the form of Shiva Ling.

While as first incarnate Lord Sani punishes those who had committed sin, he himself reduces the impact of the sufferings in Karaiyur Sankaranarayana Temple and then pardon and completely relieve their sufferings in Tirunallaaru upon their sincere atonement and prayers. In contrast, in the second manifestation in Thirukollikkaadu  the same Lord Sani in the form of Lord Pongu Sani gives prosperity and wealth in abundance to those who come and offer prayers to him similar to the act of Lord Guber (the custodian of wealth of Goddess Mahalakshmi) who releases wealth to those blessed by the master Goddess.
Once Lord Agni who when came under the influence of 7½ years malefic effects of Sani Dosha, lost many of his powers. Lord Agni got afflicted with this Dosha since he burnt the wax house of Pandava at the instance of Kauravas when they were in exile and hiding in a forest. In order to gain back the powers lost by him, Lord Agni too came to Thirukollikkaadu and stayed in tapas praying to Lord Shiva to get his lost powers restored. Pleased with the prayer of Lord Agni, soon Lord Shiva appeared before him and not only restored the lost powers of Lord Agni, but also agreed to his request to stay there in the form of self-manifested Shiva Linga to enable all other divines to come there and offer prayers to him.
Since Lord Shiva appeared before Lord Sun-the Lord of heat, Lord Agni-the Lord of fire and to Lord Saniswarar in the form of a flame, self manifested Lord Shiva in the form of a Shiva Ling was called Lord Agneepureeswarar- pureesvarar meaning the lord who stays in that place.
According to another legend, Lord Saniswarar went to Tirunallaaru via Karaiyur from Thirukollikkaadu to punish Nala Maharaja who had committed sin of punishing an innocent saint when Nala was an emperor in his previous birth. Though Nala Maharaja got his sin reversed after praying the same Lord Sani (first manifestation) in same Tirunallaaru where he was earlier gripped by 12 years of Sani Dosha, he had to come back to Thirukollikkaadu seeking the grace of the same Lord Sani the form of Lord Pongu Sani (Second manifestation) to get back the lost Kingdom, fame, wife, children and lost wealth.
King Harichandra who lived in the Treta Yuga was an honest and upright king and strictly adhered to truth in life ensured that his subjects (people) under his rule lived in prosperity and peace. Once he was cursed by sage Vishwamitra and afflicted with a Sani Dosha and lost everything including wealth. He came to Thirukollikkaadu, prayed to Lord Shiva and got relieved of the same. This story is also told while narrating the greatness of this temple.
Nobody knew who built the original temple which was constructed with bricks. The temple legend says that the said brick built ancient temple was converted into granite structure temple by King Kulothunga Chola-I. Inscriptions of Rajaraja Chola, Rajendra Chola and Rajaraja Chola I are seen in the temple. This makes one believe that the temple must have been constructed more than 1500 years back. The unique feature of the temple is that the temple has no Raja gopuram as seen in other temples.
The sanctum sanctorum for Lord Sani is in the South west corner. He is seen with a plough and crow in his upper two arms while his left hand is seen with a hastam and the right hand showing Abhaya mudra. In none of the temples Oomatham flower (Datura flower) which is dear to spirits and ghosts are used for performing Poojas. However there is a unique story why this flower is used only in this temple for performing Pooja rituals. The story goes thus. Once when Lord Shiva performed grand dance along with his consort Goddess Parvathi in his abode in mount Kailash, it was witnessed by the Celestials, Munis and Rishis (sages and saints), but the Spirits and Ghosts could not see it. Therefore entire family of Spirits and Ghosts were dejected and came to Thirukollikkaadu and performed Pooja with 'Oomatham flower' pleading with Lord Shiva that they should also be given the opportunity to see his dance and also to dance with him. Feeling pity on them and to heal their hurt feelings, Lord Shiva came down to Thirukollikkaadu and danced along with them in a much bigger manner than what was witnessed by the Celestial and Rishi munis in Kailash. Elated by the magnanimity shown by the Lord who honored their feelings, the Spirits and Ghosts instantly took an oath before the Lord that they would not harm, threaten or do anything that will make the life miserable of those who had visited Thirukollikkaadu and offered prayers to the Lord there. In view of this, offering or performing Pooja with Oomatham flower (which is dear to the ghosts and spirits) to the Lord is considered to be sacred here.
Presiding deities are Lord Agneeswarar or Thirukollikadar, Goddess Mirudu paada Nayagi and Lord Pongu Saniswarar. Separate sanctum sanctorum are also there for Lord Vinayaga, Lord Dakshinamurthi, Lord Brahma, Goddess Durgai, and Lord Muruga with Goddess Valli & Goddess Deivaanai, Goddess Mahalakshmi, and Navagrahas. Another unique feature of the Navagrahas are their placements. They are positioned in such a way that all of them face each other instead of as seen in other temples where they do not face each other and enshrined facing different directions showing their backs to each other. There is a water tank in front of the temple in which if one offer Sesame seeds mixed with water, it is believed that the souls of their ancestors who had passed way will remain free of hunger and thirst.
This temple can be reached from either Thiruvarur or Thiruthuraipoondi and lots of buses ply from there. The temple can also be reached easily by private vehicles since good road has been laid. The address of the temple is:
Thirukollikkaadu temple,
Thirukollikkaadu road,
Keeralathoor,
Thiruthuraipoondi circle,
Tiruvarur district,
Tamilnadu -610 205.
Cell No of Priest :95853 82152
The temple is open from 7.00 AM till 12.30 noon  and then again from 4.30 PM to 7.30 PM. However on Saturdays, the temple remains open without closed for lunch break.