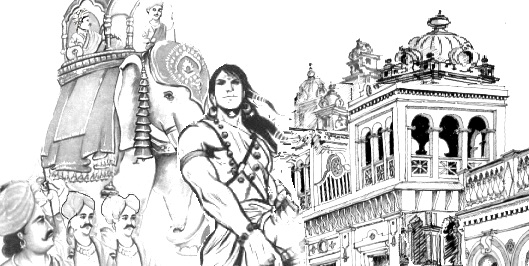 After Kumudavathi bore a noble son great Athithi,Kusa went on war spree in several directions expanding the Kingdom. There was no dearth of happiness or cheers to his folks anywhere which he ruled or conquered. Later some time When Devendra (Lord Indira) fought a battle with Daithyas, he took valor of Kusa for his help. Though Daithyas were defeated and driven back with their their King killed, yet in the battle long fought Kusa too kissed death, soon to be followed by agonized Kumudavathi to join her lord in heaven. With the demise of Kusa his noble son Athithi took over the reigns.    
Nishadha, King Athithi's son was his successor after Athithi's demise, and then the line stretched to Nala and Nabha as successor sons of each. Pundarika followed Nabha, Kshemadha followed Pundarika.  Kshemadha's fame was no less to his predecessors in all respects and his folks were happier lots. For some time Kshemadha ruled the Kingdom before handing over the same to his son Devanika and retired to heaven. Ahinahu,Devanika's heir conquered many Kingdoms in all directions and reigned them well.
Pariyathra was the next in line to Ahinahu, soon followed by successors namely Sila,  Kusa(not the one in Lava Kusa) and Unnabha.  Unnabha's heir Vajranabha's fame spread far and wide as his rule was comparable to Devendra in might and valour besides fair rule. Vajranabha's demise brought his son Sanganain throne, soon followed by his son Viyooshidasa who  exercising his mystic powers  blossomed  from the womb of his spouse to reborn as Visuvadasato reign the nation after the demise of Viyooshidasa. Visuvadasa, a great devotee of Lord Siva after renouncing his life ensured that his son Hiranyanabha took over the reigns. Saintly sage Yagnyavalyaka   reportedly learnt the art of Adhyathma Yoga from  Hiranyanabha.
Hiranyanabha's son Kausala took over the reigns after his father's demise and he crowned his son Brahmishtha before fading away.  During the reign of Brahmishtha, his subjects, enjoyed peace prevailing joyous life. Even Garuda,  carrier vehicle of Vishnu served him so believed the folks. Even as  Brahmishtha was alive, his son Paushya ascended the throne at the request of his father, who guided him in administering the state.  Paushya learnt the art of Yoga from Jaini Maharishi whom he adapted as his Guru. Ruling for long period, he retired and enthroned his son Dhuruvasanthi and passed away.   
Upright Prince Dhuruvasanthi ruled the earth following his ancestors in all respects including hunting, when on a fateful day while hunting, he was killed by a ferocious Lion. Dhuruvasanthi could not  nominate his son as his successor as his son was infant  when he died. However when the news of the Kings demise reached the ears of the council they wasted no time in announcing the King's son Sudarshan as his heir in command and enthroned the infant as the Ruler of Ayodhya.
With Sudarshan ascending the throne, the doors of doom opened for the end of Raghu lineage.Though Sudarshan was  young when ascended the throne, he was as fast as others in absorbing the arts of ruling in all sincerity and earned the name mighty King in a short time. His qualities shone like great blue stone in the midst of sapphire, like a fiery Lion, King in Jungle. Fondly admired as Maharaja, as he grew with flower of youth, charm of loveliness spread over his body, his beauty far excelled, he became charm for women's love, thus slowly infusing the Kingly qualities of sensual pleasure into his mind and character. Exponent of Kamasuthra he was much sought after by women