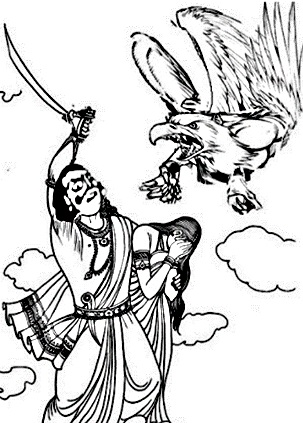 Rama Banished, Jadayu martyred and Ravana's death
Everyone were elated and rejoiced on hearing the series of events and valor of the twin brothers that ultimately led to Rama's wedding with Sita. The folks and counsel of King Dasaratha offered Rama and Lakhman a grand reception along with the saintly sage Viswamithra who was instrumental in getting them the glory they deserved.
Passing few more period, Dasaratha having drunk life's pleasure longed for austere life after enthroning Rama as his heir, but doom would not let it go and showed its ugly face in the form of an hag called Kooni on whose treacherous counseling, Kaikeyi, Dasaratha's wife and mother to Bharatha interposed two past resolves of Dasaratha to gain his consent to banish Rama and Sita for fourteen years and they be commanded to lead austere life in woods, followed with the demand of throne for her son Bharatha. The promise thus taken when thrust upon, Rama received the doom of exile with his faithful wife and his brother Lashman with all cheerfulness and thereafter went into exile.
Heart broke Dasaratha, unable to bear the agony of his sons in exile, after a short while breathed his last. For noble Bharatha however the seat of power was anathema as his lovable brother was Rama, who as per Bharatha deserved to wed the realm (Throne) which was denied at the ugly machination of Kooni, and therefore travelled to the forest to inform his brother of his father's passage to heaven and urging Rama to return and wed the realm. But noble Rama would not yield and bound himself with the solemn oath administered to his father now departed. When long urges and pleads did not melt the mind of Rama to return and wed the realm, Bharatha sought his sandals instead, affirming that the sandals shall hold the realm till Rama returned, lest Ayothya's folks suffer. Pure Bharatha not grasping for the realm, agreed to return and rule the folks till Rama returned, but resolved that Rama's sandal to be the Monarch, and he be the administrator on behalf, thus making expiation for his mother's crime.
There in the woods, Rama lived with content in austere life with rigid vows and his wife Sita and brother Lakhman backing while sustaining on forest foods and serving hermit Athri maharishi for some time. While in Panchvati, there came Ravana's sister Soorpanakha, love sick maid on Rama and longed to have him her mate, and constantly troubled them even after Rama cautioned her to desist the temptation which when failed left her with no choice but to face the wrath of his brother Lashman who tore her nose and ears off from face before driving her away from there. When she fled and sought help from Ravana, the enraged Demon dispatched fierce demon force to contain the twin brothers, but the invaders too were driven back in same speed they came attracting death dealing blows. At the same time hearing of the beauty of Sita, Ravana desired to have her for him and thus his wicked mind set laid the foundation for his destruction to fulfill the doom due for him as vowed by Lord Vishnu before incarnating as Rama.
Thereafter Ravana amissed the might of Rama-Lakhman and directly took to the field, decoyed Rama with the help of Maricha who posed as Deer in magic art and kept Rama away from his hut thereby helping Ravana carry away Sita and imprison her in his fortress as she turned away her face from him even as his vain attempt to lure her with tales of his own mighty valor and strength of wealth failed to appease her. On way to Lanka, Ravana gravely injured and cut off the wings of mighty Jadayu who confronted him in an attempt to save Sita. The twain (Rama and Lashman) when learnt the episode from martyr Jadayu mourned his demise and paid homage but not before rearing a lofty pyre as for a parent funeral and thereafter in alliance with Monkey King Sugreeva's army, commenced frisking earth to track Sita.
Disconsolate Rama earned the strength of Monkey force when he intervened in the brotherly war turned ugly ensured between Sugreeva and Vali, and restored the Kingship to Sugreeva, whose land Vali usurped earlier. Nor was Rama gainer of the Monkey force alone, Hanuman, who loved Rama from the bottom of his heart and mind too was a prize catch with whose help Sita's den of imprisonment was discovered. Then the twain travelled to Lanka with the Monkey forces and shattered the Demon forces of Ravana, there in the midst of war vanquishing the mighty demons like Indrajit and Kumbakarna before killing Ravana with the aid of Ravana's brother Vibhishana. Rama thus rescued his beloved bride and returned back to Ayodhya when the fourteen year exile came to an end.

continued /11