Mrs. Malathi Seshadri
– Santhipriya –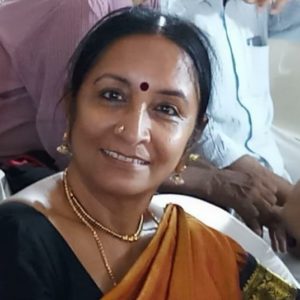 Mrs. Malathi Seshadri, retired Dy General Manager from BSNL, Chennai is home maker. She may have been spiritual by nature and perhaps this was reason for her decision to spend quality time after retirement, by venturing into the release of audio specific videos on divine topics through YouTube channel of her own.  According to her, the divine subjects which she had chosen to release through audio-video in You Tube are like garlands (audios) of pearls, which are found in vast ocean of Spiritual Texts, Blogs and Websites. She has selectively handpicked few  to upload  them in audio-video format  in You Tube, with her soft slow voice, neatly narrating them in Tamil, as if the stories are told to the children.   
In a way she is right in her choice to pick up this field since those garlands of pearls intrinsically woven with morals and ethics, used to be told by our ancestors to the children in the form of stories during feeding of food so that their tender mind would covertly absorb them which would in one way or the other shape up their life in future.  Lo, the present generation instead of continuing such pious practice, has abandoned it by way of feeding garbage of scintillating, vibrant and thrill stories  that sub silentio corrupt the mind and heart of kids ultimately forcing them to toe the path of adventurism. 
Everything has an end they say as we find in many parts of the Universe, including in western countries, the frustrated modern generation, most of whom are part of society in astray, though live in high degree of comforts and luxury, are slowly turning spiritual and run in search of spiritual heads, divine forums and temples to derive inner peace and to free themselves from the agitated world. This trend has been like saddling the horses at right time. One such medium they are running behind is certainly You Tube, which is flooded with such topics of interest to them as uploaded by spiritual minded personalities like that of Mrs Malathi Seshadri and few others.   
It is not suggested that one should lead life of orthodoxy or dwell in highly conservatism, but at the same time the upcoming generation should not be denied the exposure to the  centuries old customs and morals as preached and practiced by our ancestors. Knowledge on them would certainly help them choose better path of life style for future and to derive inner peace. One would suggest instead of running end to end seeking inner peace similar to resorting to Surya Namaskar, a yogic practice done to revive vision loss after vision is impaired, better be saner to shape up your life with the knowledge on the ever green texts of our epics which were told to us in our childhood. This approach  may have influenced her to suitably air such pearls in medium  like You Tube, which would keep flowing like a stream of silent river as long as humans exist.  
She has carefully handpicked interesting ones  from several books, Bloggers and Websites  to render them in audio-video format and upload in You Tube only in sufficient lengths to retain interest of the viewers and break the narrations at crucial points to  leave enough scope to hear them in several parts in leisure. The subjects may appear Greek and Latin to some, but meaningful morals and ethics deeply embedded in them can only be cherished only when one hear them.   
She has uploaded so far seventy gems of them  in audio voice in the you tube channel which can be heard in:
https://www.youtube.com/c/MalathiSeshadri
The latest being aired  by her is the great epic Raghuvamsam of Poet Kalidasa which has been written and published by me in Santhipriyas Pages.  Raghuvamsam basically traces the roots of the great lineage of Lord Rama along with the  principal events  connected to them.  Initial Ishavaghu dynasty originally emerged  from  Lord Sun became to be called  Raghu Dynasty or Raghu's lineage after Raghu one of the Kings in their Dynasty took over the reins.  Mrs Malathi  has  uploaded so far three parts of Raghuvamsam while the rest of the parts are being uploaded by her thrice in a week beginning from 20th May, 2020.
Please click the first three parts and hear them from the links given below. As and when the rest are uploaded those parts will also be activated and linked.
Raghuvamsam –Part-3
Raghuvamsam –Part-4
Raghuvamsam –Part-5
Raghuvamsam –Part-6
Raghuvamsam –Part-7
Raghuvamsam –Part-8
Raghuvamsam –Part-9
Raghuvamsam –Part-10
Raghuvamsam –Part-11
Raghuvamsam –Part-12
Podcasts
Mrs. Malathi Seshadri's podcasts are  available in the following links too:
1. Radio public: https://radiopublic.com/malathi-seshadri-69JJo1
2.Breaker: https://www.breaker.audio/malathi-seshadri
3.Spotify: https://open.spotify.com/show/4IkjBxNZh5jtw9DrzthVWx
4. Google podcast: very shortly 
 Other texts uploaded by her in You Tube

The following PDF contains names of several topics uploaded by her. The specific names can be clicked and they can be heard.