Maddur Ugra Narasimha

Temple
Written by : Santhipriya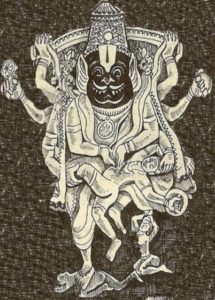 Karnataka has many temples in the cities, villages, taluks and panchayats for Lord Narasimha compared to other states and in all those temples the Lord manifest either as Yoga Narasimha or as Lakshmi Narasimha or as Ugraha Narasimha. One such temple for Lord Narasimha lies within few meters from Vaidyanatha Swamy temple in Maddur which has spiritually significance and historically important with footprints of Mahabharata war.
Every temple has their own legend, so is this temple. During Dwapara Yuga the entire land of Maddur stretching to several kilometers were known as Arjunapuri where the crucial final periods of Mahabharata war reportedly took place when Pandava brothers along with Lord Krishna fought with Kauravas. During the first stages of war in this region, seeing killing spree on both camps, mentally tired Arjun requested to Lord Krishna to show him the form of Lord Narasimha so that he would gain mental peace and continue  the war since he was losing internal strength to fight the enemies who were after all his own family members.
Lord Narasimha half human and half animal is regarded as embodiment of victory of good over evil. Worshiping him along with or without his consort Goddess Lakshmi in the form of thayar remove all sufferings and alleviate the troubles of people. Lord Narasimha bestow the state of fearlessness, peace, prosperity and tranquillity, victory over persecution, and destruction of evil. He is the destroyer of not only external evil, but also one's own inner evil of body, speech, and mind.  Lord Narasimha though manifested in frightening form is actually merciful manifestation to protect the surrendered souls. Since Arjun heard of the glory of Lord Narasimha, he desired to see his vision and therefore requested for the same which came long before Lord Krishna showed him his Visvaroopa darshan.
Lord Krishna understood the mental conflict of Arjun who has been weakened by the sight of his own clan falling dead like bunches of trees and realized that Arjun retain his ferocious fighting spirit against the enemies, lest the purpose of the war would be lost. At the same time Lord Krishna knew that he cannot appear before him in the true form of Ugra Narasimha as Arjun would be further terrified by the sight of the horrific act and lose his mental agility to fight.
Therefore tricky Lord Krishna quietly told him that it would not be possible for him to manifest again in the fiery form of Lord Narasimha at that juncture as it would immediately halt the act of Lord Krishna taking active participation to guide Arjun in the ongoing war. Besides  if he manifest in such a form Arjun will not be able to see the ferocious form with naked eyes. At the same time, not to disrespect the feeling of Arjun, Lord Krishna requested Lord Brahma to show him in some manner the manifestation of Lord Narasimha in his true form so that Arjun's desire can be fulfilled.
Lord Brahma, acceding to the request of Lord Krishna instantly installed a stone statue of Lord Narasimha in lively form having three eyes and eight hands in which two hands held Hiranyakashibu tightly in his lap while two other hands took out his intestine after slaying Hiranyakashibu and wearing it as a garland. The rest of the four hands held the weapons of Lord Vishnu.  While Baktha Prahlada stood below his feet on the right side, divine Garuda was seen sitting in the left side. At the same time an unknown voice told Arjun that the third eye of the Lord came out when the Lord was engaged in the annihilation of Hiranyakashibu. Generally only Lord Shiva has three eyes and one can rarely see Lord Narasimha having three eyes.  Though the appearance of the Lord is very aggressive to look at, still when devotees pray to  him, the Lord gives strength and inner peace.

Arjun witnessed the ferocious form of the Lord and it appeared as if Lord himself appeared before him live. Delighted he stood before the Lord with closed eyes for some time in meditation. His mind firmed up with the grace of Lord Narasimha to continue the fight more vigorously to uphold good against evils. When he opened his eyes, he saw Lord Krishna standing before him smiling. The same place became a temple centuries later.
Only several years later after Lord Brahma  enshrined Lord Narasimha,  other deities like Lord Srinivasa, thayar Devaki Yasoda cuddling baby Lord Krishna,  consorts of Lord Narasimha like thayar Boo Devi and thayar Sri Devi in the names of Sowmya Nayagi and Narasimha Nayagi, Goddess Sita, Lord Rama and Lord Lakshmana along with Lord Hanuman who stands to the left of Lord Rama  have all been enshrined in the temple. It is believed that this temple lost its charm during the period of Hoysalas and  later got renovated by them. Texts in Purana state  that Sri Kadamba Rishi too lived here and worshiped the Lord due to which the place was also named as Kadamba Kshetra.
The pundit claim that anyone who sincerely offer prayers to the Lord and offer Thirumanjanam to the Lord their wishes are fulfilled. It is further claimed that if the childless couple perform Thirumanjanam followed by Manjal kaappu and take bath in the water mixed with the same prasad   they will be  blessed with a child. This temple is indeed one of the most spiritually significant temple one should visit whenever they go to Vaidyanathaswamy temple in Maddur.

Pictures from the temple