Guru Shaneshwarar Swamy
Temple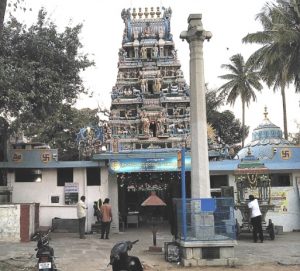 Written by : Santhipriya
One of the most significant Lord Shaniswara Maharaja temple that I have visited in Bangaluru is at the end of Gandhi Bazaar near Sri Ramakrishna Vidyarthi Manthram. It has been reportedly built in the year 1958 or so by one Shri H.V.Swami, a saint who lived there. One has to wade through narrow lane to reach this remote temple which is fairly a big  surrounded by small shrines within few meters away from it.  Though the temple has been reportedly built in the year 1958, some believe that the worship of Lord Saniswara existed there in open for the last 500 to 600 years till this temple has been built. Some of the elders who lived in and around  the temple, but have migrated to others vouch that the temple is 500 years old one and their ancestors have offered prayers there. Whatever be the truth the present one is significant temple of Lord Shaniswara since Lord Chathurmuga Brahma and Lord Yama are also worshiped here along with Lord Shaniswara in unique combination which is rare as  worship of four headed Brahma is not seen in other temples.
It is generally believed that if one offer prayers to Lord Shaniswara along with Lord Yama and Lord Brahma together in any temples, followed by the worship of either Lord Hanuman or Lord Kala Bhairava on the same day, the ill effects and turbulence in one's life on account of Sani Dosha will be greatly reduced because Lord Shaniswara reduces the severity of his action pleased with the  offer of prayers to all those Lords such as Lord Chathurmuga Brahma who originally created the world and Lord Yama who belongs to his own (Lord Saniswara) family. It is pity that even the  pundits in the temple do not know this significance.  
Of course due to variety of reasons as found in puranic stories after offering prayers to Lord Shaniswara, when anyone offer prayers to Lord Hanuman or Lord Kala Bhairava who  is manifestation of Lord Shiva, either in the same temple or in other temples seeking their grace to relieve their suffering accrued on account of Shani Dosha, the ill effects of  Shani dosha will certainly tone down due to the grace of Lord Saniswara as he himself act so pleased with their prayers to Lord Hanuman and Lord Kalabhairava whose dictum he can not disobey  for various reasons. This is the popular belief in Hinduism.

Therefore in this temple when you pray Lord Guru Shaniswara followed by praying Lord Chaturmuga (Four faced) Brahma seated in the next sanctum, Lord Brahma reshapes your destiny for better thus  lessening the ill effects of Shani Dosha though one has to face the punishments for their sins to some extent. This is one of the reasons why it is stated that the destiny can be won over with wisdom. The true spirit of the saying  is  that the destiny can not be won over, but can be reshaped by the creator by adjusting with future births and good deeds carried out in the past. Similarly after praying Lord Shaniswara and Lord Brahma when one offer prayers to Lord Yama seated in the next sanctum in the same temple here, Lord Yama too considerably lessens the severity of fears in life and ill health aspects arising on account of  Sani Dosha though one may have to undergo the nature of punishments for their sins to some extent. Thus the acts of each divine are interlinked and some cushioning has been kept in acts of divine punishments due to the special powers enjoined by them when they were created, but not pitted against each other.  This is the basic reason why Lord Shaniswara consents to the acts of Lord Brahma and Lord Yama and agrees to tone down the severity of his action causing Shani dosha in his own temple where he is supreme authority. Unaware of this fact many of the devotees do not adhere to this practice in sincerity due to their own destiny and also because none in this temple know of this fact. They could not even tell why Lord Chathurmuga Brahma and Lord Yama has been enshrined there along with Lord Shaniswara. Perhaps the founder Swamiji has not revealed such facts to his decedents.  There is a small temple for Lord Hanuman near the temple itself (two to three minutes walk) where one can offer prayers after offering prayers in the temple of  Lord Saniswara.

Unfortunately the greatness of temples of the present one has not reached the ears of many as it exists in a remote, isolated locality in the midst of dwellings of mostly poor people. This is indeed one of the most significant temple for Lord Shaneswara to visit to get relieved of Lord Shani Dosha in my view.
:Temple address:

Sri Guru Shaneshwara Swamy Temple
(Near Ramakrishna Vidhyarthi Mandram,
Gandhi Bazaar Circle)
Kempambudhi Kere
Nanjamba Agrahara, Chamrajpet
Bengaluru, Karnataka 560019