Divine mother
Shivamma Thayee
– Santhipriya-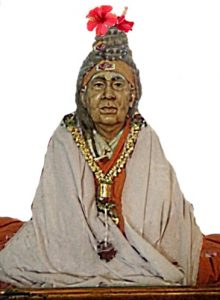 Many in Sri Shirdi Sai Baba family are unaware about one of the greatest female disciple of Sri Shirdi Sai Baba  'Divine Mother Shivamma Thayee'  whose life story and work is now slowly  spreading amongst the devotees of Shri Shirdi Saibaba.  Most of the devotees only know about 'Divine Mother Radhakrishna Mai' who was staying with Shri Shirdi Saibaba. Born in the year 1899, she was married at the age of seventeen and within eight days of her marriage her husband died. Broken and shaken at heart and mind, she ran away from home travelled to many temples in India and finally reached Shirdi sometime in the year 1907, where Shri Shirdi Saibaba gave her asylum and asked her to stay in a house between Dwaragamai and Chavadi.  Thereafter she remained there till she merged with her master Shri Shirdi Saibaba.  Baba reportedly once told Justice Rege, Baba's ardent devotee, that he was treating 'Divine Mother Radhakrishna Mai' as his mother and that after her death, she has merged with him. Perhaps because she stayed in Shirdi, the devotees of Shri Shirdi Saibaba always believed that  'Divine mother Radhakrishna Mai' was the only female disciple of Shri Shirdi Saibaba and never had a chance to know of 'Divine Mother Shivamma Thayee who was settled in faraway south.
Those who were close to Shri Shirdi Saibaba and lived with him were mostly from the North, especially  from Maharashtra and perhaps they may have known only those personalities of other regions who  interacted with them. When Baba was alive, he was revered and respected very high mainly in the state of Maharashtra. Baba was rarely known in other regions and his fame spread far and wide in other parts of the country, particularly in the Southern parts of India only after the tireless campaign undertaken by one Shri Poojyashree Narasimha Swami who built a massive temple for Shri Shirdi Saibaba in the center of the then Chennai called Madras. It was surprising that even his reference is not found in the Sai Charithra and other books on Shri Shirdi Saibaba which describe the early period of Shri Baba. In such a scenario even though the relative of Divine Mother Shivamma Thayee and she herself were ardent devotees of Shri Shirdi Saibaba in those period of time, due to language problem they could not interact with those like Shri Malspathi, Shri Hemandpant, Shri Kaka Saheb Dixit, Shri Govind Rao, Shri Raghunath Dabholkar (HemadPant), Shri Nana Saheb Chandorker, Shri Gopal Rao, Shri Das Ganu and Shri Kaka Saheb Dixit etc who were very close to Shri Shirdi Saibaba and stayed with him for a long time. This could be the main reason why Shirdi Sai Baba's official biographies and other books or narrations on Shri Baba by some of them do not mention the intimacy and interaction of Divine Mother Shivamma Thayee with Shri Shirdi Saibaba.
Divine Mother Shivamma Thayee, is reportedly the only known direct female disciple of Sri Shirdi Sai Baba. She was born on 29-05-1889 in a remote village called Vellaikinaru in Coimbatore, Tamilnadu. She belonged to Gounder, a predominant community engaged in business and agricultural activities in Coimbatore, Tamilnadu. Her father Shri Velappa Gounder was engaged in agricultural activities. Her mother Srimathi Pushpavathi, gave birth to two sons and two daughters.  Out of the four children born to Srimathi Pushpavathi, the eldest was Divine Mother Shivamma Thayee and was named as Rajamma when she was born.
Divine Mother Shivamma Thayee lived in joint family along with her father's brother's family, and all of them were very simple living. Her father's brother Shri Thangavel Gounder, deeply spiritual in mind and heart, reportedly took sanyas and left home. On the whole, the entire family were united and enjoyed their life in a simpler manner. Divine Mother Shivamma Thayee  grew in the normal manner in the family and perhaps did not take up much education at any school. The details of her early ages is not available as it has not been compiled by any biographers, nor has Divine Mother Shivamma Thayee herself spoken about it to anyone. During the British rule, there were very less schools in the villages and therefore Divine Mother Shivamma Thayee could not study beyond few standards and learnt the art of reading and writing Tamil to some extent. In those days, the family custom in any caste or religion used to be that as and when the girl child attains puberty, they get married. The child marriage was very common.  Thus in the year 1904, at the age of thirteen,  Divine Mother Shivamma Thayee was married to one Shri Subbaiah Gounder and the couple bore a male child called Shri Maniraj within a year of their marriage. Shri Subbaiah was working in a factory in Coimbatore. He was by nature very strict and short tempered. He never used to mix with anyone easily and dominating type. Her holiness Shivamma Thayee did not lead a happy married life as he was stubborn and not adjusting in nature.
Shri Thangavel Gounder, spiritual in nature was ardent disciple of Shri Shirdi Saibaba, who in those period of time was very popular only in western region in India. Many saints used to visit Shri Thangavel Gounder and their presence influenced the heart and mind of Divine Mother Shivamma Thayee to get attracted towards  spirituality even after marriage.  Shri Thangavel Gounder reportedly brought Shri Shirdi Saibaba who was then very popular in the western region to Pollachi town near Coimbatore in the year 1906. Shri Shirdi Saibaba reportedly was then in his seventies, but this is also unclear as the birth details of Shri Shirdi Saibaba is also surrounded in mystery. On arrival of Shri Shirdi Saibaba, prayer meetings were arranged in Coimbatore and Shri Shirdi Saibaba stayed there for two days.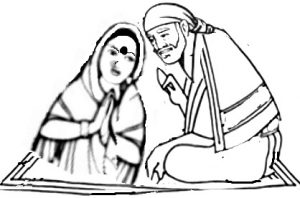 At the end of the meeting on the first day, Shri Thangavel Gounder requested Shri Shirdi Saibaba that several of his community members were present in the meeting, sitting in a corner and listening to him, and one of them should therefore be initiated into spirituality. Six young ladies and gents from the gathered family members including Divine Mother Shivamma Thayee were called near Shri Shirdi Saibaba to enable him pick up one for initiation and Shri Shirdi Saibaba chose Divine Mother Shivamma Thayee as his disciple and initiated her into spiritual world by chanting Gayathri Mantra into her ears. According to the self-confession of Divine Mother Shivamma Thayee to one of the journalist who spoke to her, Shri Shirdi Saibaba wrote the Gayathri mantra on a piece of paper and gave it to her after initiating it verbally.  It was indeed historical event that at the request of a disciple Shri Shirdi Saibaba initiated Gayathri Mantra   to a female where as in those period of time, only male members were permitted to chant Gayathri Mantra!!  Perhaps in the life of Shri Shirdi Saibaba the only female who took the initiation of Gayathri Mantra from Shri Baba would have been Rajamma (Divine Mother Shivamma Thayee) but there is not a single reference in the life story and history of Shri Shirdi Saibaba that a female has taken initiation of a mantra from Shri Sai Baba of Shirdi.  Thus Divine Mother Shivamma Thayee then known as Rajamma became the direct disciple of Shri Shirdi Saibaba by default.
It will be interesting to hear that beginning from 1858 to 1918, Shri Shirdi Saibaba had never crossed the boundary of Shirdi town in Maharashtra, but since Shri Shirdi Saibaba was incarnation of Lord Dattatreya, he could appear in person   simultaneously at several places at any given point of time. Some of the divines possesses such powers to appear in their original form simultaneously in different places, howsoever far they may be from each other, and hence it is not surprising to read that Shri Shirdi Saibaba too visited Coimbatore, may be in one such form, and stayed in Pollachi at the request of Shri Thangavel Gounder. If you read the life story of Lord Dattatreya, you will find that he used to appear in his original form simultaneously in many places. Therefore, Shri Shirdi Saibaba believed to be the incarnation of Lord Dattatreya, though believed to have not crossed the boundary of Shirdi may have certainly visited Coimbatore staying in Shirdi and no one need to dwell deeper on his visit to Coimbatore. If you read the life story of divine incarnate Shri Manik Prabhu of Humnabad near the then Hyderabad, said to be fourth incarnate of Lord Dattatreya, you can read that he used to appear in many places simultaneously at one point of time.
As days passed Divine Mother Shivamma Thayee became deeply devoted to Shri Shirdi Saibaba and desired to meet him quite often, but unfortunately her husband was uncooperative and disbelieved the spiritual nature and power of Shri Shirdi Saibaba and objected to her first meeting with him. However, after persuasion he agreed to meet Shri Shirdi Saibaba in Shirdi along with Divine Mother Shivamma Thayee. When she was around seventeen years of age, she went to Shirdi and met Shri Shirdi Saibaba along with her family. She reportedly experienced the first miracle of Sri Shirdi Saibaba on her first journey itself to Shirdi by train. Those days, the women used to eat betel leaves with areca nuts and calcium powder for digestion after food. One of the maids of Divine Mother Shivamma Thayee was also traveling with her as escort and in Raichur station Divine Mother Shivamma Thayee got a ready made pack of the same (betel nut folded with areca nut and calcium powder) which is called 'Beeda' in tamil and Hindi and the maid spit them out after chewing it for a while as the taste was not good. In the next few minutes, an unknown old gentle man sleeping on the upper birth not only came down, but unasked gave handful of ready to eat Beedas, which were very tasty and went back. After tasting it, they searched him in the upper birth to thank him, but none was found there. When they reached Shirdi and narrated the strange story to an ardent devotees of Shri Sai Baba, they were told that such strange acts were enacted only by Shri Shirdi Saibaba and none else as he has the habit of showing his presence to his ardent devotees. Divine Mother Shivamma Thayee was delighted to hear it. Later in the evening when she met Shirdi Sai Baba he inquired her in Tamil 'Are you well?'. After her first visit to Shirdi her devotion to Shri Shirdi Saibaba continued to increase each passing day, and she always longed to see him in person.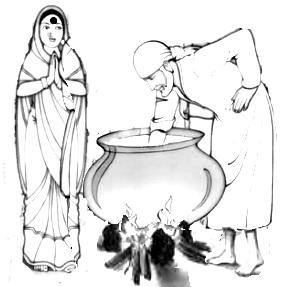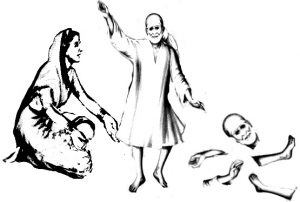 According to self-confession to a journalist, Shri Shirdi  Saibaba  began to speak to Divine Mother Shivamma Thayee regularly, but in invisible form and talked in Tamil as she did not understand any other language. Divine Mother Shivamma Thayee claimed that she was one amongst those fortunate to be present to receive the cooked food from the hands of Shri Shirdi Saibaba when he put his bare hand in the boiling gruel pot and took out the gruel for distributing it to his devotees. This incident is one of the most interesting stories told in the life history of Shri Shirdi Saibaba. She stayed in Shirdi for few days and then returned back. The Divine Mother Shivamma Thayee also claimed to have seen Shri Shirdi Saibaba performing the act of Kanda Yoga in which the intestine is taken out, washed well and then refitted inside the stomach and another yoga in which all the body parts are taken out of the human body and Shri Shirdi Saibaba's soul wandered in air for some time before refitting them back into one body.

Time passed and her family moved to Bangalore as her husband changed his job. They settled in a place called Chamrajpet in Bangalore. Divine Mother Shivamma Thayee was turning to be more and more spiritual and undertook visits to Shirdi three to four times in a year resulting her to detach from sensual pleasures from life. This led to frequent confrontation with her husband who desired normal family life with sensual pleasures.  However, as the Divine Mother Shivamma Thayee spent most of her time chanting the name of Shri Shirdi Saibaba detaching herself from normal family life, dissatisfied and disgusted with her, Shri Subbaiah Gounder abandoned her and went away from home marrying another lady. Some say that it was Divine Mother Shivamma Thayee  herself who arranged for the second marriage for her own husband with another lady as she could not meet his sensual desires. After Shri Subbaiah Gounder parted the company of Divine Mother Shivamma Thayee  she was left alone. She had no option but to go back  to her home town along with her son to live with her parents. Destiny did not allow her to remain in peace and in a matter of few years her married son met with an accident and died along with his wife. Divine Mother Shivamma Thayee again had to face loneliness in life.  However, her father consoled her and took her to Shirdi many times which comforted her agony.  Slowly her mind calmed down from the wrath of all calamities and she realized that those calamities were signal from Shri Shirdi Saibaba to get herself fully engaged into spiritual activities with  Shri Shirdi Saibaba.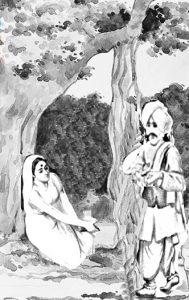 In one of her trips to Shirdi sometime in the year 1917 or so, Shri Shirdi Saibaba renamed her as Shivamma Thayee instead of Rajamma.  Shri Shirdi Saibaba told her that the name Shivamma was the name of mother of Lord Shiva!  That was the turning point in her life. He further told her to go and settle in Bangalore, establish an ashram for him and remain there serving people. Without a second thought, Divine Mother Shivamma Thayee in the next few days travelled to Bangalore to carry on the mission as directed to her, but unfortunately she could not find anyone who would either support or shelter her. Unmindful of the misery she faced, she begged on the streets and slept under shades of trees and other places in different parts of Bangalore before finally reaching an isolated place called Madiwala in Bangalore, which then was a deserted place, away from the main city and began to stay there. Some say that the place where Divine Mother Shivamma Thayee stayed in Madiwala was a cemetery where the bodies of those dead were buried or burnt. Surprisingly one day a gentleman called Shri Narayana Reddy, who was 'village head' came there and spoke to her, and on hearing her story, he took pity and gifted the very same small bushy area where she was resting under a tree without asking any further question. The said land belonged to him. According to Divine Mother Shivamma Thayee the act of the unknown gentleman who gifted the land was also  miracle of Shri Shirdi Saibaba.
Divine Mother Shivamma Thayee cleared part of the bush to create a clear land inside the bushy place and sat on meditation under a tree. Next twelve years passed and Divine Mother Shivamma Thayee reportedly did not move an inch either for taking food or water and remained on meditation. Curious passers used to wonder who the lady was and why she was sitting alone without taking anything? The ants formed an anthill over her. Some of the passers have also reportedly seen a golden shaded Cobra dancing over the meditating head of Divine Mother Shivamma Thayee. Since the lips of the Divine Mother Shivamma Thayee was uttering the name of Shri Shirdi Saibaba, they realized that she must have been a blessed personality of Shri Shirdi Saibaba and therefore they too chanted the name of Holy Baba whenever they stood there watching her. One day some of the villagers dared to wake her up after driving away the Cobra and clearing the anthill. They offered her fruit juice and requested her to end the meditation and eat something. Thus came to the end of her twelve-year arduous meditation.
Heeding to the request of locals Divine Mother Shivamma Thayee ended her meditation. In the next few days she got the area cleared and built a small mud house consisting of a small Pooja room followed by another small room with a shaded veranda at the entrance where she used to sit throughout the day on a stone slab and continued her activities as directed by Shirdi Sai Baba. She got a Naga Sai idol carved out of silver and performed daily Pooja to it. She was living alone serving the needy in her personal capacity and some people of that area began to donate her money and kind which she did not use for her own survival, but spent for social cause. As days passed strangely unknown people began to contribute more and more money to her mission, one of which led to the construction of a primary school for the  children living in that area and sometime in the year 1945 or so, when the funds swelled, she extended the primary school into elementary school.   Even then she was living alone but always chanted the name of Shri Shirdi Saibaba. Ever since she received the free land, she pronounced the place as Shri Shirdi Saibaba  ashram.
Over the next few years as her advice to those who visited her were relieved of many of their problems and gave them solace, more and more people started visiting there seeking her blessings. With her divinely blessing coupled with unknown mystic power  she had unknowingly possessed, relieved of the sufferings and agony of those who came to her, slowly and steadily her name and fame spread  to people in other areas and devotees of Shri Shirdi Saibaba began to flock her ashram seeking her blessings. Those who visited her regularly offered donations in terms of kind and cash while some even requested her to shift to a descent house in other localities and continue her mission from there. Even her relatives who were searching to know her whereabouts, when heard of her place of stay, visited her requesting her to return back with them. To every one  Divine Mother Shivamma Thayee politely declined the offers and made it clear that she would only stay there till her end as it was the mandate of Shri Shirdi Saibaba. Whenever the devotees who were troubled due to one reason or the other approached her seeking relief from the agony, she used to take deep breath to reach out to the spirits of Shri Shirdi Saibaba and immediately he will appear before her in invisible form to offer solution to their problem, which she conveyed to those who surrendered to her. To those who thanked her for the solution, Divine Mother Shivamma Thayee used to mention that she was only a mere medium who carried the message of Shri Shirdi Saibaba to them and therefore she did not deserve their gratitude and only the divine Shri Sai Baba owed it.  
One issue need to be clarified here. In the life story or history of Shri Shirdi Saibaba, no reference is found that he had initiated Gayathri Mantra to any one- male or female. As Rajamma (Divine Mother Shivamma Thayee) had been visiting twice or thrice to Shirdi and since she could not speak to anyone in any other language other than Tamil, her interaction to exchange her experiences with those close to Shri Shirdi Baba were almost nil. Hence the details of Rajamma, known as Shivamma Thayee, is not found in any of the books written or in the main reference book on Shirdi Sai Baba.  
Slowly after the elementary school which she had started became high school, she simultaneously built a small house to accommodate destitute women free of cost. However due to various reasons the home  has since been closed. As directed by Shri Shirdi Saibaba, Divine Mother Shivamma Thayee built two small shrines inside the six-acre land gifted to her.  In the first Shrine one can see Shri Shirdi Saibaba carved out of a black marble stone seated in an elevated platform. Shri Shirdi appeared before Her holiness Divine Mother Shivamma Thayee and directed that he be carved out in black marble stone instead of on a white marble stone as seen in all other temples around the world and  so she complied to his directive to install Shri Shirdi Saibaba carved out on a black coloured marble stone. The  first shrine which was constructed by her on 20-05-1970  in which Shri Shirdi Saibaba appears in Black marble stone become unique Shri Shirdi Saibaba temple in the world. Keeping her future samadhi in mind, a small room was also constructed below the sanctum in the same hall which can be reached only by a narrow small steps.  Prior to taking Samadhi, Divine Mother Shivamma Thayee arranged to dig out a pit in the said small room and sat there on meditation till she breathed last. Her mortal body was buried inside the pit and the room converted into Samadhi temple.  Thus the Samadhi temple of Divine Mother Shivamma Thayee came up below the sanctum in the same temple.  
Similarly Shri Shirdi Saibaba appeared in her dream and directed that in the second temple to be built by her, he should be carved out in the form of a Fakir and installed. Nowhere in any temple of Shri Shirdi Saibaba he has been shown in the form of a Fakir in the sanctorum. Now in some temples Shri Shirdi Saibaba has been installed in the form of a Fakir.  As directed by her master, Divine Mother Shivamma Thayee brought a sculptor from the state of Rajasthan and got a statue of Shri Shirdi Saibaba carved out in the form of a Fakir, in standing posture and enshrined it*. Though the exact period of the construction of the second shrine is not known, some claim that it has been constructed in the year 1989. Unfortunately, it is sad to see that no body visits there regularly because of lack of publicity and so  the second unique shrine remains uncared and  in dilapidated condition for want of funds. (*It is now learnt that the mini shrine housing the Fakir Baba has been now demolished for construction of a house. The idol has also been taken away by the owner. Therefore only the main shrine of Black colour Saibaba, The samadhi of Shivamma Thayee and the small house where she lived remains intact).  

Continuing her divinely services, she attained Samadhi at the age of 105. Few days before she attained Samadhi, she realized that her end was nearing and therefore pre-arranged to get a small pit dug  in the small room below the Sanctum and got her buried there. She was 105 years old when attained Samadhi on 11-07-1994.
By reading the personal experiences of the devotees, one can understand the  greatness of Divine Mother Shivamma Thayee and this temple. 
Two Pundits namely Sri.Sampangi (Ramu) and Sri.Venkataraju are regularly performing pooja in this temple. Their family was residing elsewhere with their parents. The two priests and their sister were afflicted by a rare  skin disease which the doctors said can not be cured  since the intensity of the disease did not respond  to any medication given till then.  On the advice of some one, helpless parents of the children brought them to Divine Mother Shivamma Thayee. The divine mother blessed them and gave them some ash  and told them to stay with her.  Surprisingly their rare skin disease, which the doctors said was incurable,  disappeared in the next few days.  Since then the seven year old brothers stayed in the temple  serving the Divine Mother Goddess Shivamma Mother. Though they are engaged in some other business, without abandoning their business, even today at their forties plus age, they are continuing to devotedly perform the duty of a priest in this temple and ensure that the temple gets opened on time both in the morning and evenings and the four time Arathi is performed regularly.

Read the experience of another devotee. One Mrs Radha Sreedar who was unwell had to under go a scan test followed by another test for an acute disease with which she was suffering. She underwent scan test in a clinic in Jayanagar (Bangalore) and got ready for the other medical check up. The reports were received and knowing the intensity of her illness, she was scared to open the report. It was Thursday. Therefore she decided to open the report only in front of Shri Shirdi Saibaba in his temple and asked her car driver to go to any one of the Shri Shirdi Saibaba temple. In spite of searching at different places they could not locate any temple of Shri Shirdi Saibaba. Frustrated Mrs Radha Sreedar was also new to Bangalore. As she was wondering the next move, the driver suddenly told her that he knew Baba's temple in Roopan agrahara and without second thought she asked him to go there. It was past one hour after 12 noon and took twenty more minutes to reach the temple in Roopan Agrahara. Perhaps the noon Arathi had ended and the Pundit was closing the doors of the temple. Mrs Radha Sreedar got down from the car, ran to the Pundit  and requested him to keep the report in the feet of Shri Baba and give it to her. Without hesitation the priest brought the report back to her after placing it at the feet of Shri Baba and told her 'whatever you have prayed will happen, see…Shri Baba has dropped a white flower on this report. She immediately went into the Samadhi sthal of Divine mother Shivamma Thayee, prayed her and opened the report there in Samadhi itself. Much to her relief, and against her fear on the intensity of her illness, the report contained no adverse result and she relieved of her tension. She claimed that her disappearance of acute disease as mentioned in the report was miracle because of Roopan Agrahara Baba.
The temple called Shivamma Thayee temple is located in a narrow road namely Roopan Agrahara, adjoining to Chennai- Bangalore main road on the backside of Silk Board and Bommanahalli ward Office.
Address

Sri Sadguru Shirdi Saibaba Mutt,  N.G.R.Layout,  Roopan Agrahara
Off to Hosur Main Road,  Madiwala Post,  Bangalore-560 068
Contact Persons

Shri.Sampangi (Ramu) / Shri.Venkataraju
Contact Numbers

98801 33408 (Ramu)/ 99455 31187 and 96206 04359 (Venkataraju)

Email

Temple Photos