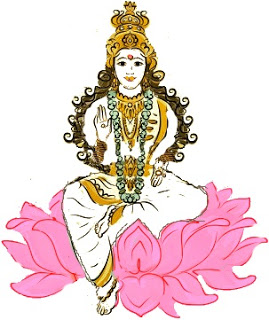 Irrespective of where one live – rural or urban,  no matter what their caste is, most of those affected by Small pox and Chicken pox visit temple sites of Mariamman, Seethal Matha  and Renuga Devi and offer worship to appease her anger and to get cured of the disease whenever such epidemic surfaced in their locality or homes. The fear psychosis which was very high some centuries back, though on the wane, continues to prevail in the mind of people even after generations who believed that the disease had come due to the wrath of Mariamman.  But what surprised me was that similar to temples for Mariamman group of deities who were considered controller of Small Pox and Chicken Pox diseases, century old one or two temples dedicated to Goddess of plague called Plague Amman also exist, but only in Bangalore and people have worshiped her to get cured of the dreaded epidemic Plague when it erupted in 18th century in Bangalore.  People believed that Goddess Plaegamma would cure them of plague or keep them safe from contacting the dreaded disease. The Plague Amman was also called Rajarajeswari Amman by some locals, but she is certainly not the Rajarajeswari Devi linked with Sri Chakra. There are also no references to any forms of Plague Amman in any of the Puranas or in folk tales connected with Village deities.
At one stage Plague was considered a deadly and infectious disease caused by bacteria called enterobacteria. It is primarily carried by rodents and spreads to humans through fleas. It spread quickly and uncontrollably wherever unsanitary conditions exist and in the dense city areas through rats which carry the bacteria. Though universally there were three types of Plagues, the worst amongst them was called Black Plague, one of the most deadly pandemics in human history in which the the plague-boils caused blood seeping out of the strange swellings, followed by a host of other unpleasant symptoms like fever, chills, vomiting, diarrhea, terrible aches and pains and then in short order death took severe toll of human lives.  However this dreaded disease Plague has been claimed to be fully eradicated, thanks to modern sanitation and public-health practices which have greatly mitigated the impact of the disease but have not eliminated it completely, isolated cases of Plague surfaced in lesser magnitude in and around 19th century.  The disastrous part of this epidemic is once someone got affected by this disease, death was the end.  During 18th century this epidemic has taken many tolls in the states of Gujarat, Rajasthan, Kamaon, Karnataka, Bombay and Calcutta etc. However the most documented and dreaded outbreak in India was of bubonic plague that spread terror across Bombay and Calcutta Presidencies, Mysore State, Dharwad and Hyderabad during 1896-1899.
It is believed that the worst epidemic was brought to Bangalore   in the year 1898 by a railway employee who landed in Cantonment area in Bangalore, soon to spread in the whole area. When the epidemic began to spread and took toll of many lives, people deserted Bangalore and even the British Govt employees from Europe housed in the cantonment area sent back their families to England. The homes of those who had affiliated to this dreaded disease and subsequently died were demolished and area fumigated and disinfected. Severe restrictions were imposed on the visitors entering the city unless they had entry permit which were issued like Visa, or they were vaccinated.  In spite of all the precautions, plague struck both the City and Cantonment areas of Bangalore.  It was a major catastrophe that changed the face of Bangalore.
When all out efforts  of the Govt failed to bring the epidemic under control, community members of the localities affected by the disease, especially those in localities like Tyagaraja Nagar and Siddapura prayed to an unknown deity in the form of Plague Mariamman to show mercy and save them from the epidemic. Because they did not understand the biology of the disease, they believed that Plague was a kind of divine punishment, retribution for sins against God such as greed, blasphemy, heresy, fornication and worldliness. By this logic, people thought the only way to overcome the plague was to win God's forgiveness.
It was a strange experience for the public to pray an unknown deity in the name of Plague Amman seeking her mercy and protection against Plague.  They went to the extent of establishing a place of worship for the Plague Amman in isolated locality which subsequently became smaller shrines. This was reportedly done based on a dream of a person in which an unknown deity called Plague Amman assured the people  that she would mitigate their suffering if she was worshiped and prayed and thus emerged small open shine  in which two rock stones were  erected and treated as Plague Amman.  However none were sure whether Plague Amman belonged to Mariamman group of deities or local Village deity manifested of her own or tutelary deity of Mariamman  but the firm belief at that period was that the Plague Amman was the controller of the dreaded epidemic Plague similar to Mariamman who control Small Pox and Chicken Pox.  Nowhere in India had one ever known of a deity worshiped for eradicating the dreaded disease Plague or a temple exist for her except in Bangalore even though several forms of Mariamman are worshiped for eradication of Small Pox and Chicken Pox epidemics all over the world.
People who belonged to the families of those who had witnessed the scenes at the site of those temples said the people used to come and perform  Pooja to seeking  mercy of Plaegamma to keep away the dreaded disease from entering their homes and after performing Pooja when they went back, like display of Rangoli in front yards, every day they wrote in the entrance doors of their houses 'Plaegamma, Naale baa' in Kannada meaning 'Plague amma come tomorrow' with belief  that the  Plague Amman would feel shy to enter uninvited and  so will go back once she see the writing requesting  her to visit their home next day. Lighting an oil lamp made of lemon is the specialty in Plaegamma temples. The lemon is cut into two pieces, the inside pulp is removed and filled with oil, thread or cotton wick is inserted inside oil and  lit outside the temple.
We learn that in the  Plaegamma temple in the vicinity of Tyagaraja Nagar* only two stones were worshiped as Plaegamma a century ago, and those two stones later were added with an additional idol of Rajarajeswari devi for worship (*Rajarajeswari Plaegamma Temple, 2nd Block, 2nd Main, Thyagarajanagar, and Bangalore). The temple is in a small  road and cannot be easily seen. Similarly another temple dedicated to Plaegamma can be seen  in Bigihalli village in Jigini post, Anekel taluk in Bangalore. One can travel via Bannerghatta Road and reach the temple which is in the main Road. We were not allowed to take the photograph of Plague Amman in sanctum in the temples. 
The Plague Mariamman temples are more than a century old, still people continue to perform Pooja and worship in them even today for other reasons too besides Plague disease.  These temples are the only mute witnesses to the disastrous epidemic that struck Bangalore in the 18th century.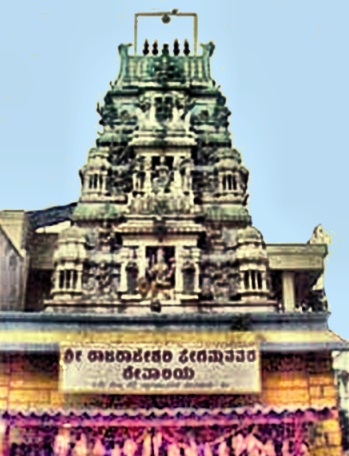 Photo above: Plague Amman Temple, Thiyagaraja Nagar, Bangalore 
: Photos below : 
Plague Amman temple in  Jigini, Anekal Taluk, Bangalore