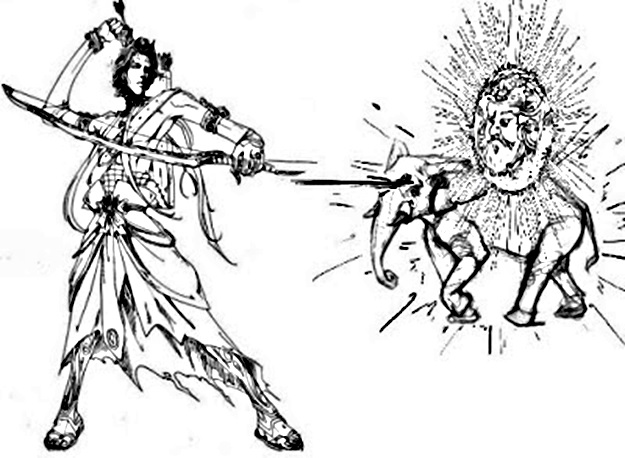 Raghuvamsam -4
– Santhipriya –
Sage Kausta seeks alms- Raghu's generosity 
When sage Kausta, the disciple of sage Varathanthu visited Raghu seeking wealth to clear his master's debt which was nothing but meed that he promised for the lores he got from him, he found Raghu's coffers were empty. Raghu was left with only an earthen pot as wealth since what he accumulated arduously had melted in acts of benevolence and bestows in alms. Observant of strict self discipline, he warmly welcomed the sage Kausta, offered argya (water) in the earthen pot (the water is given to cleanse the feet and hand of the visitors as courtesy and the practice called offering 'Argya') and got him seated comfortably.  Fairly guessing the intention of the visit of the sage, generally same with everyone who visited him, the King, revealed not his bankruptcy, but in shyness addressed the sage: 'Oh, Master sage, my salutations to you. Is your master Sage Varathanthu from whom you got the lore safe and well? Do the trees shade your dwelling?  Do calves and lamps run hither, thither in pleasure, unharmed and remain safe?' The King thus diverted the main issue to buy time to ponder for a solution if alms were sought. Hiding the gloom in mind, he could offer only courteous words, not the wealth the sage may seek.
At the same time dismayed Sage Kausta too could sense from his mannerism the state of King's bankruptcy and helplessness in solving his problem and he too revealed it not like how Raghu behaved, but addressed 'King of kings, under your rule, everywhere I visited everything appeared fine. As if the Sun wipes out the darkness, your folks are free of distress under your crown. One learns the art of discipline from their elders and steadfast follow them in each step and I find your action too reflecting it so. Your revered rule has outshone the fame of your elders in realm.  Say this misfortune that doom has sent me ill timed, and shall go unhealed, for you remain stripped off accumulated wealth as they have been bestowed by you, abundance in alms. So King, continue to rule well, may your lord shower happiness in abundance'. Blessing the King so, the sage rose up to bade good bye.
The King stood before the Sage blocking the passage of his exit and addressed 'Pardon me first, O, revered Sage. In state of defenseless to seekers, I failed to inquire reason for your holy visit and passed time pondering for a solution in case alms is sought. Pardon me revered sage, I am a sinner.  Be generous and bare all on your visit'. Embarrassed sage revealed intention of his visit. 'King  listen shedding  shyness as I sensed your status when you welcomed me with an earthen pot and therefore it  pained me to too to bare the facts before I depart. When I began to learn lore from my preceptor, he taught me Vedas, Miminsa, Purana, Dharma and everything connected and I was anxious  to know of his meed for the lore he taught. My preceptor, delighted with my service and dedication, declined my offer. Thereafter when my knowledge attained perfection, before I departed, conscience pricking, I again raised the issue of meed. My preceptor, completely unconcerned of my poverty, shockingly made a demand 'For the fourteen million lores I gave, you owe me fourteen million coins, one each for one lore'. Alas, sure his meed was beyond mine capacity to pay, but I promised to clear the debt in right earnest and reached you to seek help, but after sensing your plight, my mind refused to lift the veil and I chose to quit the scene. Shy away not, benevolent King, when one benevolent is found parched, the wise always seek the same from another lord. Thus your dried coffer compelled me to quit the scene to search another lord. As the sage got up to leave, Raghu extended his pious plead again 'Oh, pious sage, I shall not allow you to go empty. Be kind enough and stay cool for two days as my guest. I shall start forth to obtain, by any means the boundless treasure you need to pay back your debt'.
The whole night the restless King pondered for a solution and ultimately decided to seek the alms from Lord Kuber, if need be even by force of weapons. With clearly etched intention in mind, Raghu stored enough weapons in his Chariot to proceed to Kuber's palace at dawn, but unassumingly surrendered to sleep in mental tiredness. By dawn the King's amazed treasure keeper rushed to Raghu to narrate that the treasure house was entirely filled with gold and coins and there is no more place to keep the remaining which are lying all around. Taken aback by the news, the King rushed to the treasure house to see the unimaginable in person where smiling Kuber presented himself and desired to know if the King needed any further. Profusely thanking Kuber for the speedy gesture, Raghu, wasted not a minute and rushed to sage Kausta placing entire treasure trove at his feet to clear away his debts to his master.  However greed less Sage Kausta refused to take it entirely and praised the King of his benevolence and laid his hand only on the fourteen million coins he needed to pay back the debt beyond which he refused to take. While parting, the Sage blessed the King abundantly 'Be blessed my son, get a glorious son as rich as you in fame and virtues from your partner'. Soon the Queen conceived and delivered a son to the delight of Raghu and they named him Ayan.

Ayan releases  Gandharva's curse
Ayan grew to shine in lores as if a fresh lamp has been lit, abundantly absorbing everything his teachers taught and trained. Once a noble envoy from the Kingdom of Vidarbha reached Ayan to invite him to the swayamvara to be performed in which several Princes and noble Kings of different states were also the invitees, to seek the hand of Indumati, sister to King of Vidarbha.
Pleased with the invite, Ayan set forth his sight on the swayamvara and commenced journey well guarded on way by ably weaponized royal force. As they reached river Narmada they found the river overflowing, when all of sudden amid her waves, up raised a mighty Tusker, roaring aloud nimbly waving mighty trunk and marched towards them.  Realizing for sure few will slain if the Tusker is allowed to reach them, Ayan drew an arrow and shot at the Tusker, arrow piercing through her forehead. Rain of flowers fell from heaven in flash of moment when the Tusker disappeared and instead there in the bank of Narmada a Prince looking stranger was seen walking towards Ayan with folded hands. The stranger came near Ayan and after gracefully saluted the King he said 'Oh, King, I am Priyamvadha, one of the Gandharvas (Gandharva is a name used for distinct heavenly beings) in heaven and had to take the shape of a Tusker on a curse from Sage Mathanga. Appeased by my humble prayer seeking pardon, he redrew the curse to bless me that I shall get back my form when a royal King of Ikshavaku lineage, to be angered by me shall release the curse by pulling the bowstring to loosen a shaft to pierce my forehead, and that has since been achieved now'.
Priyamvadha continued 'King, I have been patiently waiting here for long years for your arrival to release my curse.  Oh, King, I have an imperishable magic dart called Sammohanam, which when launched destroy the foes on command and returns back to the sender, undamaged and as fresh as was released.
The shaft shall silence the foes and reward victory at once. Courteous King, accept this gift of mine, which shall be of great use to you at time of need'. Ayan gladly received the magic dart, acknowledged the gesture of the Gandharva whose curse he released and proceeded to Vidarbha for the swayamvara.
As the news of the arrival of Ayan reached the King of Vidarbha, the royal King welcomed the guest at the city gate itself and took him to the swayamvara hall where a fleet of Princes and noble Kings were seated.

continued /5